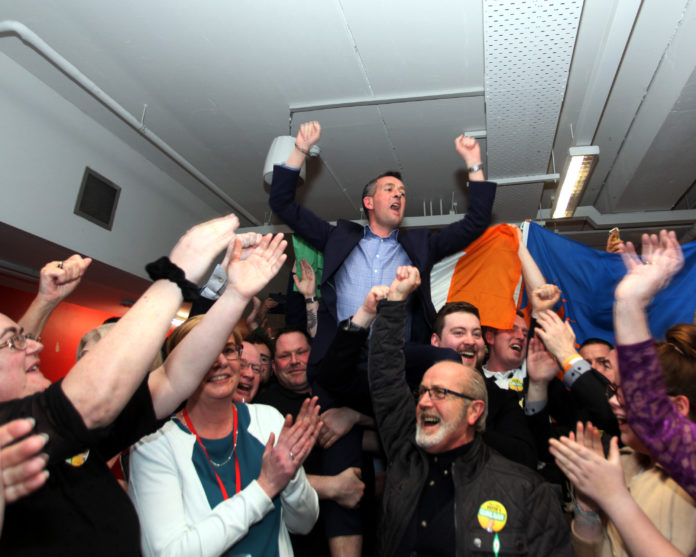 AS Storm Ciara toppled trees and flooded the land, an even bigger political storm was gathering force across Limerick last weekend.
Status Orange wind warnings issued on Friday seemed almost prophetic. Thundery downpours and gale-force winds were like an outward expression of the electorate's dissatisfaction with Fine Gael and Fianna Fáil's stranglehold on government.
And as gusts of 130km/h heralded in a new day, waves of vexed voters used the ballot boxes to remodel a stagnant political climate. Enough is enough they clamoured as high seas and a turbulent springtide battered the shores of the Shannon Estuary.
With votes tallied and the hubris cleared, election casualties licked their wounds.
In Limerick, longstanding Labour TD Jan O'Sullivan was the big casualty in the city, while in the county, Fine Gael Deputy Tom Neville also lost his Dáil seat.
Cllr James Collins, who was hotly-tipped for a seat in Limerick City, was keeping the sunny side out after failing to take a second Fianna Fáil seat.
"Unfortunately we didn't get enough votes on this occasion. We are disappointed but that's politics," he said.
Party colleague Willie O'Dea took the opportunity to commiserate with his running mate and the other candidates who failed to get elected including Jan O'Sullivan "who has a very strong track record and represented this constituency for over 20 years with me".
The four candidates elected to Leinster House in Limerick City were Maurice Quinlivan (SF), Willie O'Dea (FF), Kieran O'Donnell (FG) and Brian Leddin (GP).
In the Limerick County it was Patrick O'Donovan (FG), Niall Collins (FF) and Richard O'Donoghue (IND) that proved victorious after the electorate had spoken.
As the storm passed, the strong gusts relented, and a new kind of normal pervaded the land. Now we must bide our time and see what tidings the spring will bring.