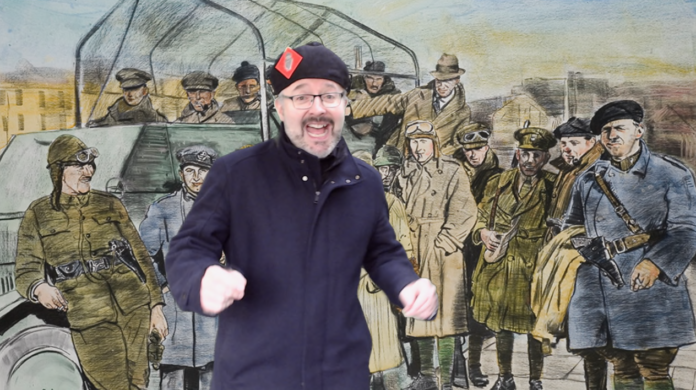 Experience the incredible true story of Ireland's 1798 Rebellion through song, imagery and storytelling in the capable hands of historical entertainer and musician Paddy Cullivan.
The show has toured extensively through Ireland and beyond, with audiences loving 'Callan's Kicks' writer Paddy's irreverent yet passionate take on history, as exemplified in his most recent video on the abandoned RIC commemoration fiasco, 'Puttin' on the RICs'.
Inspired by the American and French Revolutions of the late-18th Century, the '10 Dark Secrets of 1798' is a historical drama of 'Game of Thrones' proportions, bringing a staggering array of characters to life. Wolfe Tone, Lord Edward Fitzgerald and Napper Tandy – George Washington, The 'Mad King' George III and Napoleon Bonaparte.
Huge battles, victories and losses from the epic Wexford Rebellion to the unbelievable 'Year of the French'…and most importantly, the timeless call of the United Irishmen (and women!) to unite 'Protestant, Catholic and Dissenter'…
Limerick and Clare feature in the show – after the Battle of Collooney the defeated British General Vereker was made a Freeman of Limerick for 'delaying the advance of the French in Sligo', while a rebellion broke out in Clare in 1799 and Ennistymon was declared a Republic!
General Meyrick, who put down the Clare rebellion, had a Galway hotel named after him in Eyre Square in the 2000s, but the name was changed recently to The Hardiman via lobbying and the revelations contained in this show!
Expect a night of song, incredible images and shocking revelations – engage your history in a way you never thought possible!