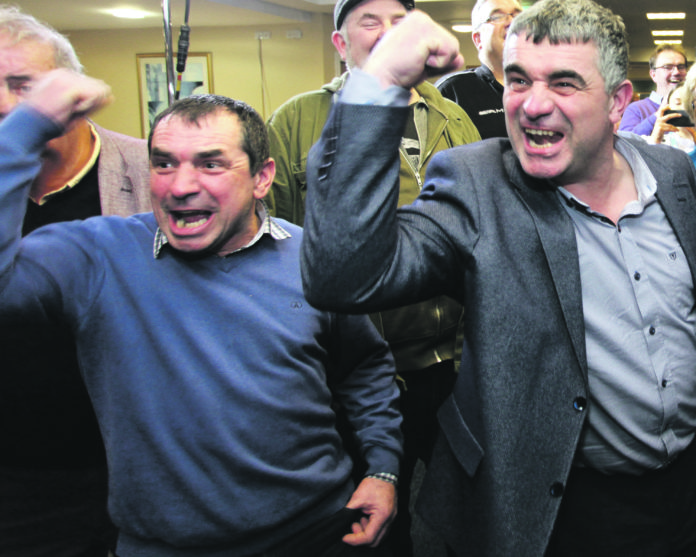 EMPATHY, integrity, honesty and dedication are all qualities newly elected County Limerick TD Richard O'Donoghue was praised for by his former council colleagues in West Limerick this week.
But what they didn't mention and was most striking at this Tuesday's meeting of Adare-Rathkeale Municipal District was the Independent politician's rare ability to make grown men cry.
Sign up for the weekly Limerick Post newsletter
The first-time Dáil Deputy took his seat at the Rathkeale area office for the last time this week to tie up some loose ends at local authority level and bid farewell to his colleagues around the chamber.
O'Donoghue first took his seat in the Rathkeale office after being elected to the newly amalgamated Limerick City and County Council back in 2014 as a Fianna Fail councillor. The following year he struck out on his own and, despite a failed General Election bid in 2016, the Granagh man-made history last weekend as he became County Limerick's first-ever Independent TD.
It was clear this week that the 49-year-old father of four, who secured 10,320 votes to take a seat in the 33rd Dail, was as popular with his council comrades as he was with the electorate.
Straight-talking, no-nonsense veterans were reduced to blubbering wrecks as they said their goodbyes on Tuesday.
"The first time I met Richard I immediately made the observation, he will be elected, whatever about the rest of us. I remember the joy I felt within myself after spending time in his company. It was very special. I am proud to call you my friend," Fianna Fail councillor Kevin Sheahan told Deputy O'Donoghue.
"I hope you continue your voluntary efforts to help people that need help. Your care and concern for people will make you a great national representative."
Fine Gael councillor Adam Teskey described it as a "sad day" before commending O'Donoghue for his integrity, empathy and honesty.
Cllr Stephen Keary (FG) was moved to tears when he remembered a trip to America with his former council colleague.
"I remember how you were with my two grandchildren; you were all about them and had such empathy for them. They still talk about you."
Director of Services for Adare-Rathkeale Municipal District, Caroline Curley also praised O'Donoghue for his empathy and "big heart".
"The district's loss is the county's gain," she said.
Deputy O'Donoghue then described the last week as an "emotional rollercoaster" and promised he was committed to working with all parties for the "betterment of Limerick".
"Ye have my back and I have yere's," he added.