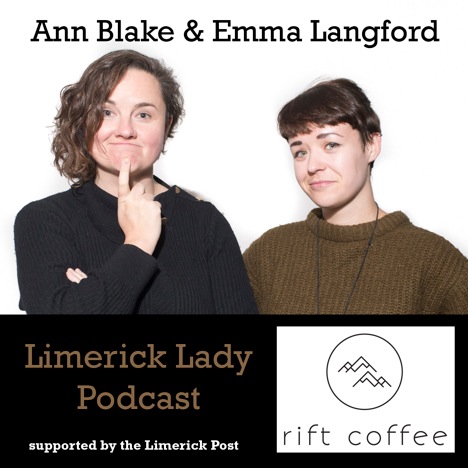 Ann and Emma talk to Jenny Blake, who just ran in the February General Election for The Social Democrats.
Jenny has worked and studied and lived in Limerick for 20 years. She was canvassing coordinator for Yes Equality Limerick in 2015, has previously worked with NOVAS, PALLS and is currently Student Support Coordinator in UL Student Life. She also happens to be married to Ann.
Jenny was a first-time candidate who found herself with only three weeks to campaign due to the snap election. She reflects on the whirlwind experience and many other things (Beyoncé and karaoke might get a mention).
Follow Jenny on Twitter and Insta @JennyBlakeLK
In other news, Emma's been nominated in a number of categories – thankfully none of them decade related – in the Hot Press awards. Click and vote here https://www.hotpress.com/music/announcing-hotties-2020-vote-hot-press-readers-poll-shortlist-22803365
Ann is in The Everyman Theatre in Cork with on March 24th and 25th with The Morning After The Life Before. Book here https://www.everymancork.com/2020/03/the-morning-after-the-life-before/
This episode is dedicated to Ann's mother, Trudy Blake, who sadly and unexpectedly passed away on January 25th.
This podcast goes out the third Thursday of every month or 'Thirdsday' – if you will.
Follow The Limerick Lady @LkLadyHQ and 'The Limerick Lady' on Facebook
Follow Ann on Twitter @annblake78 and Insta blakeo_23
Follow all things Emma www.emmalangfordmusic.com
This episode is sponsored by Rift Coffee Ltd, 30 Mallow Street Limerick. A very gorgeous place.
Follow Rift on Instagram and Twitter @riftcoffeeltd Facebook.com/riftcoffe www.riftcoffee.com
Recorded with support from The Limerick Post www.limerickpost.ie