A LIMERICK woman who is the newly elected as President of the Irish Hotels Federation (IHF) has called on the next government to put the tourism industry at the heart of the country's economic agenda.
Elaina Fitzgerald Kane of the Fitzgerald's Woodlands Hotel in Adare, this week became the 38th President of the IHF, succeeding Michael Lennon.
The IHF is the leading representative tourism body in Ireland representing almost 1,000 hotels and guesthouses, which employ over 60,000 people throughout the country.
A second-generation hotelier with almost 20 years' experience in the hospitality sector, Ms Fitzgerald Kane believes that a flourishing tourism industry is vital for the country's prosperity and a major contributor to rural economies.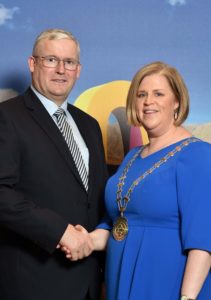 However, she warned that the industry faces significant challenges in sustaining the strong growth of recent years, including from the coronavirus, and she said the time is right for a comprehensive review of the impact of the hike in the tourism VAT rate.
"As an island nation, we are vulnerable to external shocks, given our exposure to the economic environment of our major source markets. Brexit demonstrated that clearly with the substantial fall in UK visitors over the past three years. While it remains to be seen what impact the coronavirus will have on the global economy, we can expect to experience some reverberations here too. The economic consequences of threats such as these are largely outside our control so it is imperative that we mitigate the risks to Ireland's economy where we do have some control," she declared.
The newly elected IHF President also warned that the increase in VAT from nine to 13.5 per cent has seriously undermined Irish tourism's international competitiveness and the ability of tourism enterprises such as hotels to re-invest in their business and local economy.
"Ireland is already a very high-cost economy by international standards, which adds to the challenges of an indigenous export industry and this is being made worse by the higher 13.5 per cent VAT. We are now in a situation where we have a higher rate of tourism VAT than 28 European countries with which we compete.
"Tourism has been one of the great success stories of Irish economy in recent years. However, the effectiveness of tourism growth in spreading employment opportunities and prosperity across the entire country is sometimes lost in discussions about the economy, including at the cabinet table.
"With 70 per cent of tourism jobs based outside of Dublin, tourism's wide geographic distribution is critical to sustaining regional economies, and addressing rural imbalance. Irish tourism has created over 90,000 new jobs since 2011. It accounts for almost four per cent of GNP, tourism generates over €9.2 billion in revenue each year — thereby supporting the local economies of every village, town and county," she concluded.