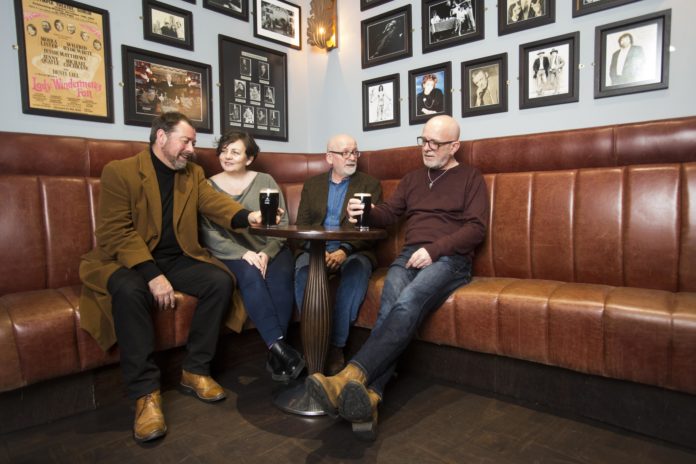 In August, Roddy Doyle's smash-hit show is coming to Limerick in September.
Directed by Caitríona McLaughlin, the production closes at the Olympia on 29 August, before performances in the Lyric Theatre, Belfast, Cork Opera House, the Town Hall Theatre in Galway and the Lime Tree Theatre, in Limerick.
Two Pints has previously enjoyed hugely popular runs in pubs across Ireland, and toured the US and UK, and on the Abbey Stage. The hilarious and poignant Two Pints started as a conversation on Facebook, before moving to the stage.
Two men meet for a pint. They talk about their Da's, death, Nigella, North Korea, the afterlife…  Starring Liam Carney and Philip Judge, the audience are invited to pull up a stool and listen in as the friends chew the fat and set the world to rights.
Graham McLaren and Neil Murray, Directors of the Abbey Theatre said 'We want the Abbey Theatre and its audience to be reflective of Ireland. To us, this means presenting work all over Ireland, and not necessarily in conventional spaces.
Roddy's funny, touching and provocative Two Pints was seen by small, intimate audiences in pubs in Carlow, Clare, Cork, Derry, Donegal, Dublin, Fermanagh, Galway, Kerry, Kilkenny,  Leitrim, Limerick, Longford, Louth, Mayo, Sligo, Tipperary, Waterford, Wexford and Wicklow.
We're now delighted to bring it back to larger venues across Ireland, meaning more people get the opportunity to enjoy their National Theatre.'
Tickets on sale now. 28 September – 3 October 2020. Bookings: limetreetheatre.ie