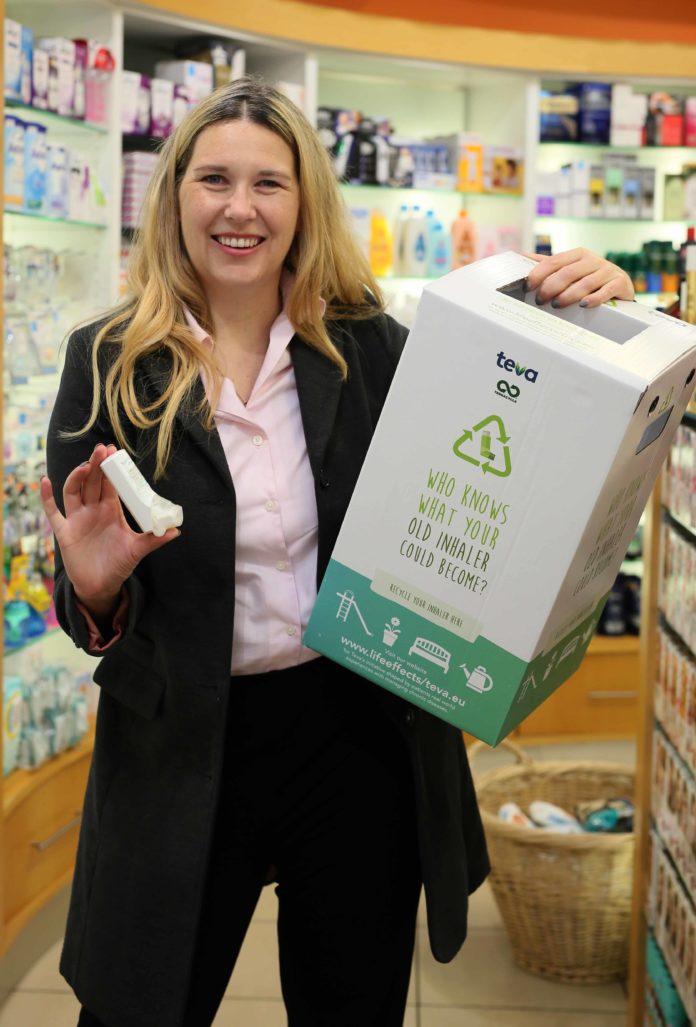 Dr Cara Augustenborg, Environmental Scientist and broadcaster, launched the first national respiratory inhaler recycling initiative on behalf of Teva Pharmaceuticals Ireland (Teva).
The launch took place at O'Connor's Pharmacy, Dublin 4 and is part of a nationwide pilot scheme which aims to encourage people living with respiratory-related illnesses to recycle their used or out of date inhalers.
There are an estimated 560,000 people in Ireland currently living with a respiratory-related illness and in 2019 alone, 4.4 million inhalers used which is a rising number on previous years. Until today, no free public recycling facility has been made available to dispose of used inhalers in Ireland.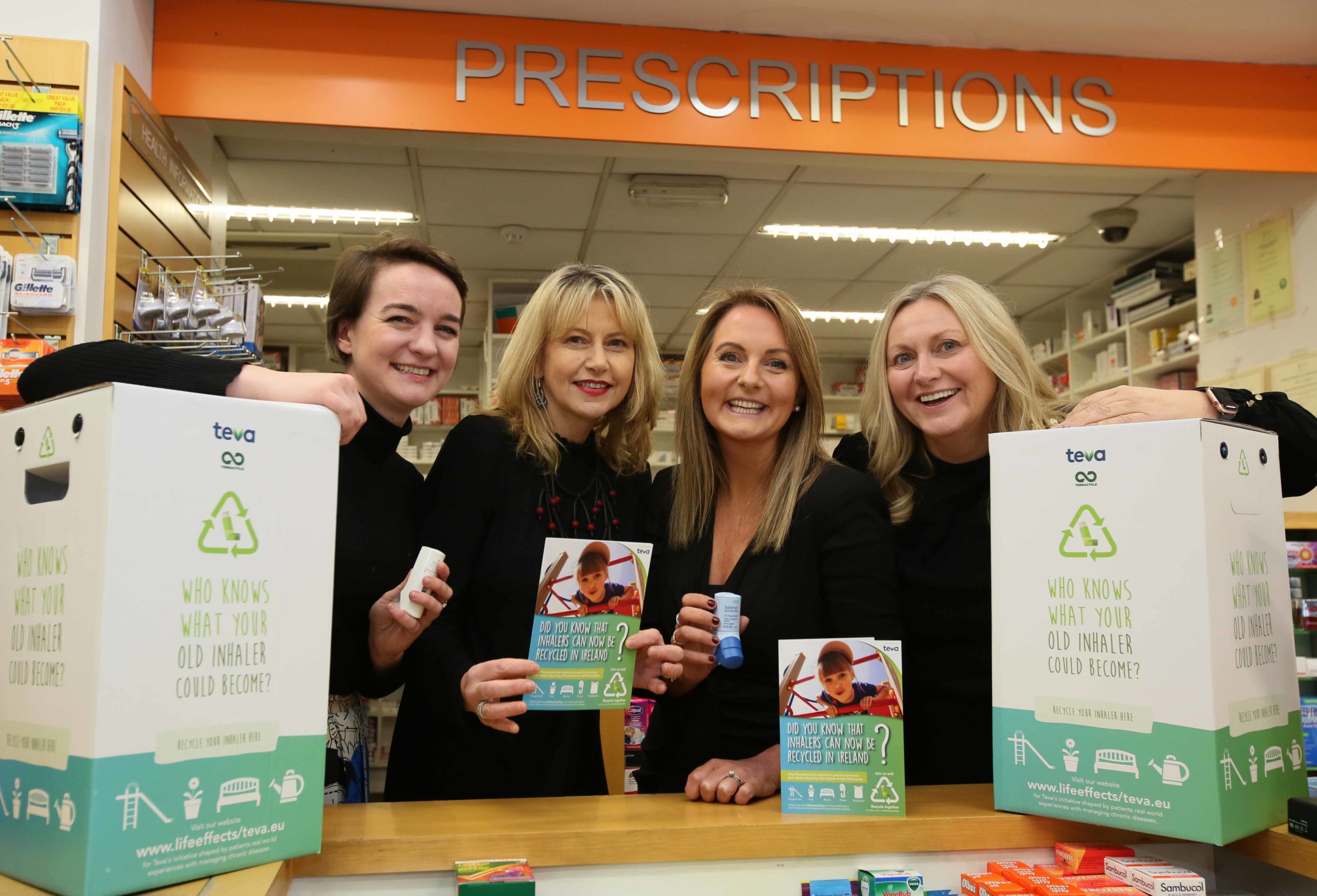 Currently, in Ireland, people living with respiratory-related illnesses are encouraged to return their used inhalers to their local pharmacy, where they are then disposed of with other medical waste through incineration.
However, it's unclear how many Irish consumers dispose of their inhalers correctly. When inhalers aren't disposed of correctly, they are sent to landfill which is harmful to the environment both in plastic material waste and in greenhouse gas emissions as the residual gas from canisters may be released to the atmosphere. Both are damaging to Ireland's environment and ecosystem.
In a first for the Irish pharmaceutical industry, Teva is today launching a pilot initiative which will empower people living with respiratory-related illnesses to recycle their used inhalers.
Teva has partnered with global recycling group TerraCycle to bring its Zero Waste Box scheme to 100 Irish pharmacies across Ireland in a 12-month recycling pilot scheme. TerraCycle's Zero Waste Box is a cardboard box that collects, and stores used inhalers until they are collected by TerraCycle and then recycled to help make new products including playground materials and garden equipment.
In the same way as recycle 'green' bins are used in households every day, Teva's new recycling initiative provides a convenient way for people living with respiratory-related illnesses to recycle their used or out-of-date inhalers. The Zero Waste Box can be used by pharmacy goers when they are collecting prescriptions or a new inhaler, making it convenient for their lifestyle.
People living with respiratory-related illnesses can find out where their nearest participating pharmacy is located by visiting www.inhalerrecycling.ie
Teva are the first in the Irish pharmaceutical industry to take this significant step in playing an active role in addressing the recycling of inhalers and providing people living with respiratory-related illnesses with environmentally, sustainable treatment.
Teva's campaign to raise awareness of the initiative includes support from the Asthma Society of Ireland, representing the 380,000 people with asthma in Ireland, and people who live with asthma and COPD. The aim of their support is to highlight the importance of this scheme and to encourage people across Ireland to get behind it.
Teva's Speciality Medicines Director Clodagh Kevans said: "Teva is an environmentally conscious company and we are continuously taking steps towards improving our impact on the environment. One of those steps is this new pilot programme which will provide pharmacists and people with respiratory-related illnesses the opportunity to recycle their inhalers for the first time in Ireland.
"We at Teva Ireland realise that our work and contributions to creating healthy communities are essential for leading a responsible business. We also know that in all areas of life, consumers are increasingly supportive of environmentally sustainable initiatives.
"We're excited to launch this pilot with the Asthma Society of Ireland, and we hope that with their support, with buy-in from our pharmacy partners and people living with respiratory-related illnesses, this pilot programme can make a difference." she added.