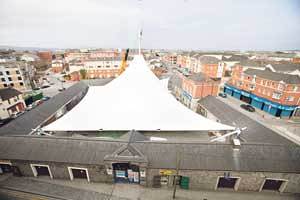 LIMERICK Milk Market is planning to expand as news of the Opera site going ahead was announced.
The Chairman of the Limerick Market Trustees, Liam Flannery, has welcomed the granting of planning permission for the €180m Opera site as a game-changer for Limerick city.
"This development on a neighbouring site to the Milk Market has the potential to transform the city centre not just through the provision of 3,000 full-time jobs but as a visual manifestation of Limerick's ambition.
"We have the utmost confidence that Limerick 2030 will now deliver a best-in-class development that will become an architectural landmark that sets Limerick apart," Mr Flannery said.
The University of Limerick have taken over the old Dunnes Stores site on Sarsfield Bridge with plans for expansion and development that will see thousands of students in and around the City Centre.
"The Governing Authority of UL has been looking at the very best international examples of city centre campuses, so that culturally and architecturally, the city centre site will make an international statement about Limerick's ambition.
"Limerick Council has allowed UL to include some publicly owned lands adjacent to the site in its proposals for a master plan of the site. UL has sought architecturally significant expressions of interest for this site," Flannery added.
With the Opera site and UL's new building, there is a chance for more places in the City to grow to cater for the extra foot fall over time.
"Ten thousand people on average come to the Milk Market on a Saturday. It's a beloved part of Limerick's history and a weekly ritual.
"We want to expand our offering, so we get more people using the market on Fridays and Sundays, with the ultimate aim of having a seven-day offering at the Milk Market as a premium outdoor farmer's market, as a live event venue, as an arts and culture space, and as a location for community, charity, or corporate launches." Flannery explained.