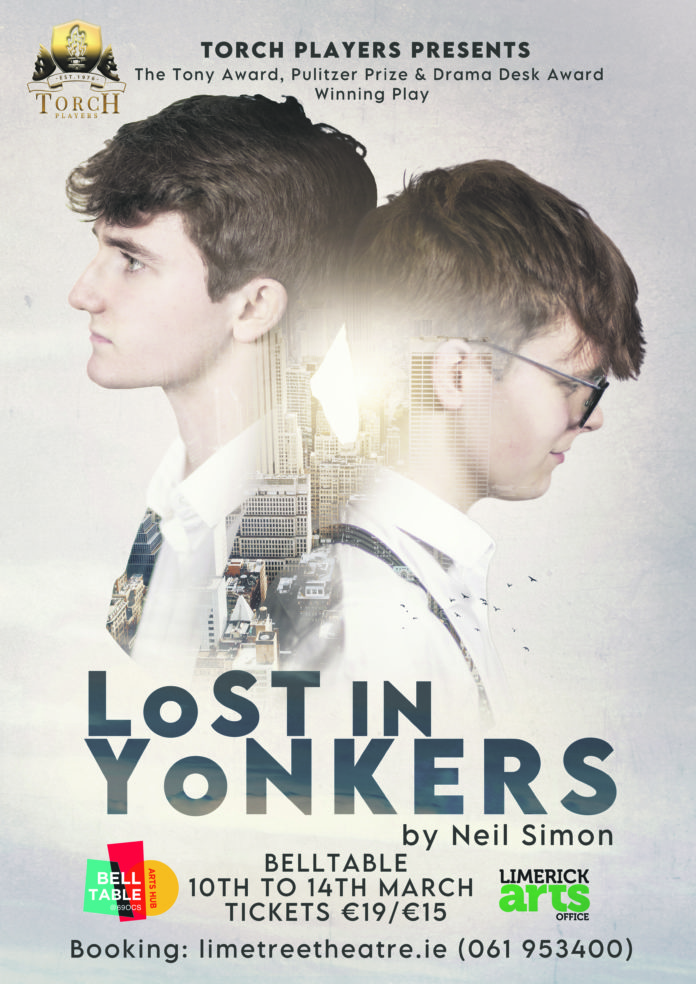 TORCH Players' director Maurice O'Sullivan reflects on the works of Neil Simon. "A long time ago I did a full length play by Neil called 'The Gingerbread Lady' which we presented in the Belltable in 2001. We had intended taking it on the festival circuit but festivals were cancelled because of Foot and Mouth disease" (along with much else in a government directed campaign of containment).
"I have always liked his plays, especially when they are not pure comedy."
Understood, for Neil Simon is known the world over for arch and telling works such as 'The Odd Couple'  and 'The Goodbye Girl'. And who can lose sight of Robert Redford in 'Barefoot in the Park'? 'Sweet Charity' and 'Biloxi Blues' remain popular for musical and dramatic revivals. He can do rough with the smooth.
In his lifetime, he won three Tonys in 17 nominations. The focus of Torch light, 'Lost in Yonkers', won the  1991 Pulitzer Prize for Drama.
From the director's chair, Maurice wants people to understand context for Neil Simon's writing, a story of two brothers sent to live with largely uncharitable relatives.
His own parents had had a chaotic, fractious relationship. At school the young writer was desperately shy. In later years, hear the heart ache in this revealing admission in interview with Lawrence Grobel: "I think part of what made me a comedy writer is the blocking out of some of the really ugly, painful things in my childhood and covering it up with a humorous attitude … do something to laugh until I was able to forget what was hurting."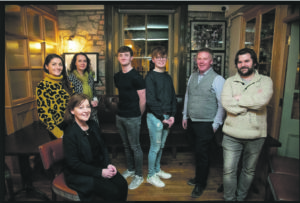 Onwards and forwards to  this material and the hard working team that Torch Players are, steered by Maurice O'Sullivan.
He makes the point that big parts for  teenage boys were a delay in staging 'Lost in Yonkers' before now. Open auditions, a trawl of schools and a plug in Arts Page drew interest and "we chose Gary O'Hanlon and Adam Stapleton, both  aged 17. I'd put a shout out to all the drama schools, Limerick School of Acting, Spotlight Stage School, Expressive Arts and to Maeve McGrath who has a school of acting in the county."
Having the emotional maturity as well as stage presence to work with this play's "mix of comedy and heartbreak" was essential. "Yonkers is in New York state, located above The Bronx and it is still very urban. The story is set in 1942 during World War II and it's kind of autobiographical in the sense that Neil Simon and his brother were often farmed out to relatives."
Within his fiction, the boys' father is widowed and becomes indebted to loan sharks for $9,000. The boys are Arty, aged 14 and Jay, 15, and their father (Dan Mooney) has to go trawling down Southern states around the railroads for high-earning seasonal work.
Their temporary home from home is bleak.
"They have a coldhearted, stern  Granny (Bríd Hartnett). The family are Jews who escaped from Germany in World War 1 and came to America physically and emotionally damaged from the war  years. Aunt Bella (Joanne O'Brien) is emotionally and mentally arrested in her growth and she's childlike but very loving.
"Their home is not a pleasant stay for the nine months but this is very much a family drama. Everyone is affected by the grandmother."
Uncle Louie (Peter Hayes) is half a mobster; there's Gert (Mary Jones) whose trauma is reflected in a speech impediment.
The production team aiding this production is top notch with Pius McGrath on lighting, Gerry Lombard managing stage and Sheenagh Murphy crafting costumes of that austere era, mid-war and post Depression. Booking for March 10 to 14 in Belltable www.limetreetheatre.ie – and Torch packs out the joint.