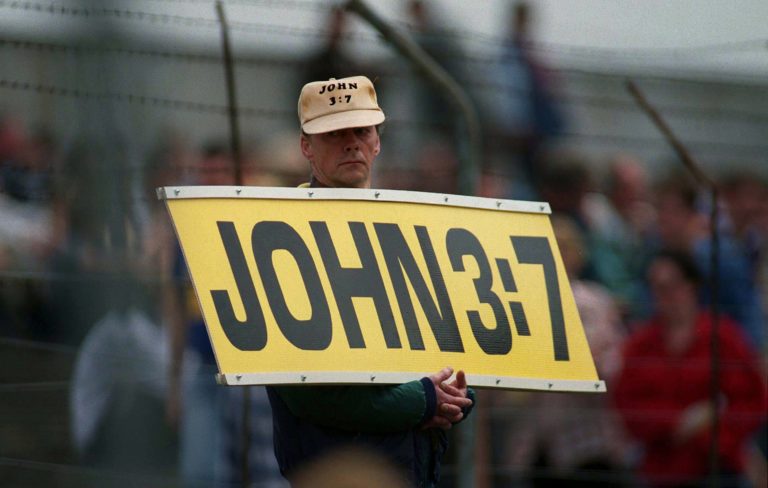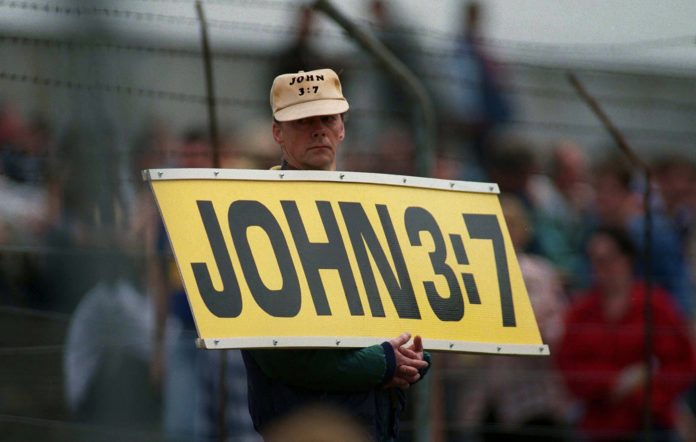 TRIBUTES have poured in for Ireland's most famous GAA supporter, Frank Hogan, a sportsground evangelist who spread his gospel message from the terraces, gripping his trusted big yellow sign JOHN 3:7.
Mr Hogan, a born again Christian, and who was the subject of a TG4 television documentary, was perhaps the most photographed GAA supporter.
Hail, rain, or shine, the Tipperary native and his sign were a familiar target of sports photojournalists.
Hogan hauled his beacon of buí to every major sports-ground in the country, spreading a message of hope and forgiveness, said friend Gerry Nugent.
Some ridiculed him, but most held him in high esteem.
"He would have got terrible abuse at the start because people didn't know what he was, but when people got to know him, they saw he was an incredible person and a man of powerful faith," said Nugent.
"People called him 'John' because of the sign. He was an institution."
"He went to All-Ireland Finals with no ticket and never failed to get in," he added.
Mr Hogan and his wife Myrna previously separated, and following this he "had a divine encounter, when his life was changed completely on reading a verse from the Bible".
"When Derry won the All-Ireland  back in the 90s, he went up to Derry for the homecoming celebrations and he slept in his car. He used to have his dinner in my house and many other houses in Thurles. He was an absolute institution," continued Nugent.
"I spoke to the man managing Thurles stadium, David Morgan, and Morgan said he stopped Frank one day and said to him, 'if you have any problem getting into simple stadium you tell them to ring me'."
Although his roots were in Borrisokane, Co Tipperary, he was regarded as a staunch Limerick hurling supporter having moved to Shannonside as a child, and later working as a tailor where he dressed the great and the good.
Whenever a sliothar sailed between the posts, or a net was rattled, Hogan's sign stood out, like a moving statue, from the crowd who came to worship their sporting gods.
The famous sign was once stolen as it travelled home by train from an outing in Croke Park in 2009. It was later recovered by gardai after it was left in a public place, and returned to Hogan.
In 2003, his trusted Bible message-board was turfed out of the Cork – Limerick train, after the quarter finals of the Munster Championship, but Hogan, undeterred in his Christian mission, replaced the preaching prop.
Hogan, 81, who is survived by his son Jason and daughter Natasha, died peacefully at his home in Castletroy, last Saturday, with his wife Myrna by his side.
The couple reunited in recent years, which was "the answer to all his prayers", Nugent added.
Speaking today, Myrna said: "I'm so upset at the moment. He's going to be greatly missed by all his family and children. I've been looking after him for seven years, and the last five weeks in a hospital bed in his (home), as he didn't have to go away in a hospital."
"He didn't know, well, I think maybe the last week he knew he was dying, but I tried to keep it as nice as possible for him."
"His friends have got incredible stories of him – he was a great raconteur."
His funeral service will take place midday Tuesday, at Thompson's Funeral Home, Thomas Street, Limerick, followed by burial immediately afterwards in Mount St Lawrence Extension Cemetery.
"It's not going to be in a church, because he was a Christian, he didn't believe in churches, so it will be straight from there and onto the graveyard, where a few words will be said."