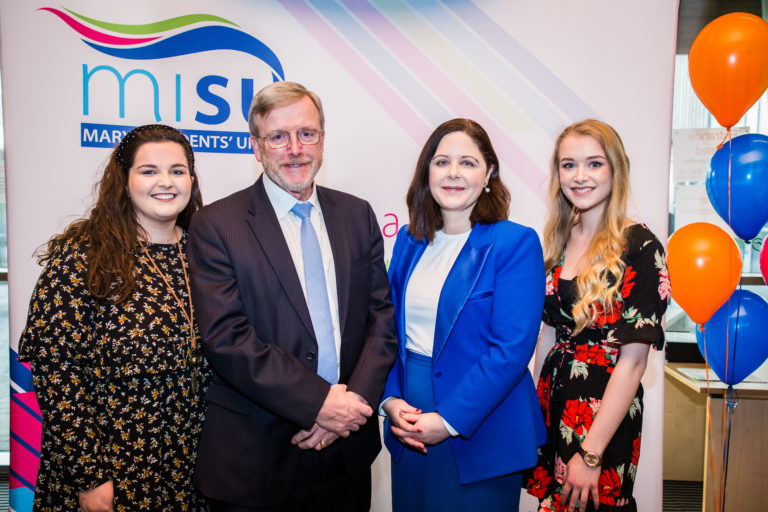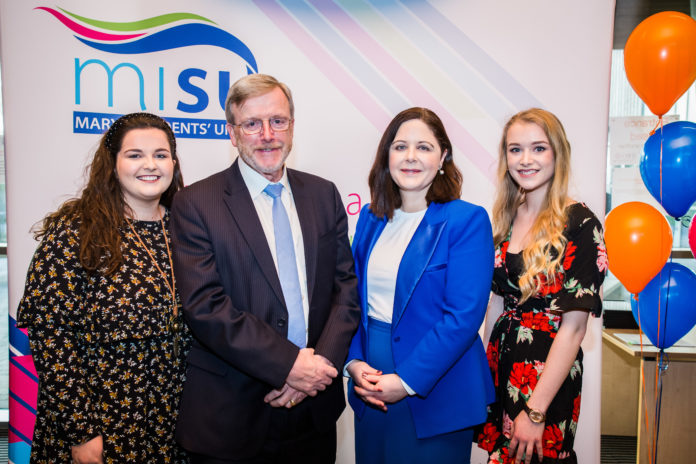 THE outstanding achievements of students at Mary Immaculate College (MIC) were recognised at an awards ceremony held at the College's Limerick campus last night (10 March).
Five students were each presented with the MIC Foundation Award for Excellence', a scholarship initiative of the MIC Foundation and MIC's Students' Union, MISU.
Now in its 11th year, the 'MIC Foundation Awards for Excellence' are valued at €500 each and are presented to students in recognition of their musical, sporting and artistic achievements, as well as their contributions to community and college life.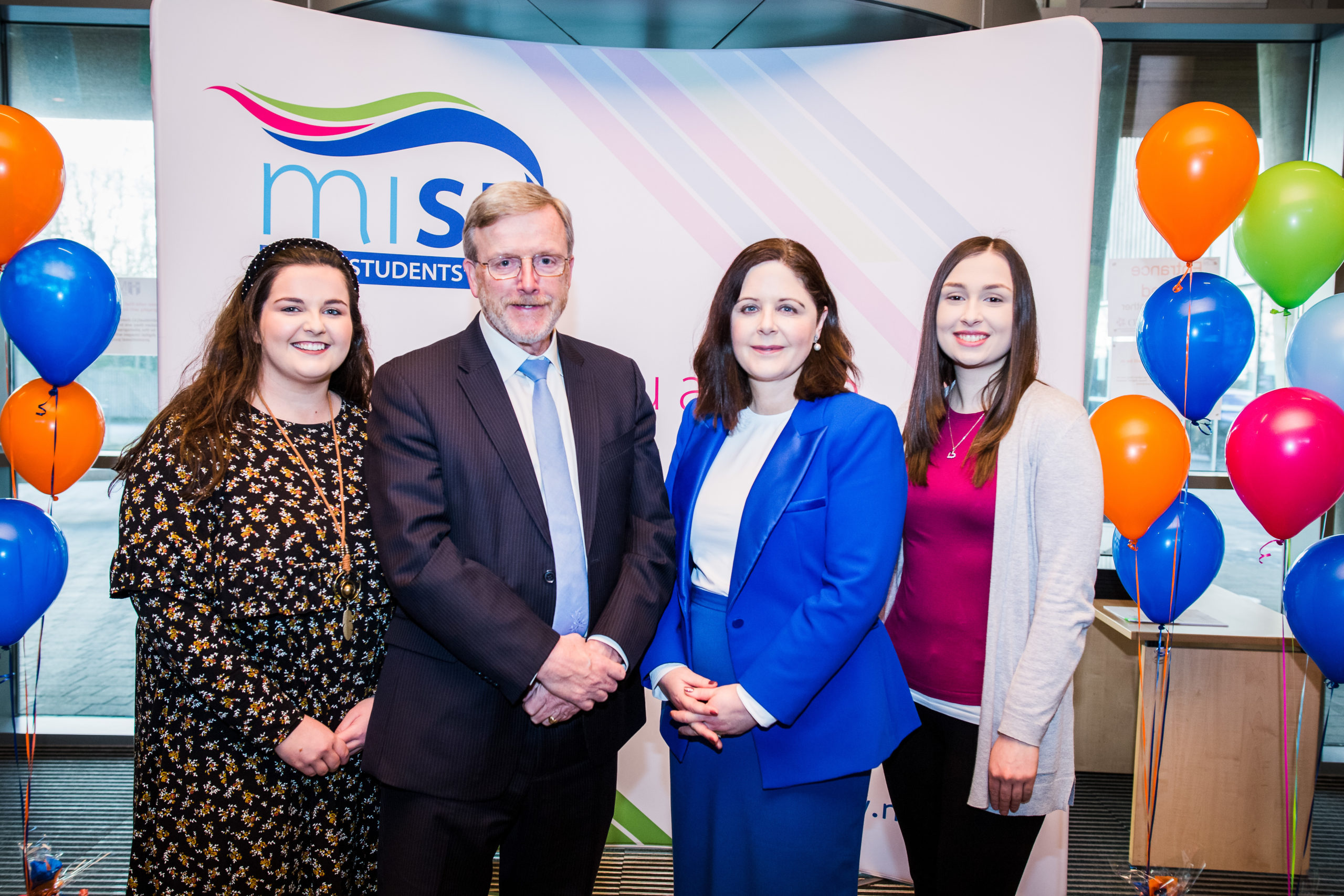 Third year student, Chantelle Cawley, from Mountmellick in Co. Laois was presented with an Award for Excellence in recognition of her advocacy work. Chantelle, who is studying to become a post primary teacher, has been passionately raising awareness of higher education within the travelling community throughout her time at MIC Thurles.
She has provided insight into the NCCA Draft Curriculum Guidelines on Traveller Education and aims to be a role model for young traveller girls seeking to progress to higher education.
Chantelle's dissertation explores the effect of teacher expectations on students from ethnic minorities and she hopes that her research will aid both current teachers and student teachers in supporting students from ethnic minorities.
Mairéad Fallon, who hails from Barna in Co. Galway, received an Award for Excellence in recognition of her community engagement endeavours.
The third year B Ed and Psychology student is actively engaged in volunteering on a local, national and international level, and in 2019, Mairéad was selected to participate in the Washington Ireland Program for Service and Leadership, which recognises young leaders who have demonstrated a commitment to serving others.
As well as volunteering with homeless charities and those supporting people in Direct Provision in her native Galway, Mairéad will travel to Kolkata this summer where she will volunteer for 10 weeks.
Lauren-Kate Browne from Bunratty in Co. Clare was presented with an Award for Excellence in recognition of her contribution to college/student life.
The fourth-year student who is studying to become a primary teacher at MIC Limerick is a strong advocate for well-being and mental health and has been actively involved in promoting positive mental health, both on campus and in the classroom while on school placement.
Second year B Ed and Psychology student, Dearbhaile Roe, received an Award for Excellence in recognition of her sporting achievements. Hailing from Claremorris in Co. Mayo, tennis player Dearbhaile won the National College Championships in Doubles in 2018 representing MIC, and reached the semi-finals in both singles and doubles last year.
Also, in 2019, Dearbhaile was crowned Connacht Senior Open champion and is due to represent MIC in the National College Championships later this year. As chairperson of the MIC Tennis Club, Dearbhaile is committed to sharing her sport with others and aims to make tennis accessible to all students.
Fourth year B Ed student Gary Stephenson from Tralee in Co. Kerry received an Award for Excellence in recognition of his contribution to college/student life.
In his role as Campus Ambassador, Gary strives to ensure that students have a positive and fulfilling college experience and is keenly aware of how important it is for students to be supported in their transition to third level.
A further three students were also Highly Commended for Music, namely Nicole Wilson from Shannon in Co. Clare, Aaron MacKessy from Ballacolla in Co. Laois and Siún Daly from Bishopstown in Co. Cork.
Nicole is studying to become an early years educator, while Aaron and Siún are both studying to become primary teachers.
Presenting the students with their awards, Professor Eugene Wall, President of MIC, congratulated them on their achievements saying, "It's wonderful to acknowledge the achievements of our students in this way and to celebrate their hard work, talent and dedication.
"These students have excelled in the areas of sport, music and the arts while remaining committed to their studies and are deserving recipients of the 'MIC Foundation Award for Excellence'. I commend you all on your accomplishments and I wish you all the very best as you continue to pursue excellence and fulfilment in your chosen fields." he added.
MISU President, Aisling Cusask, echoed Professor Wall's sentiments, adding "MISU is delighted to once again be involved with the 'MIC Foundation Awards for Excellence', which highlight and celebrate the hard work and talents of our students.
"I can certainly say we are very fortunate to have such dedicated students here at MIC and this awards event is a fantastic occasion to acknowledge this. On behalf of MISU, I would like to congratulate the award recipients and wish them all continued success in the years ahead, both in your academic life and life outside of college." she said.
The 'MIC Foundation – Awards for Excellence' scholarship scheme is open to all full-time undergraduate MIC students who have successfully completed their first year of study. Applicants have to demonstrate excellence in sports, music or the arts while maintaining a commitment to their academic studies.
Deirdre Kennelly, MISU General Manager, outlined how these awards form an integral part of the recently launched MISU Strategic Plan, which will govern the activities of the College's students' union for the next four years.
Speaking at the awards ceremony, she said, "In partnering with the MIC Foundation on the Awards for Excellence and recognising our students for their achievements, we are supporting and contributing to a number of the key priority areas identified in our Strategic Plan for 2020–2024.
"I would like to congratulate all the applicants on their achievements to date and wish them every success in the future." she added.
Also announced on the night were the winners of the MICS, the annual clubs and society awards.
Third year B Ed and Psychology student, Sinéad Doyle, was awarded 'Best Individual' for her work with MIDAS, MIC's Dramatic Arts Society.
The Cork native has been with MIDAS for the past 3 years and is currently directing this year's musical, 'Joseph and the Amazing Technicolour Dreamcoat'.
MIDAS also scooped the award for 'Best Society'and 'Best Event' for their 2019 production of 'A Chorus Line', as well as 'Best Photo'.
Will Reidy was awarded 'Best Fresher' for his work with the Live Music Society. Will is a first-year mature student from Limerick who is studying on the Bachelor of Arts programme at MIC Limerick.
The Live Music Society was also awarded 'Best Poster' for 'Positive Jamz', as well as scooping the award for 'Best Promotional Video'.
The winners of the MICS will now go forward to represent MIC at the BICS (Board of Irish College Societies) Awards in Athlone next month.