UL Bohemian's rugby team made it 12 wins from 12 outings in this season's Energia All-Ireland Women's League when they ran in a massive score this Tuesday night on the 4G UL pitch against Galwegians.
The result was secured by half time with the home side leading 29-0 and the bonus point secured. With the visitors outplayed, Bohs added to their try tally and the finally tally of 11 tries and six conversions confirmed their superiority.
On the 67-0 score sheet were tries from Nicole Cronin (2), Chloe Pearse (2), Laura O'Mahony, Aoife Corey, Sarah Garrett, Stephanie Nunan, Alana Mc Inerney (2) and Niamh Kavanagh while Nicole Fitzgerald was successful with the six tee shots.
The result puts the Limerick side into a whopping 11 point lead over second placed Railway Union and 25 points clear of third placed Blackrock College.
Bohs and Rock will meet at the Dublin venue on Saturday, March 28 while the champions-elect will host Malone in their final league game on April 4 in UL. On Saturday, March 21 UL Bohemian will be in Dubarry Park to play Old Belvedere in the All-Ireland Cup.
Energia Women's All Ireland League:
4GL University of Limerick:
UL Bohemian 67,  Galwegians 0
Scorers: UL Bohemian: Tries: Nicole Cronin (2), Chloe Pearse (2), Laura O'Mahony, Aoife Corey, Sarah Garrett, Stephanie Nunan, Alana Mc Inerney (2), Niamh Kavanagh ; Con: Nicole Fitzgerald (6) ;
UL Bohemian: 15 Aoife Corey, 14 Laura O'Mahony, 13 Niamh O'Niell, 12 Niamh Kavanagh, 11 Alana Mc Inerney, 10 Nicole Fitzgerald, 9 Nicole Cronin, 1 Fiona Reidy, 2 Kate Sheehan, 3 Laura Delaney, 4 Claire Bennett, 5 Ciara O'Halloran, 6 Sarah Garrett, 7 Sarah Quin, 8 Edel Murphy Replacements: 16 Sarah O'Gorman, 17 Orla Curtin, 18 Aoife O'Sullivan, 19 Lily Brady, 20 Chloe Pearse, 21 Stephanie Nunan, 22, Aoife Bowman, 23 Clodagh O Halloran .
Galwegians: 15 Julie Lyons, 14 Marina Gray, 13 Ina Butler, 12 Emily Horgan, 11 Orla Dixon, 10 Nicole Fowley, 9 Emma Keane, 1 Ellen Connelly, 2 Cathriona Shally, 3 Sarah Heenan, 4 Fiona Farrell, 5 Tara Bugggie, 6 Sabina Egan, 7 Nikki Kennedy, 8 Dearbhla Canty Replacements:16 Camille Lassalle, 17 Sarah Heenan, 18 Chloe McCrann, 19 Rhiannan Hoey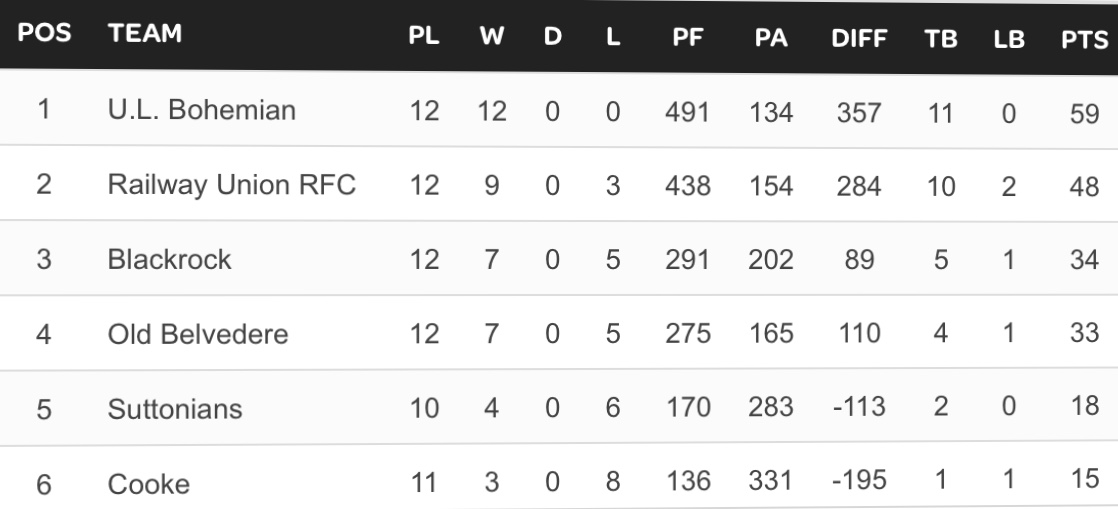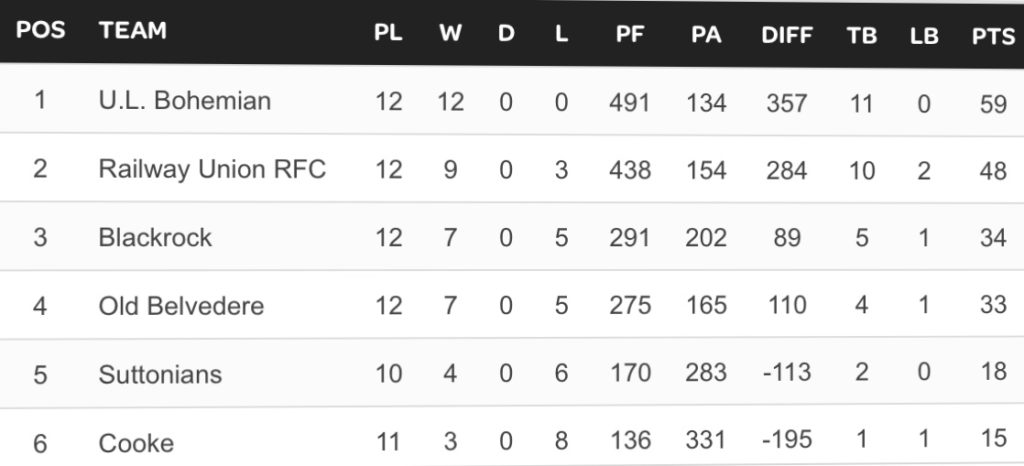 The post UL Bohs Women make it 12 from 12 in Energia AIL appeared first on Sporting Limerick.