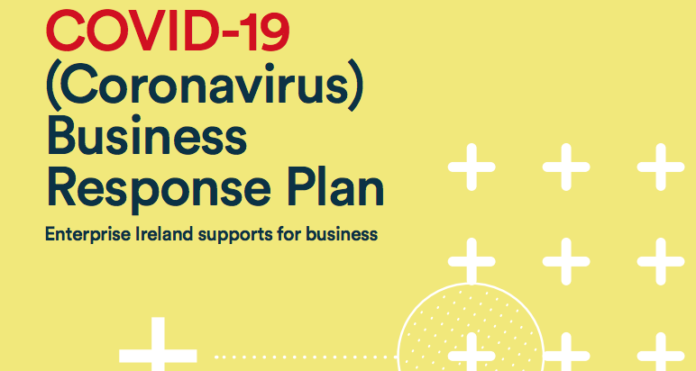 ENTERPRISE Ireland has a number of supports available to help businesses mitigate the impact of Covid-19 (Coronavirus).
Visit Enterprise Ireland for full details of the Business Response Plan.
Business Response Planning Supports include:
€200m Package for Enterprise Supports including a Rescue and Restructuring Scheme – available through Enterprise Ireland for viable but vulnerable firms that need to restructure or transform their businesses, details of these supports are being finalised.
€200m Strategic Banking Corporation of Ireland (SBCI) Working Capital Scheme – for eligible businesses impacted by COVID-19,
Short Time Work Support – is available from the Department of Employment Affairs and Social Protection and is an income support payment for employees who have been temporarily placed on a shorter working week and is intended to help employers during periods of temporary difficulty.
COVID-19 Pandemic Unemployment Payment – from the Department of Employment Affairs and Social Protection will be available to all employees and the self-employed who have lost employment due to a downturn in economic activity caused by the COVID-19 pandemic. The payment has a one–page application form and will be paid for a period of 6 weeks at a flat rate payment of €203 per week for jobseekers.
Finance in Focus – "Finance in focus" grant of up to €7,200 available to Enterprise Ireland and Údarás na Gaeltachta clients to support financial planning

Strategic Consultancy Grant – for SME's to assist the company development of a strategic response plan
Act On Initiative – providing access to 2 days consultancy engagement at no extra cost to access Financial Management, strategic sourcing and transport and logistics advice
Key Manager Support – to provide partial funding towards the recruiting of a Full or Part time Manager with critical skills for future growth
Vouchers for business continuity preparedness, innovation and productivity will be available through Local Enterprise Offices in every local authority area.
The Credit Guarantee Scheme is a government supported product from the banks for small and medium businesses who have difficulty borrowing from their bank. Businesses can apply for loans of up to €1 million at AIB, Bank of Ireland or Ulster Bank. Loans can be for terms of up to 7 years. The scheme provides an 80% guarantee to participating banks which are AIB, Bank of Ireland and Ulster Bank.