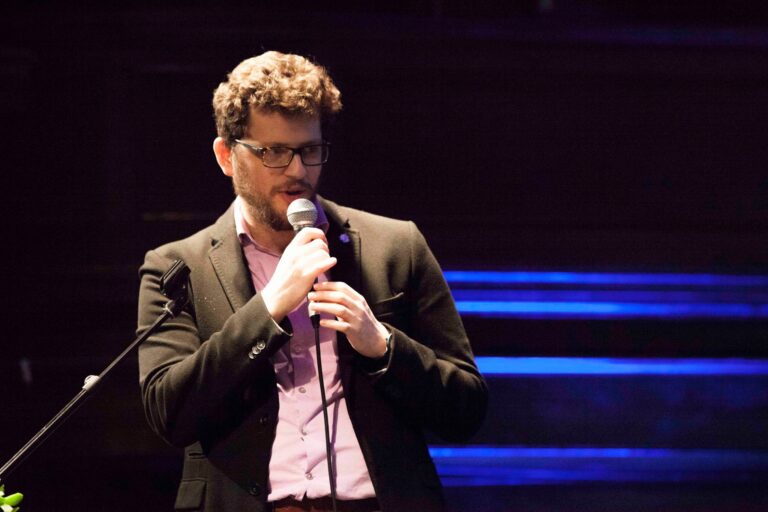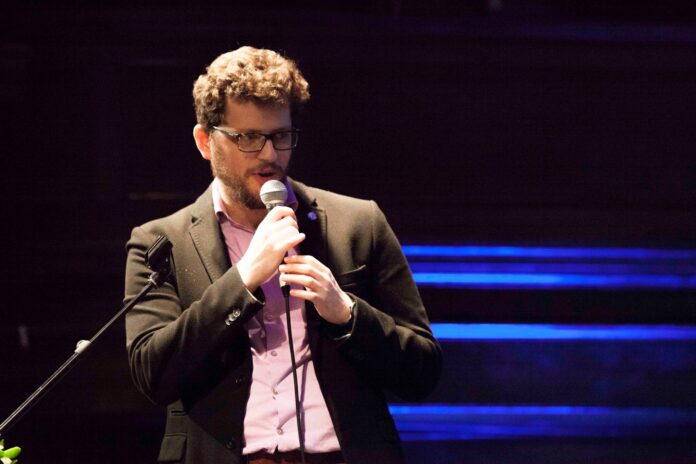 Simon Spichak 
PhD student, APC Microbiome Ireland, and an Irish Research Council Postgraduate Scholar at UCC, 
has been named the winner of FameLab Ireland 2020.
T
he science communication competition is organised by British Council Ireland and funded by Science Foundation Ireland and it aims to inspire, motivate and enable scientists and engineers to share their enthusiasm and passion for science with the public. 
Simon
, whose winning three minute talk was about the interdependence between brain and gut bacteria, will represent Ireland at the International FameLab Finals during the Cheltenham Literature Festival in the UK in October.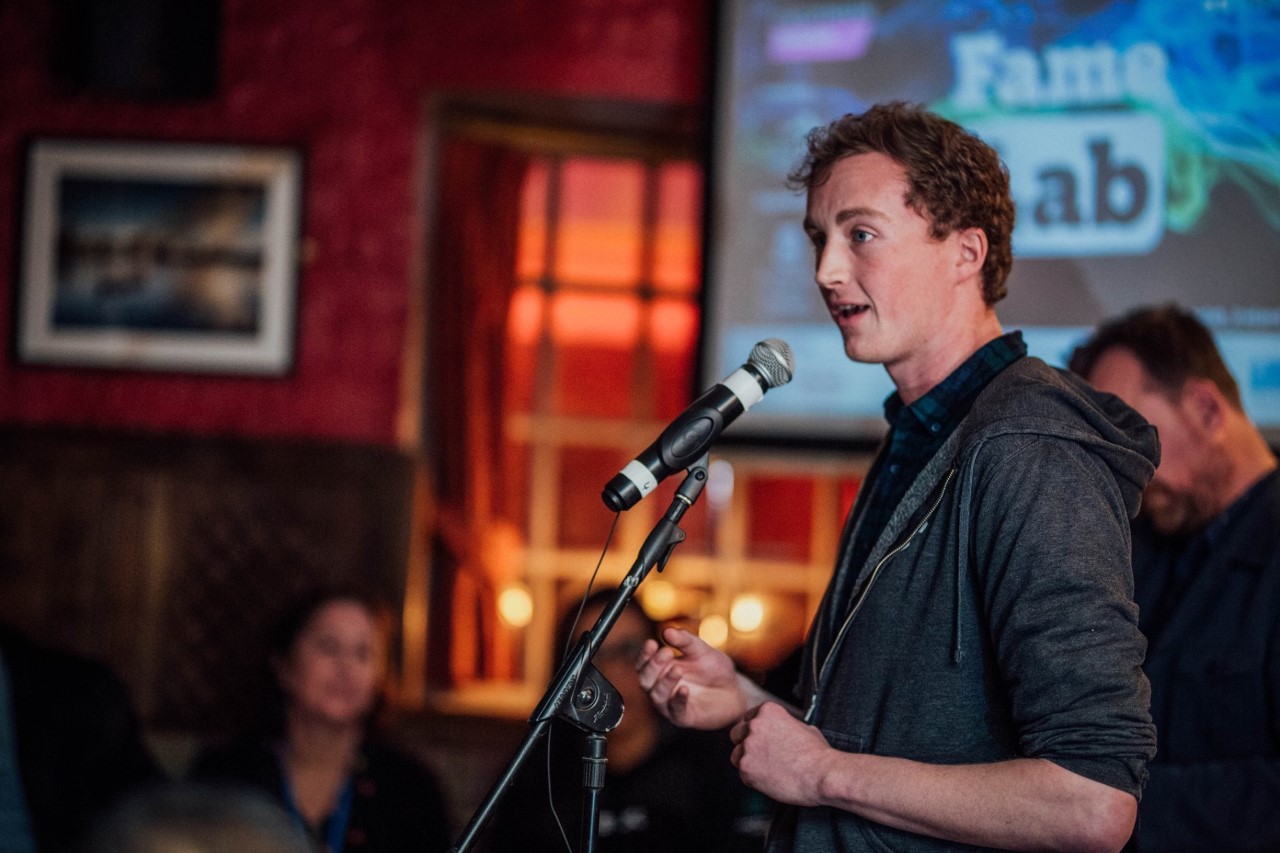 Conservation biologist Marina Mulligan, from Tralee, Co. Kerry took second place for her talk about the importance of using bird bioacoustics as an indicator of habitat health 
while
Katherine Burns, who is originally from Maine, USA and is now an Irish Research Council Postgraduate Scholar at University College Dublin, was awarded third prize for her presentation about wasps and their ecological benefits
. 
The audience prize went to Andrew McGovern
, a Teaching Assistant at University of Limerick for his talk about importance of matching male and female studies in research and medicine.
Originally from Canada, Simon completed his BSc specialising in neuroscience at the University of Toronto in 2017. He then moved to UCC to become a PhD candidate and an Irish Research Council postgraduate scholar under Professors John F Cryan and Ted G Dinan. 
Simon is interested in the non-neuronal cells in the brain, the microbial cells in the gut and how they communicate during early life.
Simon said, "FameLab is an
excellent way to disseminate my research and science. It teaches scientists, who may not always be the best communicators, how to engage a general audience and describe complicated concepts in only three minutes.
"Events like these are necessary for addressing misconceptions about science, and getting people more excited about how the world around them works. Science is for everyone, and FameLab empowers scientists to engage with the public effectively!
" he said. 
Andrew said, "It is wonderful to have a platform like FameLab to share my passion about sex differences and medicine with the public.
"Having won the audience choice prize in the Limerick heats and the national finals I can see just how surprised people are about the significant sex differences in medicine. (And hey, maybe I'm not too shabby a communicator either).
"All in all, the experience has given me the training and confidence to continue to share the information hidden behind the iron doors of research with the public." he added. 
During the final, each of the ten contestants delivered a three minute talk about a scientific topic aiming to be as engaging and interesting as possible.
The judges – BBC Springwatch presenter, Gillian Burke; Director at Cpl Group, Judith Moffett and Founder-Director of the internationally award-winning Blackrock Castle Observatory, Niall Smith – critiqued their efforts against the three 'Cs' – content, clarity and charisma.
Mags Walsh, Director, British Council Ireland, said, "Clear and engaging communication about scientific subjects is more important than ever in light of the chaos visited upon our world by the Coronavirus.
"We in British Council Ireland are proud to support FameLab which helps scientists and researchers to hone their communication skills.
"Collaboration between all communities – scientific, political, business or NGOs is crucial during this crisis and programmes like FameLab that support understanding and engagement have an important role to play globally." she explained. 
Commenting on the FameLab National Final, Dr Ruth Freeman, Director of Science for Society at Science Foundation Ireland, offered her praise to all contestants at the event "Congratulations to Simon Spichak and all this year's FameLab participants on their fantastic presentations and communications skills.
"Science Foundation Ireland, through the SFI Discover Programme is delighted to support FameLab to help scientists develop practical and important skills so that they can clearly communicate difficult concepts.  
"Science is playing a crucial role in fighting the Coronavirus pandemic.  With so many science-related stories in the media now, it is more important than ever that the information is clear, so that people can easily understand it.  
Hopefully they will also be reassured and maybe even inspired by what can be achieved by Science, Technology, Engineering and Maths." she explained. 
Since its birth at the Cheltenham Science Festival in 2005, FameLab has grown into the world's leading science communication competition.
A partnership with the British Council since 2007 has seen the competition go global with more than 10,000 young scientists and engineers participating to date in more than 35 different countries.
This year the FameLab winners from all participating countries will compete in at the International Finals at the Cheltenham Literature Festival in the UK in October (Cheltenham Science festival was cancelled due to COVID-19 pandemic).
For more information about FameLab, visit: www.britishcouncil.ie/famelab You can also keep up with all of the action by following @famelab_ireland and join the conversation using #FameLab.