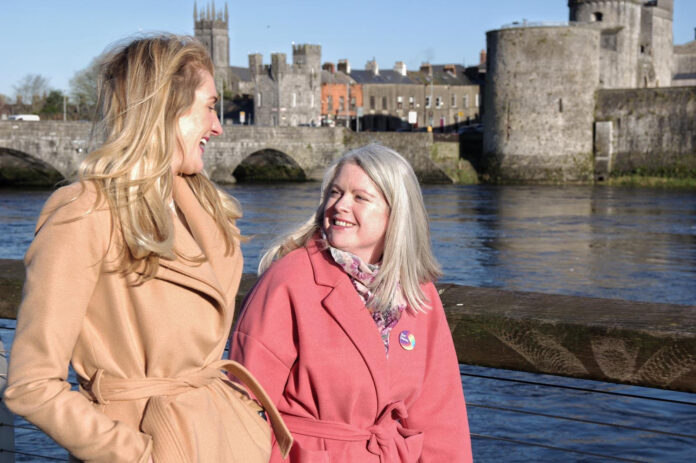 IT'S been a week of change for the Social Democrats in Limerick with Elisa O'Donovan, the party's only councillor, moving to the Independent benches and former General Election candidate Jenny Blake taking over as branch chairperson.
Cllr O'Donovan, who was elected to Limerick City and County Council in last year's local elections, joined the Social Democrats in December 2018.
Confirming her departure from the party, she said that after much thought she had made the decision to continue her work on behalf of the people of Limerick City West as an Independent councillor.
"I wish to step away from party politics at this time and dedicate my energy and time to represent a city and county that I am so proud to call my home.
"In my short time involved with the party I have met some wonderful people whom share the same values of progressive and inclusive politics that I do. I couldn't speak more highly about members of the Limerick City Branch, especially Chair Jenny Blake whom I believe has a very bright future in politics in Limerick. She will always have my unwavering support.
"My first priority as a public representative is to the citizens of Limerick City West. I feel that I would better serve my constituents as an independent councillor," she said in her resignation letter to the party.
Jenny Blake, Chairperson of the Limerick City branch of the Social Democrats confirmed that Cllr Elisa O'Donovan has become an independent councillor.
"Cllr O' Donovan is an asset to Limerick City West, she has always served her constituency with integrity and will continue to do so as an independent councillor. She was, and will continue to be a positive role model for young women interested in politics and leadership in this city." she said.
Earlier in the week, Ms Blake was elected Chairperson of the Social Democrats' Limerick City branch. The Dublin native, who came to Limerick in 2002 to study at UL, subsequently decided to make Limerick City her home. She has worked in several social initiatives in a voluntary capacity.
Currently working as a Student Support Officer in UL, she also teaches yoga in the city centre, having qualified as a teacher in 2018.
She acted as canvas coordinator for the Marriage Equality referendum in 2015 and founded and chaired the Mid West Regional Dual Diagnosis Network while working with Novas in McGarry House.
Commenting on her new role in the party she said that the Social Democrats in Limerick are a very progressive, social justice values-based organisation.
"I stood in the general election in February and it was a life changing experience for me. The support I received from Cllr Elisa O Donovan and the branch was amazing and I'm looking forward to repaying their faith in me," she said.
"As we move out of lockdown, the problems from February haven't gone away. We have a huge housing crisis, while the two-tier health service and the lockdown have really shown up the cracks in the system to support carers.
"The Covid-19 lockdown will also have an impact of the mental health and wellbeing of people across the city and we want to make working on these issues our priority. I hope to use my experience to bring a real campaigning element to the branch on these issues. The party has six really exceptional TDs, and I'll be working closely with them to bring the values of social democracy to Limerick," she concluded.