NOT all superheroes wear capes or their underpants outside their trousers.
Some real-life heroes come armed with nothing more than a smile on their faces and generosity in their hearts.
Sign up for the weekly Limerick Post newsletter
Such is the case of one well-loved Limerick man who was acknowledged last week for his positive attitude, affable demeanour, infectious laugh and his unflinching kindness.
Alexis Kelly from Thomondgate has been thanked by Limerick Treaty Suicide Prevention for his all his efforts volunteering at St Munchin's Community Centre during the Covid-19 pandemic.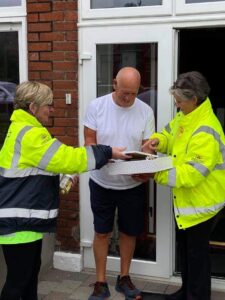 His proud son Jason this week contacted the Limerick Post to praise his father for all he does to help others. Over the past 15 years, Alexis, who worked at Golden Vale for over four decades, has unselfishly given his free time to volunteer with Home Help and the MS Society of Ireland.
Since Ireland went into lockdown in early March, the 66-year-old Connie Francis fan has also volunteered every single day without fail at St Munchin's Community Centre.
"He is over there every day working hard and putting smiles on everyone's face. He doesn't even realise the good work he is doing and for someone from outside our family and not associated to St Munchin's to take notice of the hard work he puts in is unbelievable,"  his son Jason said.
"Not all superheroes wear capes. He is always there to help no matter what. We are super proud of him."
Sinn Fein TD Maurice Quinlivan, who Alexis has been known to get a song out of on occasion, has worked with the Thomondgate man at St Munchin's in recent months.
He was quick to praise his neighbour and friend this week.
"I have known Alexis for a good number of years. I have come to know him very well since the Covid-19 lockdown. I help in a small team in St Munchin's Community Centre with Alexis, Patricia Sheehan and others. Every Saturday and bank holiday, together, we do around 500 dinners to be delivered to the old and vulnerable people across Limerick," Deputy Quinlivan explained.
"I understand Alexis has been there every single day. He is what community is all about. He smiles and sings all through the work making it so easy to volunteer there.  I know his family is like the rest of us, super proud of him.
"He is a great neighbour and brilliant asset to his local community. He demonstrates all that is great in our city."