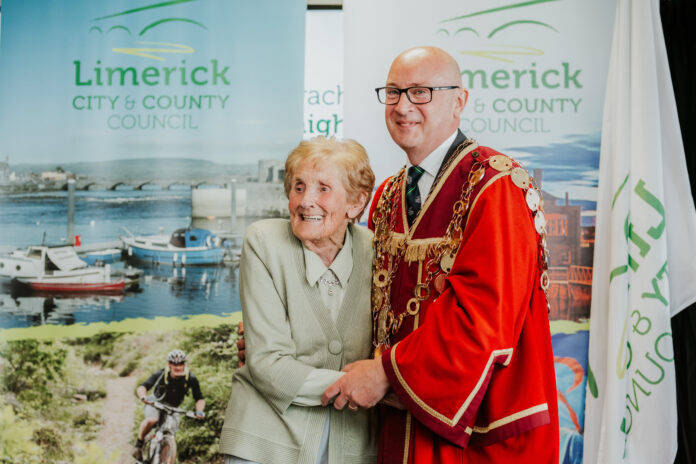 FIANNA Fáil leader of Limerick City and County Council, Councillor Michael Collins has been elected as the seventh Mayor of Limerick City and County.
The Killeedy-based councillor beat Green Party Councillor Sean Hartigan by 31 votes to 8 at a ceremony held in the unusual setting of Limerick Racecourse in order to comply with Covid-19 guidelines set down by the government.
Sign up for the weekly Limerick Post newsletter
The newly elected mayor was proposed and seconded by his party colleagues Kieran O'Hanlon and Francis Foley.
Fianna Fáil, Fine Gael and a number of independent councillors voted for Cllr Michael Collins with Labour, Sinn Féin, Green Party and one independent voting for Cllr Sean Hartigan.
Speaking following his election Mayor Michael Collins said it was "one of the proudest days" of his political career "as I stand here addressing you as first citizen of our great city and county".
"It is a huge honour for me to have been elected to this office, something that I have dreamed of since before I was even elected to the old Limerick County Council for the very first time as a fresh-faced 35 year old in 2004," he said.
Addressing the Council, his family and supporters, which include his mother Peggy, who is 90 years old, Mayor Collins added that he will work with business and communities who are experiencing difficult times as a result of Covid-19; the newly elected mayor called for a reduction in the VAT rate for the hospitality sector and said there needs to be renewed efforts to support Shannon Airport.
Mayor Collins had a special thank you for those who volunteered during the Covid-19 crisis, "This sense of community and selflessness came into its own a couple of months ago with the way communities came together under the umbrella of the Community Response to COVID. Guided by Limerick City and County Council staff, community after community, group after group, person after person stood up and was counted."
As the programme for the newly elected government has outlined its intention to legislate and support a Directly Elected Mayor for Limerick City and County in 2021, this may be the last election of a Mayor for Limerick by representatives.
Fianna Fáil also took the Office of Deputy Mayor, with Cllr Azad Talukdar being elected, beating Labour's Councillor Conor Sheehan by 31 votes to eight.
Last year, also in Limerick Racecourse, Cllr Talukdar made history when he was elected as the first-ever Muslim councillor in Limerick.