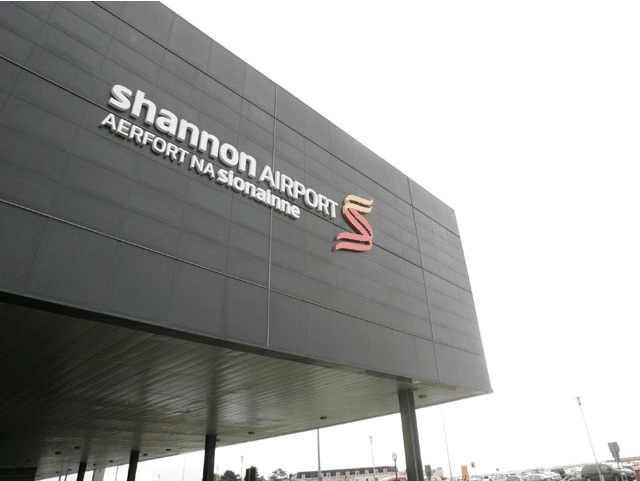 FOLLOWING rejection of a rescue package that included voluntary redundancies and the imposition of 20 per cent pay cuts, the Shannon Group management team has been asked to "step down and allow a new team to pull the airport back from the brink of failure".
Ongoing problems at the Shannon Group have been highlighted by the resignations in recent weeks of two of its most senior managers, Shannon Airport managing director Andrew Murphy and Shannon Heritage managing director Niall O'Callaghan.
The latest call for the resignation of the remainder of the team responsible for the airport, the Shannon Heritage tourism company and the Shannon Free Zone came from Sinn Féin's Oireachtas members in the Mid West.
The group, which includes Limerick TD Maurice Quinlivan, Clare TD Violet-Anne Wynne, Tipperary TD Martin Browne  and Limerick Senator Paul Gavan, said that confidence in Shannon Group to properly support airport workers and local businesses was swept away by its announcement of job losses and pay cuts.
On Tuesday, representatives of the Shannon Airport Group of Unions called for immediate discussions with management after rejecting proposals to cut pay by up to 20 per cent until April 2023.
Speaking on behalf of SIPTU, Connect and Forsa trade unions, SIPTU Sector Organiser Neil McGowan said the announcement of pay cuts and redundancies was completely unacceptable and any unilateral pay cuts would be strongly resisted.
"The lack of consultation with staff and their representatives is appalling and will not assist in reaching an agreeable solution to the difficulties of the airport," he added.
"The terms of the voluntary redundancy scheme announced on Monday were not discussed with, and are not acceptable to, the Group of Unions. We will be seeking the same terms regarding voluntary redundancy that are on offer to airport workers at the Dublin Airport Authority (DAA).
"We will be demanding the withdrawal of these proposals and that meaningful negotiations commence without delay. We will be consulting our members in the coming days to discuss the best means of defending the interests of Shannon Airport workers.
"The airport is a vital piece of infrastructure and this announcement represents a serious risk to jobs and the wider economy in the mid-west region. The Group of Unions has also questioned the timing of this announcement which was released in advance of the report from the Task Force on Aviation which is expected to make recommendations to Government in the coming days.
"We believe the company should have waited for this report before announcing swingeing pay cuts and staff reductions," Mr McGowan added.
In a statement issued to the Limerick Post on Wednesday, a spokesperson for the Shannon Group confirmed that "in light of the catastrophic impact that the Covid-19 pandemic has had on the aviation industry, the CEO of Shannon Group has written to staff at Shannon Airport on a series of proposed cost reduction measures. 
"As we are in dialogue with employees and union representatives, it would be inappropriate to comment further," the statement added.
Speaking on behalf of the Mid West Sinn Féin Oireachtas members, Violet-Anne Wynne said it was quite clear that "the experiment of a standalone Shannon Airport Authority (SAA) had not worked"
"Cutting Shannon adrift from the DAA has been an unmitigated disaster and the proposal to cut pay and seek redundancies has only strengthened this opinion amongst staff at the airport.
"Two recent managerial departures from the Shannon Group have added to the atmosphere of insecurity at Shannon and workers are genuinely fearful for what is going to come next.
"It is now time for the entire management team of the Shannon Group to step down and allow a new team to come in and pull the Airport back from the brink of failure," Deputy Wynne declared.
This follows an earlier call from Clare Independent TD Michael McNamara for "the entire board of Shannon Group led by Rose Hynes to resign from their positions".
Deputy McNamara said that Ms Hynes' position as Chairperson of the Shannon Group was no longer tenable.
"It is time for the Board of Shannon Group to go, including Rose Hynes as Chair. She has very extensive access to senior figures in Fine Gael and has had for some time. It is a pity that this access hasn't been used to persuade them of the merits of a balanced aviation policy," he stated.
"Shannon Airport is now solely utilised by private jets and American military flights. I appreciate the Board of Shannon and Rose Hynes are not responsible for Covid-19 but the aviation sector's reaction to it has again shown that we need a balanced aviation policy.
"It's been clear we needed that since the separation of Shannon but it hasn't happened," Deputy McNamara declared.
Meelick-based Fianna Fáil TD Cathal Crowe has expressed confidence that there is a large degree of unity of purpose among Midwest Oireachtas representatives on the future of Shannon Airport.
Speaking after a meeting of Mid West Oireachtas members on Monday, which was not attended by Shannon Group management, he said it was essential that they would be involved in all future meetings.
"In advance of the meeting, I compiled a list of 29 critical questions based on the concerns of airport workers which I emailed to Shannon Group chief executive Mary Considine for response. I also asked that the Oireachtas Group on Shannon would invite Aer Lingus chief executive Seán Doyle to keep us informed about the airline's plans for the coming months.
"The Shannon Group must make it crystal clear to politicians exactly what they require to keep Shannon Heritage sites open for the remainder of the year. These sites are of huge strategic importance I can think of no credible commercial reason as to why they would remain closed over the autumn and winter", Deputy Crowe said.