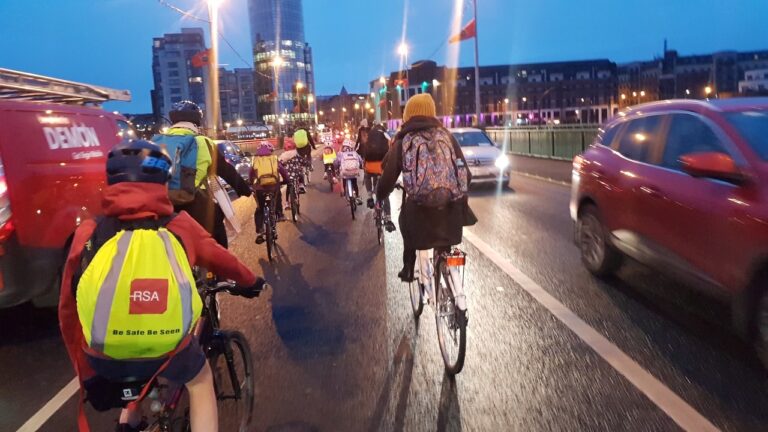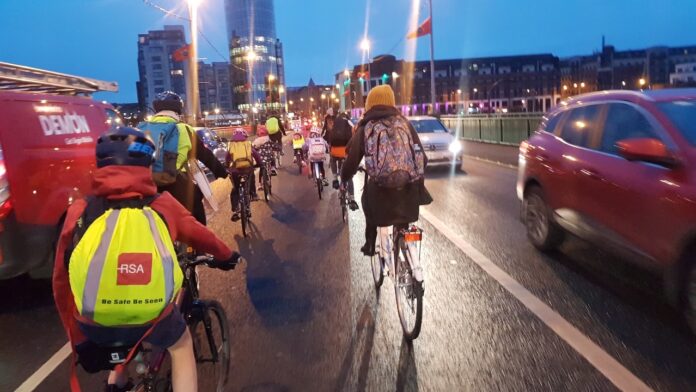 THE emergence of cycle lanes and more talk of pedestrianisation has irked some and given others something to smile about.
There are opposing views on the subject, but the conversation continues to cause controversy as Limerick City and County Council implements its mobility plan for Guiding Limerick Through Covid.
The lockdown that followed the disease here resulted in less cars on the roads, however, as the city and county reopens, bike shops report being sold out of stock with waiting lists increasing.
Cycling, most would argue, is good for one's mental health, however, cycle lanes, it would seem, are not.
The red mist is never far away when discussions flow into the red-coloured lanes.
In Limerick, the debate has gathered steam, leaving some irked, others bewildered, and more again jumping for joy.
Some have questioned why Limerick's streets and car lanes have been closed off and replaced by cycle lane infrastructure.
Clearly infuriated by the plans, one local hairdresser posted two angry videos on Facebook castigating the council for erecting bollards as part of its plans to erect a cycle lane which resulted in road access being partially cut off from to his salon.
Change is never easy, and cycle lanes have always exercised the masses, both for and against.
Some see the council's plans as a threat to their livelihoods. Others, notably motorists, express annoyance at the sudden interruption to their daily engine-fuelled equilibrium.
And, cyclists love them, obviously.
The Novas charity, based locally, plan on using the new bike lanes as an added support to its homeless clients and those battling addictions.
"Our McGarry House service is looking for donations of bikes. With many of our usual exercise and group activities paused, we are setting up a cycle club for clients and with new cycle lanes in Limerick, what better time to get on the saddle," Novas tweeted.
Anne Cronin, who previously worked with the charity, is a self-confessed 'cycling advocate'.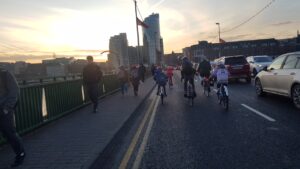 Inspired by the organisers of the Galway Cycling Bus group, Cronin set up Limerick School Cycle Bus, in January 2019, "a group for parents and children cycling to school together from the Northside of Limerick city to the city centre each school day".
While the appearance of a segregated cycle lane along Shannon Bridge has annoyed some, Cronin, whose group advocated for it, says it's "a fantastic achievement".
It has also made her and her children's lives safer, she argues.
"Sarsfield Bridge is entirely hostile, it's just not a bridge for kids on bikes, and Shannon Bridge is pretty hostile as well," she tells the Limerick Post.
"Now the campaign is to keep cycle lane (on Shannon Bridge), unless a permanent solution is found somewhere else, perhaps a new bridge."
"Safety is a big problem," she goes on.
Later, Cronin tweets a negative experience cycling with her child on the road this week: "Accompanied 11YO to hurling, went with him as it was windy. Car nearly hit us, knocked on car window at traffic lights and explained that they came too close. Got abused. We took off once lights turned green, they nearly hit us again whilst incessantly beeping at us #Limerick."
Local cyclist Aidan Hogan has also been advocating for extra cycling infrastructure in Limerick city, to improve safety for all road users.
Hogan regularly tweets videos of interactions with motorists.
Last December he posted a video online, showing a female motorist who appeared to tell Hogan "I don't give a s**t", after he explained her car was parked in a cycle lane outside Colbert Station and that he "could have been killed" because he had to go around her vehicle and join traffic in the car lane.
"Blame the f*****g corporation," the driver is heard telling the cyclist.
Hogan told this reporter he is no stranger to "running the gauntlet" on his cycling journeys.
He argues his video is just a "snapshot of a wider problem, in terms of indiscriminate parking; parking on footpaths; parking in bus stops; parking on double yellow lines".
Dave Tobin, the voice of another Twitter handle, @LimerickCycling, which aims "to strengthen the position of cycling in debates around culture, transport, infrastructure & legislation" recently retweeted comments by Emmet Jackson – accompanied by photographs of cyclists using the newly constructed Shannon Bridge cycle lane – which appear to sum up every cyclist's view on safety.
Jackson tweeted: "So amazing to be able to move freely through the city".
However, even those advocating for cycle lanes were left bewildered when a red lane appeared along the Ennis Road at the junction of Sarsfield Bridge and O'Callaghan Strand.
The segregated cycle lane appears to stop a few feet from where it begins, and is not connected to another cycle lane.
"There really are no words. #SayNoTo Drugs," @LimerickCycleDesign tweeted in apparent despair, above a short video of the cycle lane in question, which has been viewed 150,000 times.
Tobin also shared a tweet this week by Dublin Mayor Hazel Chu, which reported that, in the capital city, "traders income" has increased between 40%-100%, and that "96% say its improved streets in public survey"…"90%+ say it should be made permanent…"highest footfall in the area since early March".
Tobin wrote: "This is the type of proof that some of those Limerick traders who are scared of change need to see."
"They need to be brought along by showing them they are losing out on money by not wanting real improvements in the city centre," Tobin added.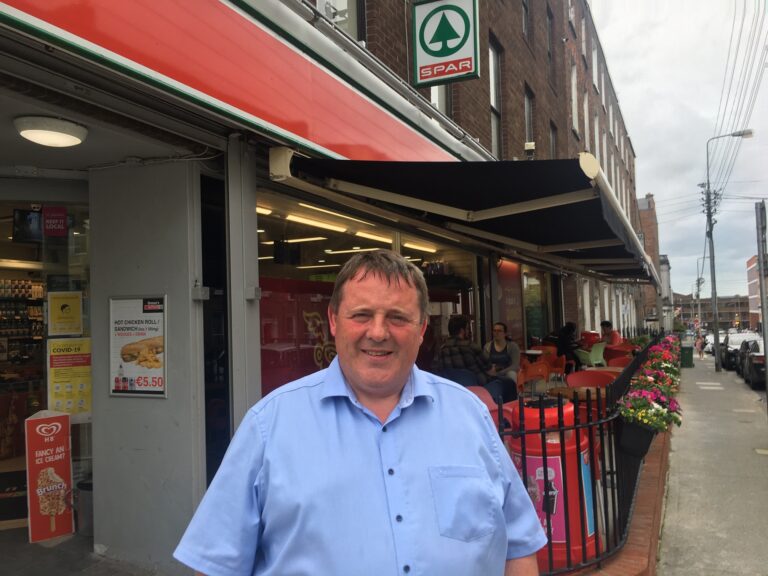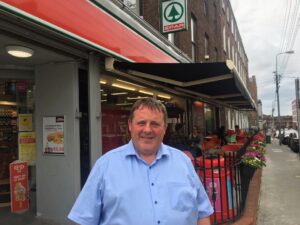 Shane Gleeson, proprietor of Gleeson's SPAR located on Catherine Street, accepts he may be one of those that others are hoping to bring along.
However, Gleeson tells the Limerick Post, he's actually in favour of pedestrianisation, but just not on Catherine Street.
He argues some streets more than others are suitable for pedestrianisation, but Catherine Street, in his opinion, is not.
The trialling of a temporary closure of cars for the past three Sundays, has, Gleeson claims, been "a disaster" for his business.
"Catherine Street is a wide open artery bringing people into town so blocking that I would find regressive," he says.
"I'm absolutely pro-pedestrianisation, as such, but in the right place. I think it has no place in Upper Catherine Street, where we are, so from my perspective, I think it's ill-thought-out."
Gleeson's family has traded in Limerick city centre for the past 60 years, but he admits he is now "forced to consider closure on Sundays".
"In 60 years trade we have never closed a single day, other than Christmas Day," he says.
The street closure has dramatically reduced his business on Sundays, he continues.
Last Sunday his shop "lost over 300 customers as a result of the blockade".
He argues that closing the street to cars at weekends has "pushed a serious number of customers out of the city, which contrasts with the effect of free parking on Saturdays".
The council has launched the free Saturday parking as part of its mobility plan on reopening the city.
Gleeson says his Saturday deli sales have increased by 23% and his Saturday coffee cup sales have shot up by a staggering 233% since the free parking plan was introduced.
"Cars bring customers who purchase into Limerick city, and customer reaction to the free parking has been excellent," Gleeson says.
"All you do by holding those cars out is you hold customers out. The reality is in the till, and each of the three Sundays we've been down roughly 18%, and yet, when you look at the Saturdays, when we've had free parking, we are up 25%."
However, Paul Williams, who runs Catherine Street cafe 'canteen', a short distance from Gleeson's SPAR, advocates for further pedestrianisation on the street and throughout Limerick.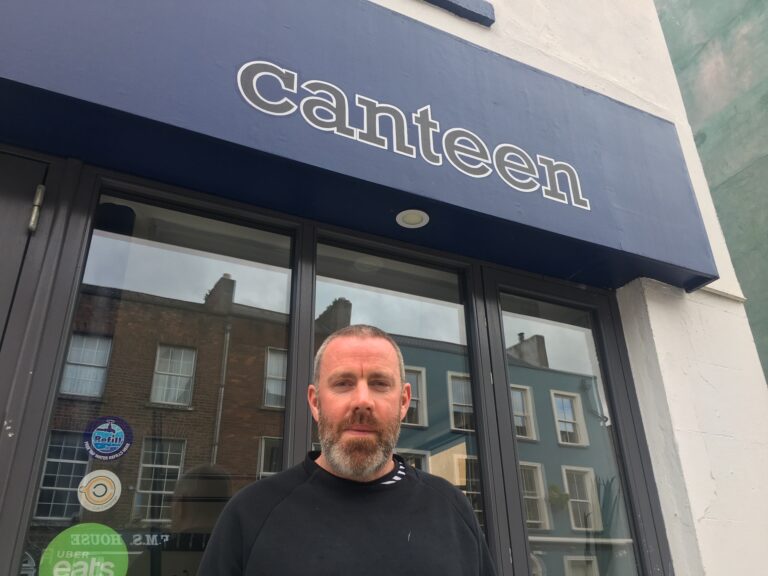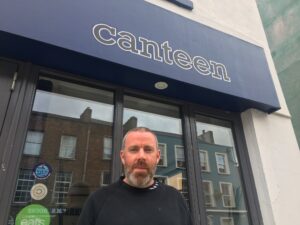 He reports how moving his tables and chairs onto the street on Sunday's has "been been positive and sales have been up".
"People like to come into town when the weather is good; they like to have a coffee and they like to meet friends. With limited seating in cafes and restaurants now, we can't seat everyone, but when we have it on the street, people are happy to sit around for a couple of hours and people are cycling in and (walking) dogs in and meting friends; it's been really positive."
Williams says "there should be more pedestrianated streets" and "we could have a 'summer plan', in that some of the streets are given over to business every summer" to promote tourism in the city centre.
He also argues that, generating business through a living city and a residential culture, is a more attractive plan to boost the city centre economy, rather than focusing on attracting anchor tenants such as Debenhams (since closed) or Marks & Spencer.
"We also need to come up with a long-term plan for the city centre. It's not going to be retail, as the majority of young people shop online now. We need a new plan – i.e people living in the city centre."
Limerick Green Party TD, Brian Leddin argues mobility and transport plans will only work provided there is "good consultation; respect for all the stakeholders; and trialling different solutions".
He says pedestrianisation and mobility infrastructure such as cycle lanes, is affordable, "and a lot of the interventions that you need to do are quiet inexpensive".
Leddin adds, "It's worth pointing out that Limerick didn't look for a huge amount of money from the (government) – it was €100,000 versus €2 million in Cork. The Minister, Eamon Ryan has asked local authorities to come forward with ambitious plans."
Leddin reveals he has approached Minister Ryan about reactivating old railway lines situated around suburban Limerick and onto the county bounds as part of a sustainable transport strategy.
"You've the Ryder Cup in 2026 so wouldn't it be great if we could reopen the Limerick to Adare rail line in time for that, and maybe we could develop a greenway alongside it," Leddin tells the Limerick Post.
"One of Limerick's huge advantages with respect to rail is that it's got very good existing infrastructure, it's just very under-utilised."
"So we've an advantage over Cork, Galway, and Waterford, in that regard, so the cost of actually getting those lines active again is not that significant."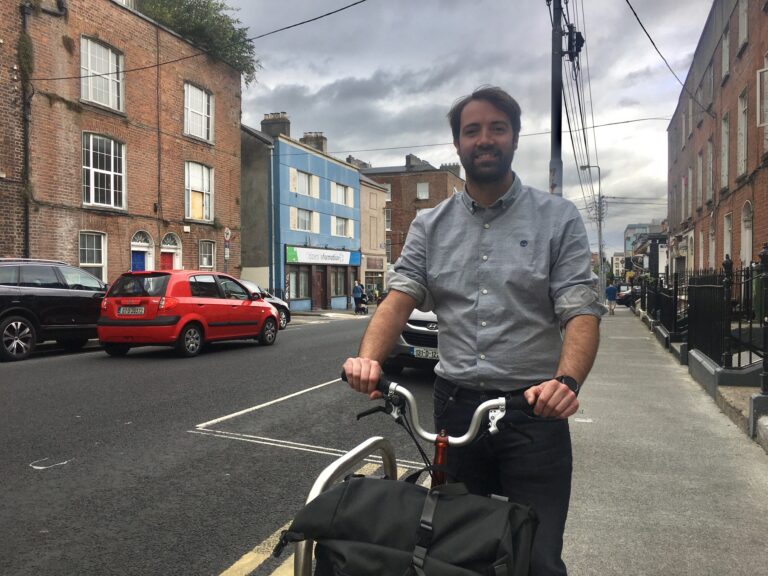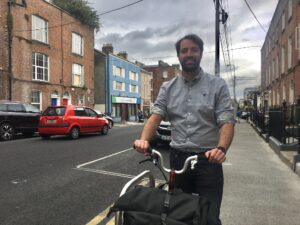 "You're talking about €200 million, for a major upgrade of rail and suburban rail in Limerick and the mid west, and that would entail reopening lines; increasing frequency of services on lines that are already open; building new stations particularly in places that are well suited to development, such as Ballysimon, Moyross, Raheen – these are all very obvious ones, and that's what we need to be talking about."
According to Leddin, the Green Party Leader "is really positive about the prospects, but it's early days yet, but I'd be hopeful we can reactivate a lot of this rail infrastructure."
"We are a relatively flat city and if we provide a dense and coherent network of safe cycling and infrastructure then we will see a huge shift towards cycling as a primary mode of transport," he continues.
"Something like ?? of all journeys in Limerick that are under 3km, 70% of those are done by private car and a lot of that is school journeys. There has been a total collapse of kids cycling to school in the last 20 years – its down 87% since 1986, as per the 2016 census."
"One of the most stark statistics is that in the whole of Limerick city and county, only six girls were cycling to school, and there were more girls driving themselves to school than were cycling – It's insane, it's crazy."
"It's because we have invested very heavily in infrastructure for private cars, and as a result we have got a lot of people driving and that has made the roads more dangerous for people who want to walk and cycle; so, it's a vicious cycle that we have to break."
The council stated that all measures, from pedestrianisation to re-allocation of space (for cycle lanes) to animating some streets are being trialled to get Limerick moving and people visiting.
"Limerick City and County Council believes this opportunity will give Limerick City Centre and various towns the edge, by making them desirable, safe and fun places to live, work, shop and visit."
"The council is to embrace what will be, at least, the short-term new order with a range of Summer 2020 measures; by facilitating some road closures in our city centre, providing parklets".
"The measures will be introduced along Catherine Street, Denmark Street, Upper Denmark Street, Robert Street, Howley's Quay and Nicholas Street, among others. We are introducing an advisory speed limit of 25km/h in the core city centre and we will facilitate safe segregated cycle routes in the city to encourage family and novice cyclists to come out and get some exercise."
The National Transport Authority is also involved in the programme and has committed funding to the proposals to the tune of €100,000.