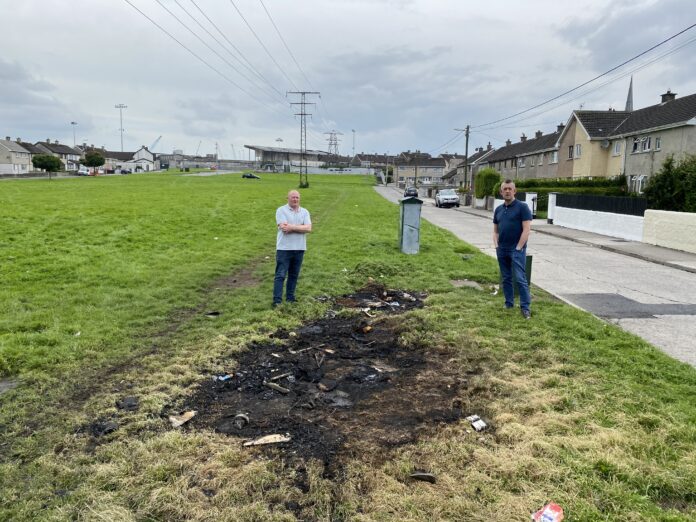 SEVEN nights of anti-social behaviour and fires in Garryowen by a small group of youths have been condemned locally by residents appalled by their conduct.
Speaking to the Limerick Post after visiting Garryowen this week, Sinn Féin TD Maurice Quinlivan said last Sunday was the seventh consecutive night of fires on Garryowen green.
"Garryowen is an area that is well looked after by its residents and it is extremely frustrating to see such community spirit and co-operation undermined by the actions of an ignorant few. I have spoken to residents today and the response that I am receiving is that these actions are being perpetrated by local youths, many of whom are quite young and without adults present," Deputy Quinlivan revealed.
The Limerick politician is angry that the resources of the Gardaí and Fire Brigade have been forced to respond to these incidents over the past week.
"Those who attend these fires are diverting these resources away from the work they should be doing. This cannot be allowed to continue. It is simply unacceptable and local residents deserve much better," Deputy Quinlivan declared.
Aside from the damage being done to the communal green, Garryowen Residents Association Chairperson, John Nugent, pointed out that these vandals are also lighting their fires next to ESB fuse boxes and near to the homes of residents.
"When you see such young people involved, you have to ask why TUSLA have not intervened? We need to see a joined-up response from all the relevant agencies, with TUSLA working alongside Limerick Council Tenancy Enforcement office and local Gardaí so that all appropriate actions can be taken against those who are involved in such anti-community behaviour," Mr Nugent commented.
"Many of these residents of the area are elderly, and commotion and activity can be distressing. These fires must cease now."