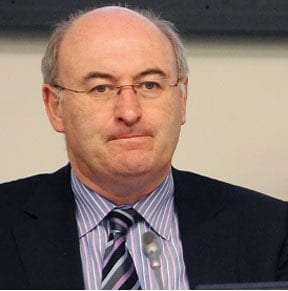 Under-fire EU Trade Commissioner Phil Hogan has maintained in a memorandum on his movements to his Europe bosses, that he posed no threat to people in Adare, County Limerick, after it emerged he stayed in the Dunraven Arms Hotel and ate at a local restaurant, one day before his 14-day isolation period was due to expire.
In a lengthy dossier surrounding his movements, having visited Ireland from Brussels between July 31-August 22, Mr Hogan said he felt he was not legally obligated to adhere to Covid-19 self-isolation or quarantine rules, as he had tested "negative" for the coronavirus on August 5th.
Mr Hogan does not mention in a memorandum sent to European Commission President, Ursula von der Leyen, that he ate in the restaurant and stayed overnight in the Dunraven on August 12, as first reported by the Irish Examiner online this Tuesday.
He states that, on August 12, he met the Tánaiste Leo Varadkar as well as Minister Robert Troy in Dublin, and "played golf in Adare, Co Limerick and returned to Kilkenny" on August 13.
Mr Hogan states in the memorandum that he was not obligated to self-isolate: "I completed a Passenger Locator form on arrival in the State. I subsequently was admitted to hospital for a medical intervention on 5 August where I tested negatively for Covid-19."
"As I had received a negative Covid-19 test while in hospital, I was not under any subsequent legal requirement to self-isolate or quarantine," he continued.
Mr Hogan confirms in the memorandum that he was stopped by Gardaí on August 17 for holding his mobile phone while driving en route from Kilkenny to Galway, and that he had stopped off at an apartment located in under-lockdown Kildare "to collect essential work papers".
Mr Hogan argued that he did not break covid-19 regulations relating to the lockdown in Kildare, adding that, collecting work papers "concerning the EU-US trade talks, constitutes a reasonable excuse for entering the county under COVID regulations".
Last week Mr Hogan apologised for attending a controversial Oireachtas Golf Society dinner in Clifden, Co Galway, on August 19, which has become known as the 'Golfgate' controversy.
When contacted by reporters, the HSE Coronavirus helpline explained that travellers to Ireland from a non-Green List country must restrict their movement for a full 14-day period, regardless if they test negative for Covid-19 after their arrival.