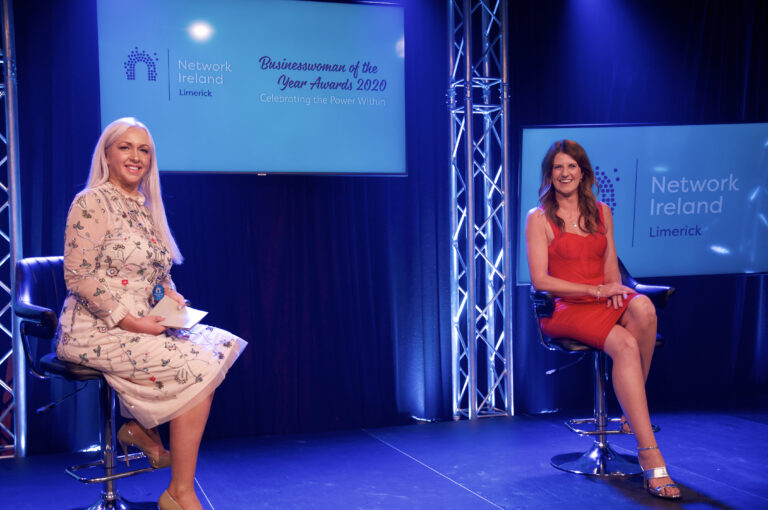 IT was lights, camera, and action as the winners of the Network Ireland Limerick Businesswoman of the Year Awards, sponsored by LEO Limerick and AIB, were announced during a very unique virtual awards ceremony (on Thursday 27 August).
Due to the latest Covid-19 restrictions, the Limerick branch of Network Ireland had to change plans for an event in the Savoy Hotel and move everything online. President of Network Limerick Ireland, Petrina Hayes and her VP Caragh O'Shea instead announced the winners from a glamorous professional studio set while committee members roamed across the city and county to present trophies to the winners at their homes.
Lynda Sheehan, Rockbarton Garden Centre won the Business Innovation Award. Moira Geary, The Recombobulator won the Solo Businesswoman Award. The Transformative Employee Award went to Lyndsey Hall, Piquant Media and Denise Brazil, The Bedford Townhouse & Café, won two awards – Emerging New Business and the Power Within Champion award.
In all, 22 finalists were competing across the 5 categories. Most categories are new this year and were introduced to recognise the unprecedented challenges presented by the pandemic; transforming how a business operates while caring for family and others, remote working, coping with a period of isolation or all of the above.
The winners of each award category will now go on to the national finals for Network Ireland which will be announced at a Gala Ceremony streamed live from the Powerscourt Hotel, Wicklow on 2 October.
Special guest speaker at the Limerick awards night was Dr Sinead Kane, an international Visually Impaired motivational speaker and ultramarathon runner. Joining via zoom from her home in Cork, Sinead shared her insights from personal experience on how to overcome adversity and build resilience thereby creating a mindset for success.
Her inspiring story hit the right note with attendees especially when she highlighted the importance and benefits of focusing on having the right attitude and mindset.
Speaking about the Awards, Petrina Hayes, President of Network Ireland Limerick said, "Our annual Businesswoman of the Year Awards were transformed this year in more ways than one to reflect the vastly altered working world in which we all find ourselves.
Despite the changes and challenges, we were delighted to have the opportunity to acknowledge our members who have demonstrated how strong, capable, and courageous they are in a time of crisis.
We had 22 inspiring finalists this year which is incredible given what we've been through so far this year. I would like to congratulate them all and wish our well-deserved winners the very best of luck at the nationals."
"As the awards had to be hosted virtually, we did everything in our power to make the ceremony a really special celebratory event and we are delighted with the response so far.
"Dr Sinead Kane, our wonderful guest speaker, provided much needed inspiration at this time. And our roving presenters brought so much joy and excitement to the winners by bringing the awards ceremony to their homes."
"I would like to especially thank the support of our sponsors, LEO Limerick and AIB, and judges Mary Killeen, LEO Limerick, Shona Keane, AIB and Patrick O'Sullivan. And a massive thank you to Chris Walsh of Hippo Sound & Lighting who managed the staging and production and of course our amazing committee who constantly have my back and are a tremendous support," she continued.
Despite not being able to attend in person, the finalists still got dressed up for the awards and were joined by their family and friends at home as they watched the ceremony via zoom.  Also in attendance were judges Mary Killeen, LEO Limerick, Shona Keane, AIB and Patrick O'Sullivan along with Louisa Meehan, National President of Network Ireland.