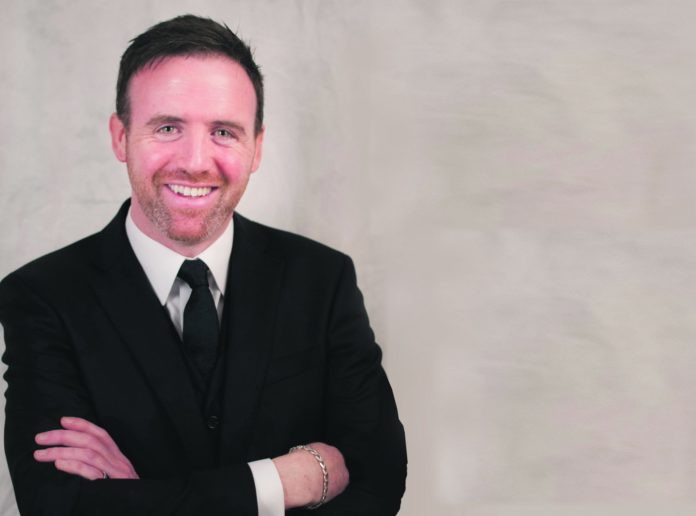 FORMER Limerick Fine Gael TD Tom Neville has firmly set his sights on Hollywood having agreed terms with leading acting agency Northern Gold PM.
Neville from Croagh, West Limerick, who lost his Dail seat in last February's General Election, joins his wife and Fair City star Jenny Dixon, on the agency's books.
Sign up for the weekly Limerick Post newsletter
The UK-based firm represents actors across television, film and theatre, including legendary British soap 'Coronation Street' and BBC America's top drama 'Killing Eve'.
"I'm absolutely delighted to sign with them. They work with a lot of the UK soaps, and also the likes of 'Killing Eve', 'Doctors' and 'Casualty', so it's really really exciting. I'm really delighted to have the chance to work with these guys and see where it goes," the 44 -year-old told the Limerick Post.
The covid-19 lockdown, which arrived soon after the General Election, provided "time to take stock and submit my showreel to casting directors".
"I have been concentrating on my acting and getting my own consultancy business off the ground."
Neville's acting skills came to the fore in 2015 when he received a nomination for Best Monologue at the Richard Harris International Film Festival for his performance as heroin addict Mark Renton, made famous by Ewan McGregor in cult hit movie 'Trainspotting'.
Before the Covid-19 pandemic, he was riding high on the back of his performance in 'Everything Looks Better in the Sunshine' which "got a great run at the Galway Film Fleadh".
While continuing to flatten the Covid curve, his acting star is once again on the rise.
"I'm shooting an Irish movie in the middle of September. I'm playing a priest, which I've done before," he explained.
"There are a number of projects on the boil that Northern Gold are looking at for me, so I'm just looking forward to getting moving on them – I'm really looking forward to the next chapter on this, so we'll see where it goes."
The former politician has "predominantly worked in film" but loves "the feedback from a live audience, and working on the edge".
"In theatre, you only get one chance and you've also got the atmosphere from the crowd, but obviously a lot of that has changed in the current environment, which is really difficult for theatre actors and theatres, and hopefully they will return sooner rather than later."
The atmosphere of the political stage was "slightly different, because the Dáil was real life, and a lot of people are effected by the decisions you make, so it's a completely different dynamic".
Neville and Dixon celebrated their first wedding anniversary last July. Paying tribute to his wife, he said: "It's great to have somebody else in your coroner who has been a rock for you, someone who has great advice and a great outlook, and someone who is very talented in the acting area as well."
"We work with each other in relation to that and I'm blessed to have that support, I'm lucky to have it."
The husband and wife acting duo role play when a script comes in the door.
"We do. We rehearse for scripts, we help each other with rehearsals or analysing characters, or what the plots or subplots are, particularly around audition," said Tom, who is son of retired former Fine Gael parliamentary party chairman Dan Neville.
While presently concentrating on his acting as well as his consultancy business, he hasn't ruled out a return to politics.
"Politics is in my blood, it'll always be there and there will always be a political grá within my genetic make up – how that will pan out over the next couple of years, I don't know, but politics is so fluid and dynamic, and things change so quickly, and things arise."
"At the moment I'm playing the cards in front of me."