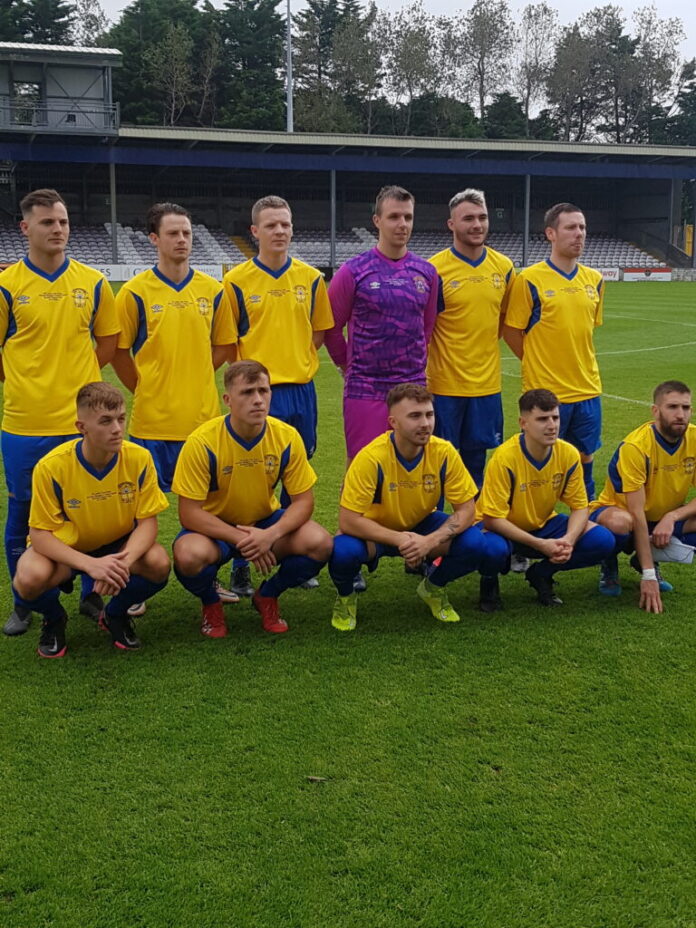 FAIRVIEW Rangers have become the first club to win the FAI Junior Cup 9 times following a 1-0 victory over Usher Celtic in the decider on Saturday afternoon at Eamon Deacy Park, Galway. A goal late in the second half from Clyde O'Connell was enough to give the Limerick club a deserved win on the day.
There was a frantic start to proceedings with both sets of players scrapping for possession at every possible opportunity. Stephen Bradley, Jeffrey Judge and Adam Frahill were in direct competition with the lively Sean Martin, Leroy Staunton and Calvin Douglas with Jordan Buckley often dropping deep to support.
Usher played a 3-5-2 system and were very reliant on winger Wayne Walker to start attacks and often overloaded that area with either Buckley or Stephen Donnelly veering to the left hand side to create overloads.
However, AJ O'Connor was more than equal to the task throughout. Normally operating at central midfield, O'Connor was filling in for the unfortunate Jamie Enright who missed out through injury and was a stalwart all season for Purcell.
Fairview started with 17 year-old Conor Keane as the lone striker and Ross Mann operating from the right-wing. Later in the half, Mann reverted to his usual position in a frenetic first half which is not often seen in cup finals.
The first two chances of the game came through set-pieces as Clyde O'Connell and Mark Slattery had the beatings of both opponents in the air and their respective headers were saved by Sylvin Voivod in the Usher goal.
Despite possessing the dangerous front pairing of Buckley and Donnelly, the first chance of of the game for the Dublin based side came after 30 minutes when Donnelly headed a lofted cross from Staunton straight at the waiting and dependable Aaron Savage.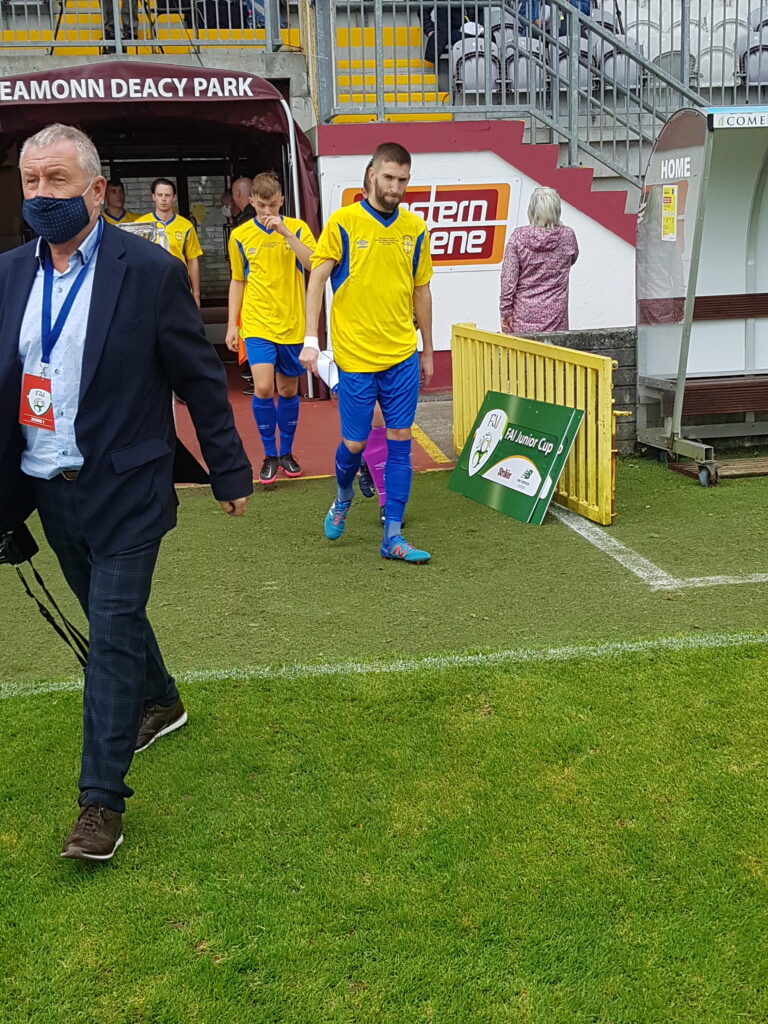 With five minutes remaining in the first half, the best chance of the game fell to Usher as Donnelly pounced on a short back pass from Clyde O'Connell and despite re-gaining his composure following a slip, Donnelly's effort was blocked by the recovering O'Connell, much to the former Regional man's relief.
Moments later, the Limerick side had a huge chance of their own as a cross from the right by James Fitzgerald found Judge eight yards out but the former Limerick FC man blazed over under pressure.
The second half was a much more tentative affair with both sides reluctant to attack and leave themselves open to a concession that they would find it hard to come back from.
The biggest chance of the half for the Dublin outfit arrived when Graham Curran laid the ball into the path of the onrushing Donnelly who outpaced the Fairview defence and forced Savage to tip the ball out for a corner kick.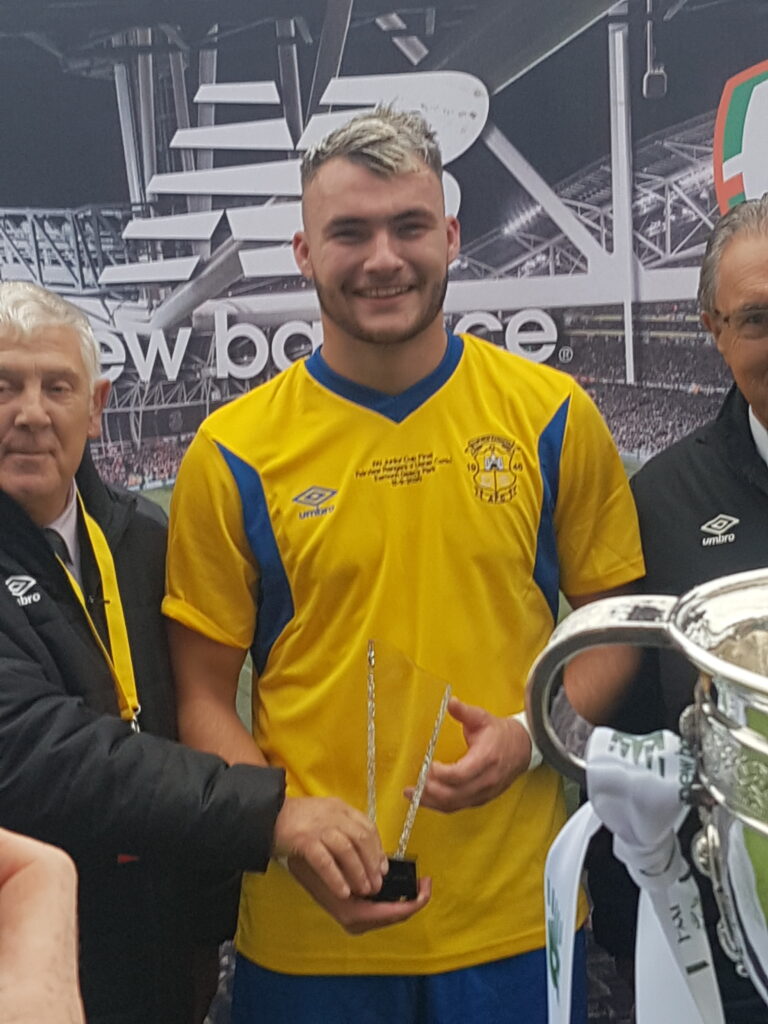 With ten minutes remaining, Clyde O'Connell gave Fairview the lead goal as he powered a header home from a Fitzgerald corner. Fairview had been dangerous from set-pieces all game and Usher did not learn their lesson and despite their best efforts to keep the ball out on the line, it was well over.
In truth, the goal appeared to cause Usher to freeze and they had no response in the 14 minutes including injury time that followed. Despite being awarded numerous dangerous free-kicks, a massive team effort and crucial clearances from Judge and O'Connell denied the Dubliners a sniff at goal.
Referee Paul Gleeson called a halt to proceedings and Fairview were once again successful in an FAI Junior Cup Final. The club have a rich history in the national competition and bounced back from the disappointment of losing the Munster Junior Cup to win the biggest prize in junior soccer.
Fairview Rangers: Aaron Savage, AJ O'Connor, Mark Slattery, Clyde O'Connell, Shane Costelloe (Liam Byrnes), Stephen Bradley, Jeffrey Judge, Adam Frahill, Conor Keane (Eddie Byrnes), James Fitzgerald (John Mullane), Ross Mann
Usher Celtic: Silvin Voivod, Stephen Doyle, Darren McDonnell, Leroy Staunton, Derek Flood, Sean Martin (Anthony Grouse), Graham Curran, Calvin Douglas (Barry Browne), Jordan Buckley, Stephen Donnelly, Wayne Walker
The post Fairview Rangers Claim Ninth FAI Junior Cup Title appeared first on Sporting Limerick.