THE Limerick Desmond League makes a long overdue return to competitive football this weekend, with 14 junior games on Sunday, preceded by four youths games on Saturday afternoon.
In total 33 junior sides will take to the field this campaign, as well as 10 at U18 level. The last game played under the auspices of the Limerick Desmond League was way back on March 7th.
Sign up for the weekly Limerick Post newsletter
The weekends fixtures can be viewed here.
The delay to the start of the season has caused frustration to many sides, particularly those who had returned to the training field with the original mooted date of September 20th.
The delayed start means it is the latest start to a season in recent history and comes around three weeks later than last season's mid-September kick off. Normally, the season would have started by the final week of August, so early October raises natural cause for concern.
Last season, before Covid was even knonw, the Premier Division in particular was some bit behind schedule, with regional and national competitions taking priory and a number of weather delays meaning that roughly just 33% of the top-flight league ties had been played by early March. This meant that even without the cessation of all sport, the league would have struggled to finish all the competitions before July.
League officials will be under pressure once more to get this season complete in a timely manner and may need to investigate using their home ground, Mick Hanley Park, to facilitate mid-week fixtures. There are currently two clubs who have access to floodlit pitches – Abbeyfeale United and Glantine.
We are all under the assumption that Limerick can continue to win the fight against Covid-19 and there is no halt to amateur sport in the region. If there is a government enforced lockdown, even temporarily, it would put even more time pressure on the League.
In contrast to the neighboring Limerick District League the Desmond League will be around 8 or 9 league games behind, without the possibility of evening fixtures until sometime in April of next year. This should be a huge concern and it is important for the integrity of the competition that all league and cup games can be facilitated.
The delayed start will allow virtually all clubs call upon players who play GAA from the start, but question marks must be asked of the lack of urgency to kick-start the 2020/21 season. The need to have an AGM, which is in the league rule book is a reason given but perhaps clubs would have been satisfied to forego this to get the sport back underway.
Players face the prospect of being scheduled for a game every single week between now and May. This is without the usual delays of free-weekends, poor weather and Christmas, as well as the natural delay with sides progressing in the Munster Junior and FAI Cup competitions. A 10-team Premier Division would appear to be a difficult task to complete, without stretching into June and July as has become the norm in recent times. The potential shortage of referees, who on each weekend oversee underage, ladies, youths and junior fixtures, is another challenge facing the management committee in the coming months. Match officials are familiar to all clubs and they'll be under pressure to make themselves available for as many games as possible.
This isn't aimed to take aim at those who volunteer their valuable time to oversee these competitions, but merely highlighting the challenges they, together with clubs, face. I believe that the League committee should welcome ideas from clubs that help progress the league and make it attractive to players, young, old or otherwise to participate in. In the short term, they, in conjunction with clubs will need to be creative to facilitate each competition.
The coming junior season shows that 33 teams will be spread across the four tiers. This, by comparison to the 2013/14 season, when there was 42 teams in action. A net loss of 9 teams (21%) would suggest that on a conservative estimate (approximately) 160 less men are playing in the Desmond League. Why? Everybody still involved would have a theory as to why.  I would urge those involved at both club and league level to investigate this to see can this be improved upon. Those reasons may wait for a time in the near future, but thankfully we now have some competitive football on the horizon. Amateur sport is about participation firstly but perhaps having a smaller more competitive division would be the way forward, while still allowing people several weekends free to pursue other interests.
Thankfully, we will have football this year, after a strange and unprecedented seven months. That leaves us with plenty to discuss and talk about. Silverware is set to played for across 11 domestic junior competitions and there promises to be plenty of thrills and spills along the way.

Premier Division:
The Premier Division title is likely to be the target of Abbeyfeale United and Rathkeale once again, though Broadford United, Newcastle West Town and Glin Rovers will be hopeful of derailing Alan Doyle's Rathkeale. The men in sky blue are heading for four league titles in a row.
Glin had narrowly led the way at the lockdown while Newcastle West had completed just five games, owing to a healthy run by Noel Murphy's side in the FAI Junior Cup. The recently formed merger will be hoping that they can challenge the pace setters this time out.
The last five titles have gone to Rathkeale (2018/2019, 2017/2018, 2016/2017) and Abbeyfeale United (2015/2016 and 2014/2015), but prior to that, Broadford United were champions. United will be hopeful that recent successes at U18 level will help them climb to the top of the junior table once again.
Another side looking up the table will be Kilcornan. Gary Manning remains in charge, and has recruited a number of players, including Tomás O'Connor, Darragh and Kevin Walsh. All three players have played underage with the club and will strengthen a side who had a bright start to life in the top flight.
Darragh O'Grady takes the helm at his native Ballingarry, hoping that the success of reaching a Munster Youths Cup final in August can be a spur to improve their junior fortunes. Declan Nash has arrived from Rathkeale and could be a leader for the men in yellow, but it appears youth will be encouraged to prosper by O'Grady.
Near the bottom, it appears Adare United may have welcomed the cancellation of last season, knowing that they'll need to improve significantly to retain their top flight status. They are idle this weekend due to GAA but they'll need to improve upon one point from eight league outings last season.
Carrig Celtic may find this season a struggle. The loss of Sean McSweeney to immigration was a considerable blow during last season. John Hayes has also departed and it appears a challenging year is in store. The withdrawal of their second team coupled with no youths team perhaps emphasises the challenges faced by Carrig.
Division One:
The same 10 sides will do battle for this season with both Breska Rovers and St. Ita's leading the way at the halfway mark last season. Breska were unbeaten
Ita's were the only side to take points of the Clarina men last season, who've changed manager ahead of the new season. Aodhagan Behan is now in charge and will face a couple of his former clubs. One of those is Shannonside, who are now guided by Mike Aherne, who in recent seasons, took Aisling Annacotty to both the FAI and Munster Junior Cup semi-finals.
Creeves Celtic, Pallaskenry and Knockaderry have all had their bedding in period following their rise from Division Two. Shountrade and Kildimo United will have taken stock after an underwhelming displays last season. This division is relatively wide open and a bright start, as shown by Kilcornan in 2018/19 can go a long way to securing a promotion spot.
Division Two and Division Three
Division Three returns after two years without a fourth tier, however, both Division Two and Three are smaller than the top two divisions. Just six teams will take to the field in Division Two. Division Three has seven teams, either newly formed 'B' teams or clubs returning to the League after a season idle.
Mountcollins have opted out of football for the foreseeable future at all levels. Askeaton B, Carrig Celtic B and Broadford United Reserves have all withdrawn ahead of the new campaign. This leaves just six remaining teams.
Askeaton, Glantine and Athea United will all have eyes on the Division Two title while second string sides Abbeyfeale United B, Breska Rovers B and Glin Rovers B will look to improve after indifferent seasons until the lockdown last March.
In Division Three, the seven new sides are Bally Rovers, Ballysteen, Ballingarry B, Feenagh, Granagh United B, Kilcornan B and Shannonside B. Bally Rovers are idle this week as they return following an unsuccessful spell with Killeaney. This is ideal due to Gearld Griffins involvement in the Intermediate Gaelic football final on Sunday so time will tell if Bally have assembled a squad capable of challenging of honors.
It is anybody's guess as to who will be challenging for this title though Ballysteen and Feenagh were most recently in Division One before their withdrawal from competition.
Youths League
In the Youths league, there are five teams in both Division One and Division Two. Ballingarry have a large segment of their side still eligible from last season and are joined in Division One by this weekend's opponents, Newcastle West Town, familiar foes Broadford United as well as Askeaton. Kildimo United – who have rarely fielded at this level in recent times – complete the group, but are without a game this weekend.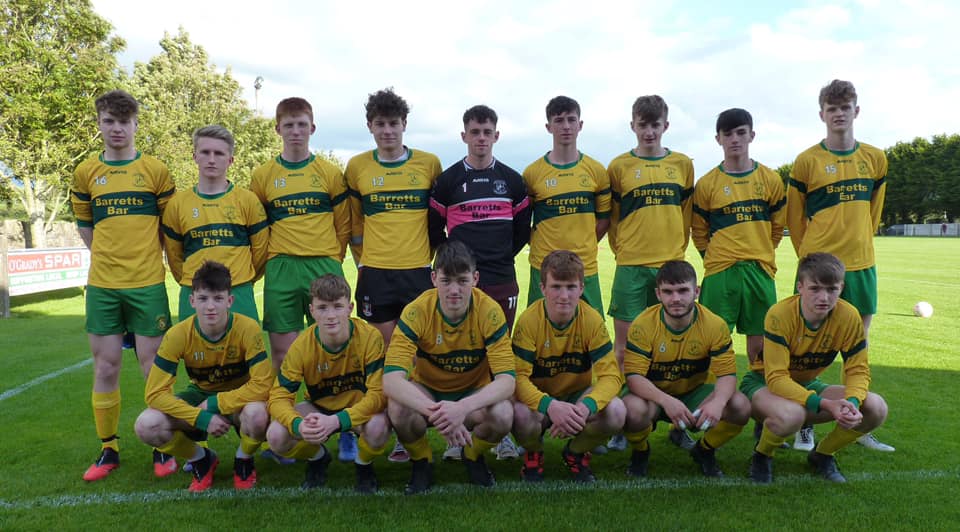 Division Two sees Breska Rovers face Killeaney, Pallaskenry entertain Kilcolman while Adare United must wait a week for their seasonal debut. Both Killeaney and Kilcolman have no junior side but it augers well for a future side in the junior game.
The post Desmond League returns after six months appeared first on Sporting Limerick.