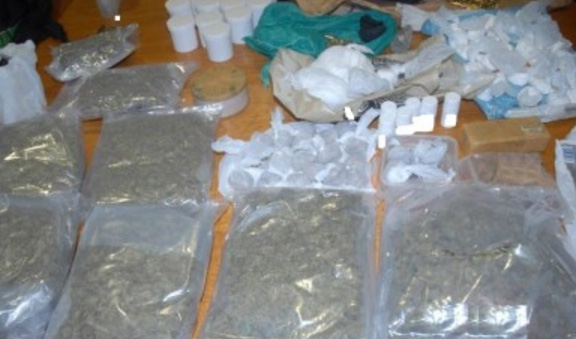 THE Taoiseach has been challenged over the amount of resources available to gardai in tackling drug gangs in Limerick.
Speaking in the Dáil today, Sinn Féin TD, Maurice Quinlivan, said he was shocked when the head of the Limerick Garda Division Chief Superintendent Gerry Roche told a local Joint Policing Committee meeting that gardai had more intelligence than they could act upon.
Gardai told the meeting drug dealers were luring vulnerable youths into the drugs trade by selling them "cannabis jellies" and "cannabis juice".
"Taoiseach, I've been a member of Limerick's Joint Policing Committee for more than 10 years and I never such a blunt statement from a senior Garda," Deputy Quinlivan said.
The Sinn Fein politician asked Michael Martin "to ensure that additional resources including Gardaí are deployed as a matter of urgency to deal with these thugs".
"The residents in these areas need some assurance that they will not be abandoned."
Speaking afterwards Mr Quinlivan said Chief Supt Roche's assessment of the drugs scene in Limerick was "a damning indictment of how this surge in drug dealing has been allowed to grow".
"From the Superintendent's statement it seems the Gardaí know who the dealers are yet lack the resources to tackle them," Mr Quinlivan said.
"These dealers do not lack resources, they operate on a 24/7 basis and often openly in the estates, they act with near impunity. They give two fingers to the state, to the Gardaí and to the local communities."
The Sinn Fein TD said "many residents feel utterly abandoned" and "communities witness these displays of criminality and face intimidation on a daily basis, and yet very little is done to help them".
"I have said before and I will say again, we are looking into the abyss as a city and if action and resources are not swiftly provided we could well find ourselves facing a larger and more lethal set of problems."
"I do hope the Taoiseach heeds this warning and takes swift action to ensure that the Gardaí and other stakeholders are given the resources to tackle these thugs."
Gardai and the Taoiseach have been asked for comment in response to Deputy Quinlivan's comments.
Chief Superintendent Roche told the JPC meeting that gardai had seized €1.6million worth of drugs in Limerick from January to the end of September, a 46% increase for the same period last year.
He warned drug dealers were luring vulnerable youths into the drugs trade by selling them "cannabis jellies" and "cannabis juice".
"We regard the use of cannabis juice and jellies as a very serious trend because they are designed really to trap and encourage people – particularly teenagers – to take drugs, particularly cannabis."
He said drug dealers market these products as "harmless looking" and similar to "alcopops".
Chief Roche said gardai were concerned at the increase in use of cannabis jellies with reports of a number of youths overdosing.
These products are purchased online and are sent in the post in the hope they will evade customs officers.
A Garda spokeswoman said: "The comments attributed to Chief Superintendent Roche were in the context of a wider discussion at the Joint Policing Committee on Crime in Limerick City."
"Chief Superintendent Roche did not say he did not have sufficient resources, rather resources available to him to police Limerick city are balanced to respond to competing demands."
"Chief Superintendent Roche highlighted significant successes this year with detections for the sale and supply of drugs significantly increased to date in  2020."
Limerick Gardai have seized €45,420 worth of cannabis jellies and €48,900 worth of cannabis juice so far this year.
They have also seized
•  €744,695 worth of Cocaine
•  €491,115 of Cannabis
•  €130,795 Heroin
•  €79,200 in Cannabis plants
•  €40,250 Amphetamine
•  €30,394 Alprazolam
•  €17,520 Crack Cocaine
•  €9,810 MDMA