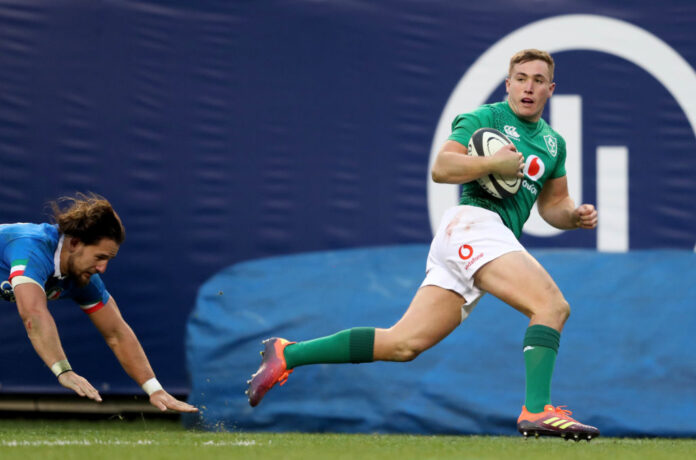 EVEN before his unfortunate dislocated shoulder suffered away to Benetton, there were rumblings about Jordan Larmour and his "form" coming into the restarted Six Nations Championship as Ireland's incumbent fullback off the back of some iffy performances for Leinster since the restart.
Larmour's work under the high ball has been the main focus of the angst over his suitability to continue in the #15 jersey that he's occupied since the turn of the year.
Sign up for the weekly Limerick Post newsletter
My spicy take on this situation is that "form" as it's typically discussed doesn't exist. It's a mirage. Paddy Upton is a T20 cricket coach and sports psychologist that has some really interesting ideas around the concept of form when it comes to performance in sports.
Upton realised that with any sportsperson's performance over a period of time there will be high and low points because no player in any sport has a sustained level of consistent success over their entire career.  Are these high and low points "form"? Upton would say, no, that the idea of "form" as it pertains to sports is an illusion:
"When you play roulette, you have the choice of red or black. If the ball repeatedly lands on black, there is an unfounded belief that the ball will land on red the next time the wheel spins.
"The truth is for every new spin of the wheel, the ball has a 50-50 chance of landing on either red or black. What came before is irrelevant. It's the same with a sports star. As long as the player has prepared his own game to the best of his ability, he has an equal chance of failure or success whether in so-called "good form" or "bad form".
"The only reason his chance of failure increases is if he focuses on his downward spiralling into poor form."
Form, to me, is a version of magical thinking that tries to stick a label on what the unquantifiable. Why does a player play well for a spell and then go through a dip? For me, it's usually one or a combination of the following once you are talking about a player that is comfortably proficient at the level of the rugby environment that they are playing in;
A change in role from where they were most effective to a different role that doesn't suit their skillset.
A negative change in conditioning based on an ongoing injury, a lapse in personal standards or ageing out.
The player is attempting a skill adjustment (like a different goalkicking routine, or switching sides in the scrum) that has not bedded into the same level as his previous skill pathway.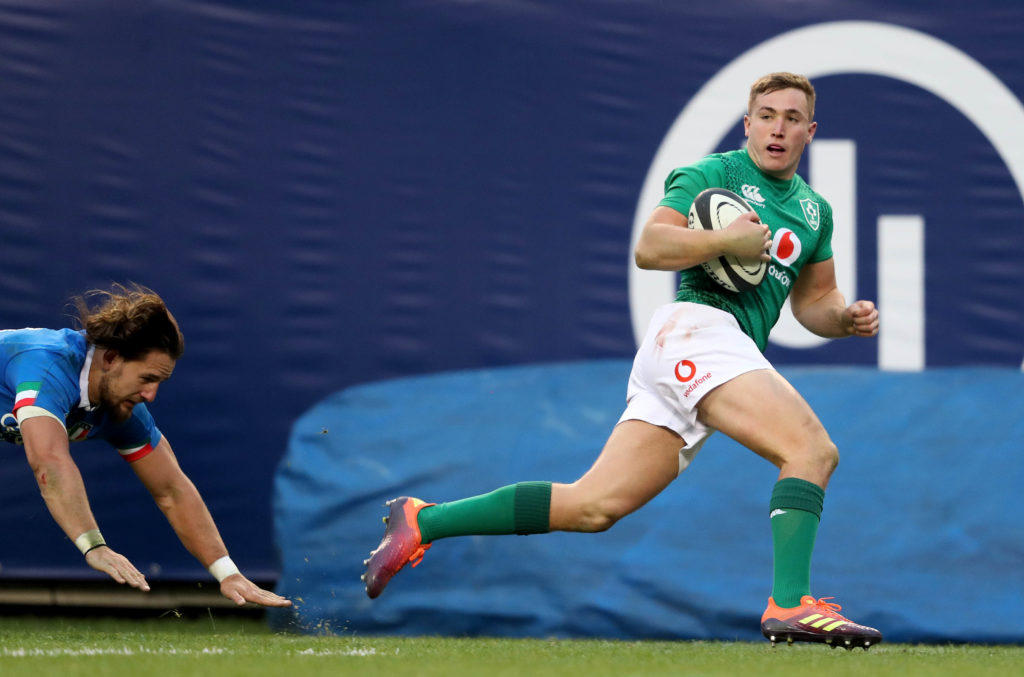 And that's before we get to the myriad issues outside of rugby that can affect performance at the weekend. Going through a tough time personally? That will often bleed into the professional side of your life because players aren't robots. All of those factors are more important than some nebulous idea of "form".
When we look at Jordan Larmour pre-injury, was he in "bad form"? For me, most of his problems since the restart came from what looked like a tweak in his backfield positioning that changed his angle of approach to certain contestable kicks.
If you go back to watch his work against Munster and Saracens you often see him approaching the angle of the kick "side on" and from an oblique angle, making for a much more difficult catch especially in any kind of greasy conditions.
James Lowe is relatively average aerially in my opinion and, when Dave Kearney was lost to injury, it put a lot of pressure on Larmour to cover a pretty wide radius from his usual backfield position in Leinster's defensive scheme.
When Larmour is under pressure contesting high balls rather than taking long kickbacks, his outstanding counter-attacking ability is hindered. What needs to change for him? For me, a more conservative backfield position that doesn't rely on his blistering speed but this concept of him being "out of form" is nonsense – he's a good player who hasn't forgotten how to be a good player over the lockdown. He just needs a few tweaks or, at least he did before he got injured.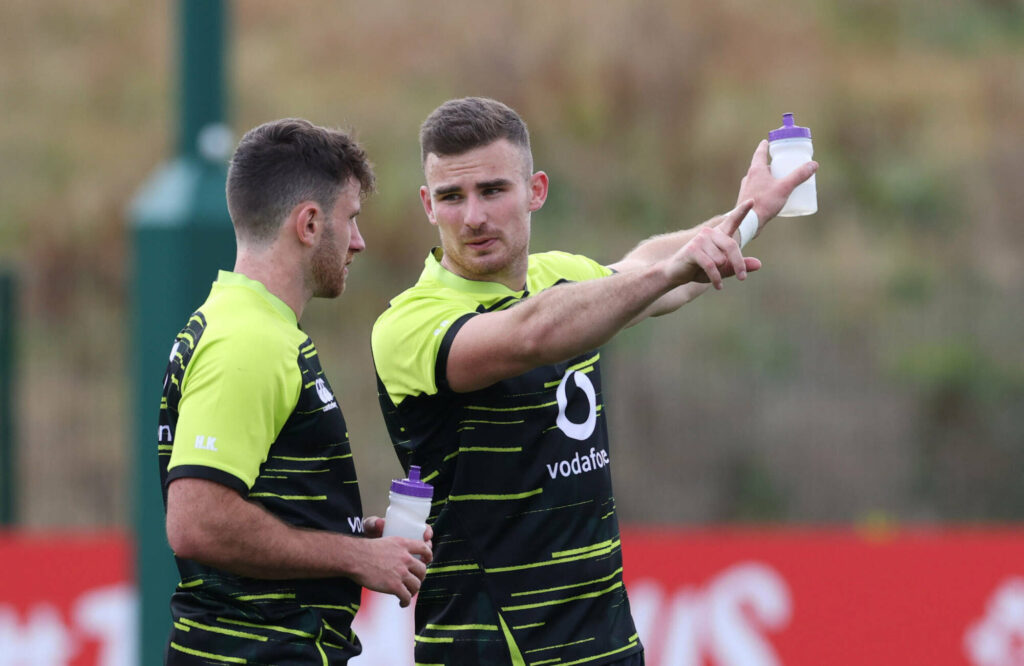 Now it'll be Shane Daly, Jacob Stockdale or Hugo Keenan who'll get an opportunity to show what they can do at test level. Daly, for me, has shown the most competence under the high ball on the evidence of the rugby we've seen so far but you need more than just that to be a test fullback. I think Daly has that in him but we'll see what happens in the next few weeks.
On the evidence of the weekend, a lot of people would like all three of these young players to be shoved aside for Simon Zebo after his outstanding performance against Exeter in last weekend's Champions Cup final.
Simon Zebo is an outstanding player who, in my opinion, would have been in the conversation for a full central contract in 2017 had any coach other than Joe Schmidt been in charge of Ireland.
For whatever reason, Schmidt did not see Zebo as one of his consistent, first name on the teamsheet guys as Ireland were gearing up towards the 2019 World Cup midway through 2017. In October 2017, Munster and the IRFU announced that Zebo would be leaving Ireland for what would ultimately be revealed to be Racing 92 and he would not appear for Ireland thereafter.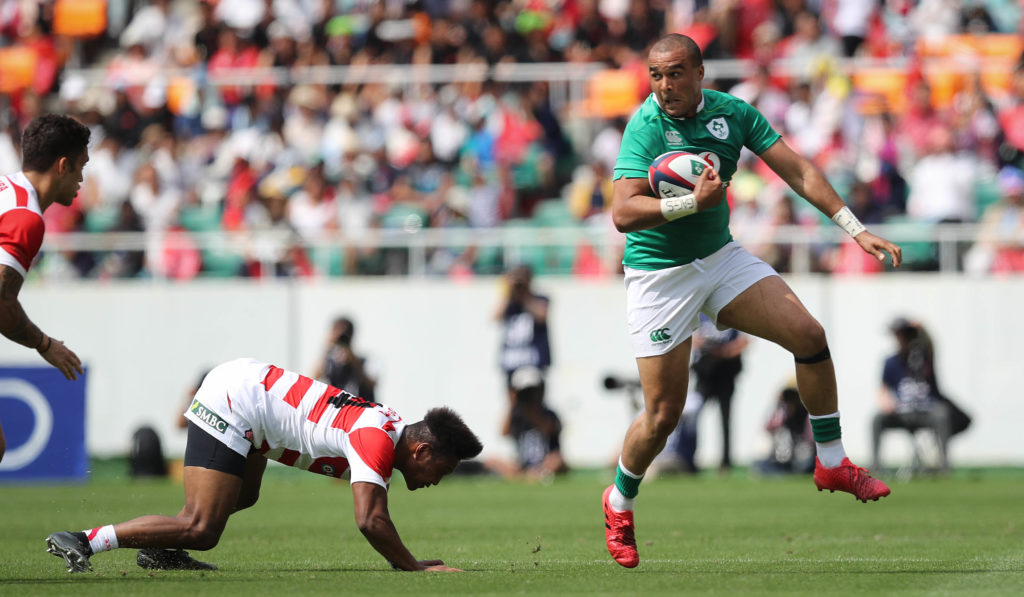 Simon Zebo is more than good enough to play for Ireland but, when he chose to leave, he did so knowing that he was highly unlikely to play for Ireland again unless he chose to return to play in Ireland at some point. The same is true of Ian Madigan, Donnacha Ryan and others.
The reasons for this unofficial rule is simple – to ensure the IRFU can offer test rugby as part of any contract offer to an IQ player. Racing 92 and Toulon can offer an Irish player almost anything they could want… except for playing rugby at the highest level. Since 2013, the wages in rugby have grown exponentially as a number of clubs tried to superheat their way to dominance in the hope that their competitors could not keep up.
When we look at the English and French dominance of the European Champions Cup (another vehicle of wage inflation) between 2013 and 2017, it is largely the product of this wage explosion as the Welsh, Scottish and Irish clubs tried to reset. In a world where an Irish player can play for Ireland outside of Ireland, it would suddenly become cheaper for English and French clubs to sign them because right now, you have to pay for them to not play test rugby.
Simon Zebo and Donnacha Ryan saw that the role they wanted nationally was not available to them. Neither was offered a full central contract so, as senior players, they could see the writing on the wall and chose to go elsewhere.
A central contract isn't just about money, it's a declaration of your relative importance to the national side. When you get one, you know you're a key part of the medium-term future. When you don't, that can be seen as a declaration in itself. It's inherently tied to a coach's preference and national development, depending on your age and position.
In Donnacha Ryan's case, he was 32, after a rake of injuries and in a position where there were two young guys with Lions potential in Henderson and Ryan coming up behind him. The mistake, in my opinion, was the preference of Toner over Ryan but, at the same time, I can understand the relative levels of seniority, age, wear and tear and the fact that Toner has been a hugely effective squad/role player at Leinster and Ireland for years.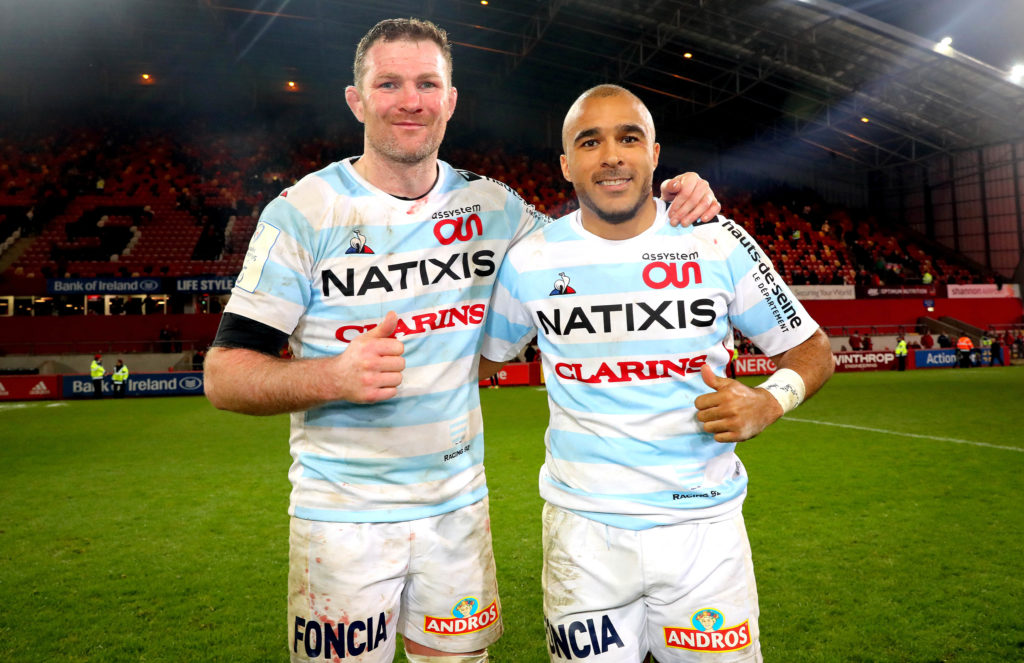 Ryan has shown that he's still a high-level option for Racing since he left in 2018 and could well have featured in the World Cup. The same is true of Zebo.
That's just my opinion. We have to remember too, that no contracting system will be perfect.
All I know for certain is that since David Nucifora became Irish Rugby Football Union High-Performance Director in June 2014 – midway through Johnny Sexton's two years in Paris – the IRFU made it their business to get Sexton back in the country and then ensure that no player playing outside of Ireland would play for Ireland.
It might not be perfect, but this system ensures that the vast, vast majority of the very best Irish players are playing for Munster, Leinster, Connacht and Ulster and that when the IRFU wants to run camps they have full control over all the players in the system. Simon Zebo is more than good enough to start and play for Ireland.
I wish he'd never left but if his selection came at the price of the system that would keep future stars like Craig Casey, Shane Daly, Caelan Doris, Ryan Baird and top players like CJ Stander, James Ryan and Tadhg Furlong playing in Ireland for Irish provinces – and it would – it isn't a risk worth taking for one international series.
The provinces must be kept strong so that the Irish national team can be strong. That system produced two wins over the All Blacks, a Grand Slam and a #1 world ranking – it can continue to do so. Form isn't just temporary – I don't think it exists – and it's certainly not worth tipping over an entire contracting system for, no matter how good the player is.
The post "Form isn't just temporary – I don't think it exists"-Larmour, Zebo and form appeared first on Sporting Limerick.