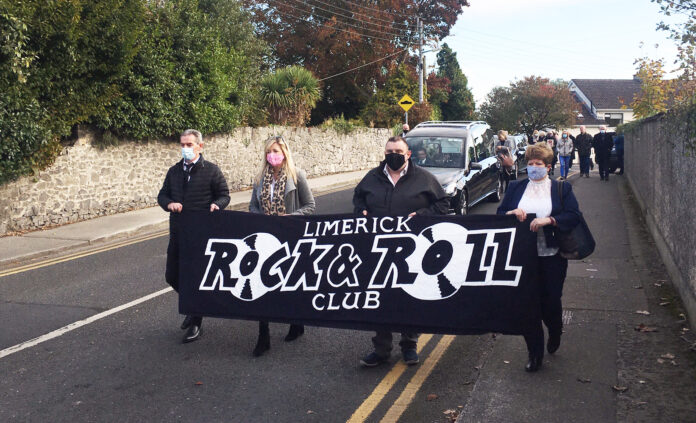 WITH only 25 mourners allowed attend funerals under Level Five Covid-19 restrictions, Fine Gael councillor Sarah Kiely believes that technology can offer some comfort to the bereaved.
Cllr Kiely, whose husband Damien died two years ago, feels this is part of the pandemic that people don't see unless they are directly involved.
"We now have to find our own way through loss and grief. There is no traditional Irish funeral, which is part of who we are," she told the Limerick Post.
Restrictions on numbers allowed attend funerals just adds to the sadness especially for the immediate family.
"Thankfully this week the number was revised up to 25. This is not ideal but a bit better.
"How do we choose 25 people to come to a funeral? This is hardly a guest list you want to be doing, yet it is a privilege to be asked to be one of the 25.
"I know people will understand that this is necessary and they will put their feelings aside for the immediate family," she adds.
Sign up for the weekly Limerick Post newsletter
However, Cllr Kiely believes that technology can provide a lifeline, with live streaming enabling people to take part in funerals.
"When someone dies, friends can be as important as family and if someone has a big family, which most people in Ireland have, this is added pressure for them.
"It is a very difficult and different time for people who are planning a funeral for a loved one."
"New traditions are evolving which also brings some comfort and I have seen this happening in estates and streets across the city and county.
"The funeral procession in so many cases now goes back to the deceased person's home. It travels around avenues and stops at the home which is our new normal for a different type of send off.
"On a number of occasions people began to clap when the hearse passed. This is both emotional and poignant.
"When you see the faces of the family acknowledging the mourners standing to attention it helps with the process. You are now involved. You are doing what you can within the restrictions and that is what the family need too. To know that their family member means so much to their community,  to their friends and to their neighbours."
"Speaking from my own experience and that of my family, I remember who made the effort to sympathise with us on the passing of my husband and, a year later, my mother.
"It brings a level of comfort more so in the months and years later. In a strange way this is lovely. It is all we have for now and families definitely get comfort from it.
"We need to talk about our wishes. In the end, we need to make our wishes clear because tomorrow is promised to nobody. People are kind and that kindness will become more visible in the next six weeks.
"We can do this. Where there is light there is hope," she concludes.