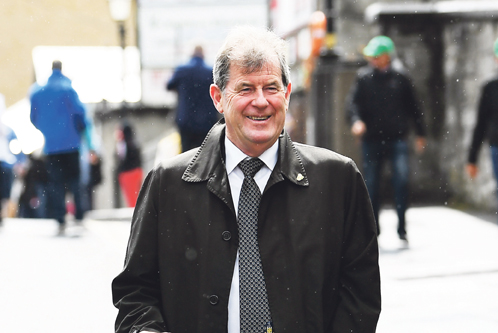 John Scally's latest book, 'The People's Games: A GAA Compendium', is a celebration
of the magic of the GAA through the stories of some of the people who populate it. Among their number is one of Limerick's favourite sons J.P. McManus.
A MAN was condemned to share a cell for one night with a deadly snake coiled taut in the corner. The man dare not sleep, move or even breathe deeply for fear of attracting the snake's attention. As dawn lit the horizon, the man relaxed. In the full light of day, he saw that the snake was but a length of old rope.
Many people have hundreds of lengths of ropes thrown in different corners of their minds. Then their fears begin to work on them. They grow into monsters.
JP McManus is not such a man.
Sign up for the weekly Limerick Post newsletter
As a punter, he is feared and fearless. In the 1970s, JP established himself as a legendary figure with his successes in the betting ring at Cheltenham and elsewhere to such an extent that top sports journalist Hugh McIlvaney wrote a piece about him in The Observer in which he called him 'The Sundance Kid'.
The name stuck and he was catapulted to an elite status in Irish sporting folklore.
His Roscommon born father, Johnny, moved from Dublin to Ballygar before eventually settling in Limerick in the early 1950s. Johnny always kept a few young potential showjumpers. He liked to bet on the horses – always a pound at a time. He also read a lot about horses.
It rubbed off on JP insofar as he came to love horses and also the thrill he got from collecting his winnings. The earliest bet he can remember was on Merryman 11 when he won the Grand National in 1960 at 13-2.
JP McManus was nine years old.
His punting was a handicap to his academic advancement. He tells a story from his schooldays about a history exam which was due to start at 2.30 pm but he knew that after 45 or 50 minutes, a Christian Brother would come to stand at the door to ensure that no one slipped out early.
He fancied a horse very much at race that afternoon at Limerick Racecourse. He managed to get out of the room before the Brother took up duty and cycled like mad to the racecourse only to arrive at Greenpark just as his fancy was passing the post – a winner!
After he left school, he moved into his late father's Plant Hire business. Part of his duties was to clear the site for the house that he subsequently lived in.
Realising at an early age that the path to fame and fortune was not to be found driving a bulldozer he decided to become a bookmaker, having dabbled in betting since his school days. Much of his teenage years was spent in Alf Hogan's betting shop in Limerick when the tax was a shilling on single bets and nothing on multiples. For JP McManus, betting tax was the mother of invention.
He paid £13,000 to charity for the racecard of his great friend, the voice of racing, Peter O'Sullevan's final BBC commentary in the 1997 Hennessy Gold Cup.
Peter spoke about his relationship with one of Limerick's most famous sons.
"He's a great friend. He's poured me many a glass of Haut-Brion! I have to say that I had the great good fortune in the early years of our friendship to get on well with his mother which is very important for a journalist ringing his home and trying to eke out an interview from him!
"I admire him enormously for his capacity to take defeat and success equally well. He has a marvellous approach.
"He does a lot of things on the quiet to help people. Of course he funds a huge number of projects in Limerick in particular.'
Peter O'Sullevan had it. Dan Maskell had it. Bill MacLaren had it. Michael O'Hehir had it. Micheál Ó'Muircheartaigh has it in abundance.
The 'it' is hard to define but it has to do with their power to make the sport they love accessible to all. The ingredients are in-depth knowledge, a love for the game that knows no limits and an unfailing ability to convey the flow of a match to equally satisfy the needs of the cognoscenti and those at the opposite end of the spectrum of sporting knowledge.
Micheál Ó'Muircheartaigh is best equipped to explain how JP has brought hurling on to the racecourse.
"JP is from Limerick and he loves Limerick hurling. Limerick had a great side in 1973 with the likes of Pat Hartigan and Eamonn Grimes. They had to be to beat that wonderful Kilkenny team to win the All-Ireland. Of course they pulled off a master-stroke deciding out of the blue to play Éamonn Cregan, possibly the greatest forward Limerick ever had, at centre half-back, to counter Pat Delaney. That win must have made a big impact on JP.
"He is very friendly with people who used to play for Limerick. He's called his horses after famous Limerick hurlers like Joe Mac called after Joe MacKenna – the horse that didn't win in 1998! Another horse was called Grimes (both were trained by Christy Roche) after the Limerick man who captained an All-Ireland winning side in 1973 – someone told me he did best on fast ground.
"A third got his name from Limerick's great full-back, a man whose playing career was sadly ended by an eye injury, Pat Hartigan. McManus's horses race in green and gold colours after his beloved South Liberties club."