LIMERICK musician/songwriter John Steele has a debut solo album and a new video release to share this week.
John Steele set himself a challenge when Covid-19 lockdown shut down all opportunities to play to a live audience.
He wrote, and produced, and recorded his first solo album, playing every instrument, which is getting its release this Friday December 4.
Steele's name is synonymous with Limerick bands, Tumbledown, Fall Dogs and The Joe Browne Band among them and he organised the much loved tribute nights to one of his heroes, David Bowie in Dolan's.
In recent years John got together with The Flag Listeners (ex Toucandance) who enjoyed positive reviews for their 2017 release, And Other Short Stories with John sharing some of the writing credits.
Since March The Flag Listeners have not been able to rehearse and flesh out ideas for their follow-up album. Rather than wait it out and hang up his guitar until a vaccine arrived, John set up his own studio.
"It was a steep learning curve. The project involved writing 21 songs, out of which 11 made the final cut."
What followed was a lockdown trail of creativity, with John penning multiple songs and narrowing down the list and reworking and revisiting the recordings until 'All My Days' was complete and ready for mastering by Richard Dowling (Wav Mastering).
The album is a remarkable collection of heartfelt songs and strong production and some fine guitar playing, particularly on 'Rinse and Repeat'.
It is an album that may not have happened in 2020 but for Covid 19 and a sad story from this year inspired the track 'Different Parts of the Same Thing.' The song is a heartbreaking duet with Clare based singer Aileen Downes based on a true story of an elderly couple separated by Covid-19. A wife is left to say her goodbyes from the window to her late husband when the hearse stopped outside their house.
'Not As Advertised' talks of broken promises and lies, starring a once famous, now fading Twitter addict, "Filling up with drugs and Jesus" and "tweeting all his lies and capers."
The title track is John Steele's reaction to losing his father in 2018. John reports that his father was also a musician. Sean Steele was still a huge influence on John's development and interest in music, introducing him to a diverse list of artists from Rory Gallagher and Jimi Hendrix to Tony Bennett and Hank Williams.
The new single is 'Cash Machine', an extra track on the album that came together in two hours, from finding an inspiring synth patch to being written, recorded and mixed.
Yes, there are musical influences in the recordings, certainly David Bowie, and David Byrne and perhaps even David (Edge) Evans. The album flows with so many different music styles and approaches it is astonishing that it came together in such a short time from just one musician, at times, experimenting fearlessly and learning recording techniques as he went along, just like his heroes.
'All My Days' is a fantastic achievement.
STREAM / SUPPORT HERE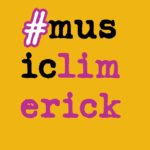 MusicLimerick – New Music Favourites is a Spotify playlist of some of the fine music being produced by Limerick artists over the last 12 months.
Follow the playlist HERE