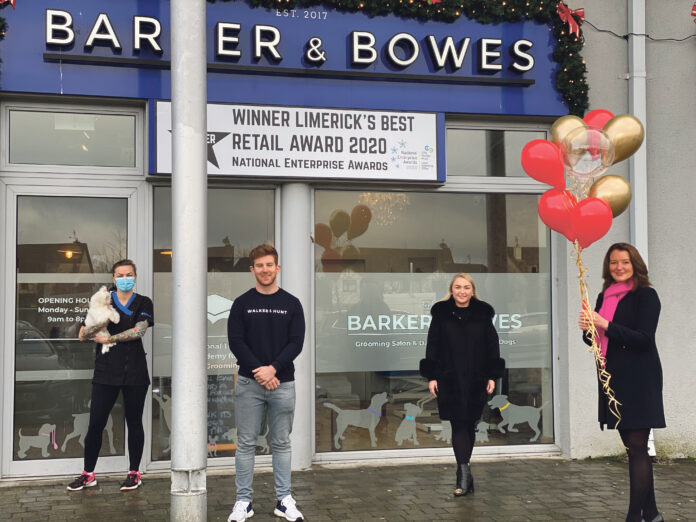 2020 has been a difficult year for all of us in so many ways. The virus has touched all of our lives creating uncertainty and concern for the health of our family and friends and a realisation of the far reaching devastating impact that it has had on local business and in particular for the hospitality and retail sectors.
Michelle McNamara of Newtown Centre says 'a few weeks ago we set about creating an initiative to bring our local community and businesses together, to have fun, to celebrate, to reconnect with each other in the form of 'Newtown Christmas Market 2020'.
Food, Drinks, Crafts suppliers were invited to join us. The support for this initiative has been amazing and humbling to see so many roll up their sleeves and get involved'.
We have several highlights, namely our 'Santa Paws Competition'. This will be sponsored by Limerick's Retail Winner 2020, Barker and Bowes, Day Spa and Salon exclusively for Dogs. On the 19th December we will be looking for Limerick's Most Festive Dog. There will be delicious treats for all our entrants and all proceeds will go to Limerick Animal Welfare. Judging will take place at 3pm on the December 19, 2020.
We are delighted that Limericks Celebrity Chef and Entrepreneur Eoin Sheehan will demo and whip us some healthy, indulgent treats from his Country Munch cookery books. Voted RSVP Magazines Best Chef 2019 and a regular on Virgin Media Six O' Clock Show.
Opening in December, new business The Partybox.ie, event managers and party suppliers will be there with their Festive Foto Balloon Booth. Do not forget to wear your Christmas jumpers and bring your phone to capture the moment.
For our boys and girls…. You may even catch a glimpse of Santa too!
Other local businesses supporting the event are: Gems Creperie, Danis Closet, Our Daily Bread, Baking4U, Braw Bakes, The Mill House, Bar & Grill, Kirby Mullane Cards, Tunes from DJ Richie, Ruby's Kitchen, Tuscany Bistro and many more.
The Christmas Market at Newtown Centre, Annacotty takes place on Saturday December 12 and December 19. 10.00am – 3.00pm.