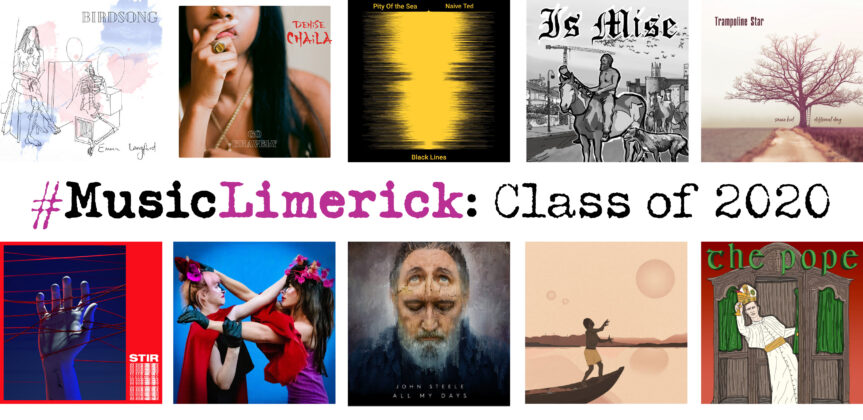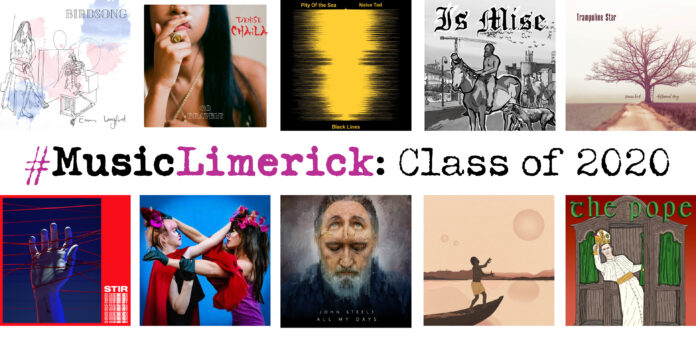 WITH venues closed to the public and tours cancelled across the globe, 2020 had been a difficult year for the entertainment industry but Limerick artists continued to produce a stream of great releases that kept the lights on for fans and musicians in the absence of live music.
Check out the mixtape on Spotify called MusicLimerick – New Music Favourites. All the featured tracks have links on www.bandcamp.com where you can stream and support the artists directly. Local record shops such as Steamboat Music have copies of the albums mentioned here.
Listen to The Class of 2020 on The Front Room (Radio Show) with www.musiclimerick.com
LISTEN HERE
Emma Langford – 'Birdsong'
Track one, side one of Emma's album Sowing Acorns, full of strong songwriting and great production, Birdsong is a rallying call to her army of mná to be proud of who you are right down to the marrow of your bones.
https://emmalangfordmusic.bandcamp.com

MuRli – 'Till The Wheels Fall Off'
Rapper/Producer MuRli penned this flow after witnessing football racism. One of many tracks on this mixtape from the Narolane crew (MuRli, God Knows, Denise Chaila).
https://murli.bandcamp.com

Denise Chaila – 'Anseo'
IT has been a rapid, two year, rise to success for the Limerick/Clare rap/spoken word artist. With playful, smart rhymes 'Anseo' introduces "the black James Bond" on her 11 track debut mixtape called 'Go Bravely'.
https://denisechaila.bandcamp.com
T. A. Narrative – 'Playful Resister'
Tara and Anna (ex We Should Be Dead) formed this studio project in 2019 in a bid to impress each other. The duo impressed everybody else with this indie earworm.
https://tanarrative.bandcamp.com/releases
Pity Of The Sea – 'A Swarming'
An electro/punk shock of sloganeering over a drum machine loop from Ger Cremins (Vox/Bass Synth) and Tony Monahan (Producer/Guitars and Drum Programming).
https://pityofthesea.bandcamp.com/
Denise Chaila, Sorcha Richardson, God Knows, MuRli – 'Out The Gaff'
This soulful reggaeton banger on Faction Records is a co-write with James Vincent McMorrow and Conor Adams (All Tvvins) which got loads of national airplay. A soundtrack for Summer festivals when they return.
https://factionrecords.bandcamp.com/
MuRli, King Pallas – 'Brick by Brick'
This co-write by Mawuli Boevi and Patrick O'Brien (aka King Pallas) of windings combined French and English spoken word hip hop with lyrical imagery relatable to times spent in isolation in 2020,
"Brick by brick, I will tear this whole world down."
https://kingpallas.bandcamp.com/
Hazey Haze – 'Is Mise'
The title track from the autobiographical debut solo album from Limerick's Hazey Haze (SameD4ence) on the PX label. Hazey worked with a multitude of Irish producers (Deviant & Naive Ted, AKIA and 40Hurtz) all bringing their unique sound to the recordings.
Hazey is a natural storyteller and the album is rich in compelling narratives, on self-belief (Smirking) and drug dealing (Penny Boys) and also shines a light on just how strong Limerick writers, rappers and producers are right now.
https://hazey-haze.bandcamp.com/
Denise Chaila – 'Chaila'
The anthem of Summer 2020 spells out the rapper's name and pokes fun at all the mispronunciations Chaila has heard. The release followed the rapper's iconic one hour performance for the Courage series for Other Voices filmed at the National Gallery of Ireland and broadcast on RTE.
https://denisechaila.bandcamp.com/
Proper Micro NV – 'You Knew Longer Than Me'
Rory Hall (aka Proper Micro NV) produced a dance track that leaves you yearning for the communal celebration of club nights and live gigs.
https://propermicronv.bandcamp.com
Bleeding Heart Pigeons – 'Real Connection Remixed'
Bleeding Heart Pigeons released a three track EP of remixes of their nu-disco stomper taking it in brand new directions. The Naive Ted(aka Andy Connolly) Really Disconnected 12 Inch Mix is a dark banger for a subterranean dance floor – maybe when Naive Ted follows up on his amazing DJ set in The Record Room in 2019.
https://bleedingheartpigeons.bandcamp.com
Windings – 'This Is Fine'
Windings returned with a double A side single after a break of some four years since the last LP. Recorded in Sonic Studios with Daniel Fox (Girl Band) in December 2019, Richard 'Wav' Dowling gave this rich sonic tapestry a final sheen in his Limerick mastering studio.
https://windings.bandcamp.com/
Protobaby – 'Twisted Words'
THE long awaited LP of the same name is the sound of a band in top form. While we wait patiently for the safe return of loud and carefree live shows in crowded rooms, Protobaby's Twisted Words represents the promise of triumph over adversity, or better put by singer Colm McGuinness on the album's closing track, "Hope will find a way".


We Come In Pieces – 'Lockdown'
THE Limrockers delivered public health advice with rock-out rage and awesome guitar solos.
https://wecomeinpieces1.bandcamp.com/
Eves Record Box 'The Void'
Quality jazz and future soul vibes from Limerick quartet featuring Paddy Shanahan (Guitar), Jane Fraser (Vocals), Danny Lanham (Bass), Ben Wanders (Drums). From the EP Solo Heroes
https://evesrecordbox.bandcamp.com/
Dylan Flynn and the Dead Poets – 'Mellow Green'
LIMERICK band Dylan Flynn and the Dead Poets follow up their well received EP Encounters with this collaboration with Clonmel electronic artist Culla. Mellow Green is a smooth production marrying Culla's hazy summer groove to Dylan's warm vocals.
https://dylanflynnandthedeadpoets.bandcamp.com/
Trampoline Star – 'The Sun Is Up and You're Coming Down
LIMERICK songwriter Alan Sheahan (ex Woodstar) collaborated with some of the city's finest musicians (Dave Keary, Jenny McMahon, Fin Chambers and Doug Murray) to make 'Same Kid, Different Day' an album of dreamlike pop songs with an alt-country flavour all delivered in an unhurried fashion.
https://trampolinestar.bandcamp.com
Bleeding Heart Pigeons – 'All For The Best'
THE West Limerick trio released their second album 'Stir' this year, the album is filled with strong pop songwriting on the bedrock of lush experimental and expansive soundscapes.
https://bleedingheartpigeons.bandcamp.com
Strange Boy – 'The Pope'
RAPPER Strange Boy (aka Jonen Dekay) wrote this black-comedy anthem from the perspective of a twelve year old child whose dream is to attain the perks of being the biggest rockstar and played out over a bodhran beat and acoustic guitar.
https://strangeboytheweirdo.bandcamp.com
Aswell – 'Howdy'
Hypnotic hip hop from Limerick's PX Music label produced by Mankyy

Finding Enemies – 'Vampires'
SOME fine moody 1980's synth atmospherics from a side-project of Hedfuzy's Pat Byrne.
https://findingenemies.bandcamp.com
John Steel – 'Not As Advertised'
LIMERICK musician/songwriter John Steele wrote, and produced, and recorded 'All My Days', his first solo album, playing every instrument. 'Not As Advertised' is a song of broken promises and lies, starring one infamous Twitter user who is now yesterday's man.
https://johnsteele.bandcamp.com
Hey Rusty – 'All Night Daylight'
Limerick musician Hey Rusty (aka John Ahern) created hooks and melodies with elements of 1960s pop with classic Spector drum intro.
https://heyrusty.bandcamp.com
Hear The Class of 2020 on The Front Room (Radio Show) with www.musiclimerick.com
LISTEN HERE