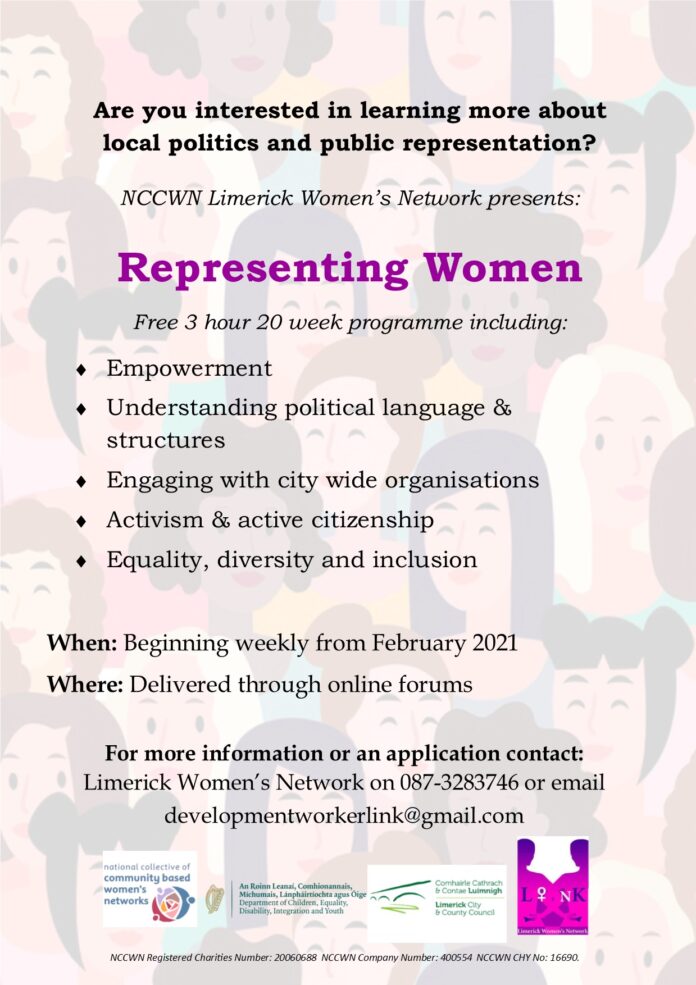 NCCWN Limerick Women's Network are hoping to encourage local women to put themselves forward for representative roles in the community through their programme, Representing Women.
It is widely recognised that the main barriers women face when attempting to get into politics and public representation include the 5 C's – Confidence, Childcare, Cash, Candidate Selection and Culture.
In response to some of these barriers NCCWN Limerick Women's Network have developed a specific programme, Representing Women, which will allow women to learn more about community and political systems and structures before they commit to public representative roles.
This is a free part-time programme beginning in February and is open to all women across Limerick City and County. It will run weekly over 20 weeks through online learning. Dates and times to be confirmed.
Modules covered in the programme include: 
Empowerment
Understanding political language & structures
Engaging with city wide organisations
Activism & active citizenship
Equality, diversity and inclusion
NCCWN Limerick Women's Network Coordinator, Edel Geraghty, said, "We have seen throughout the pandemic that the needs of women do not always take centre stage, this is partly because men occupy the vast majority of decision making and public representative roles.
"For things to change, more women need to be at the table.  We developed our Representing Women programme in the hopes of allowing women the time and space to further develop the skills they already have and cultivate their confidence so they will consider putting themselves forward and amplify women's voices when important decisions are being made."
Any women interested in taking part in this programme are encouraged to contact Limerick Women's Network staff on 087-3283746 or email [email protected] for more information or to get an application form.