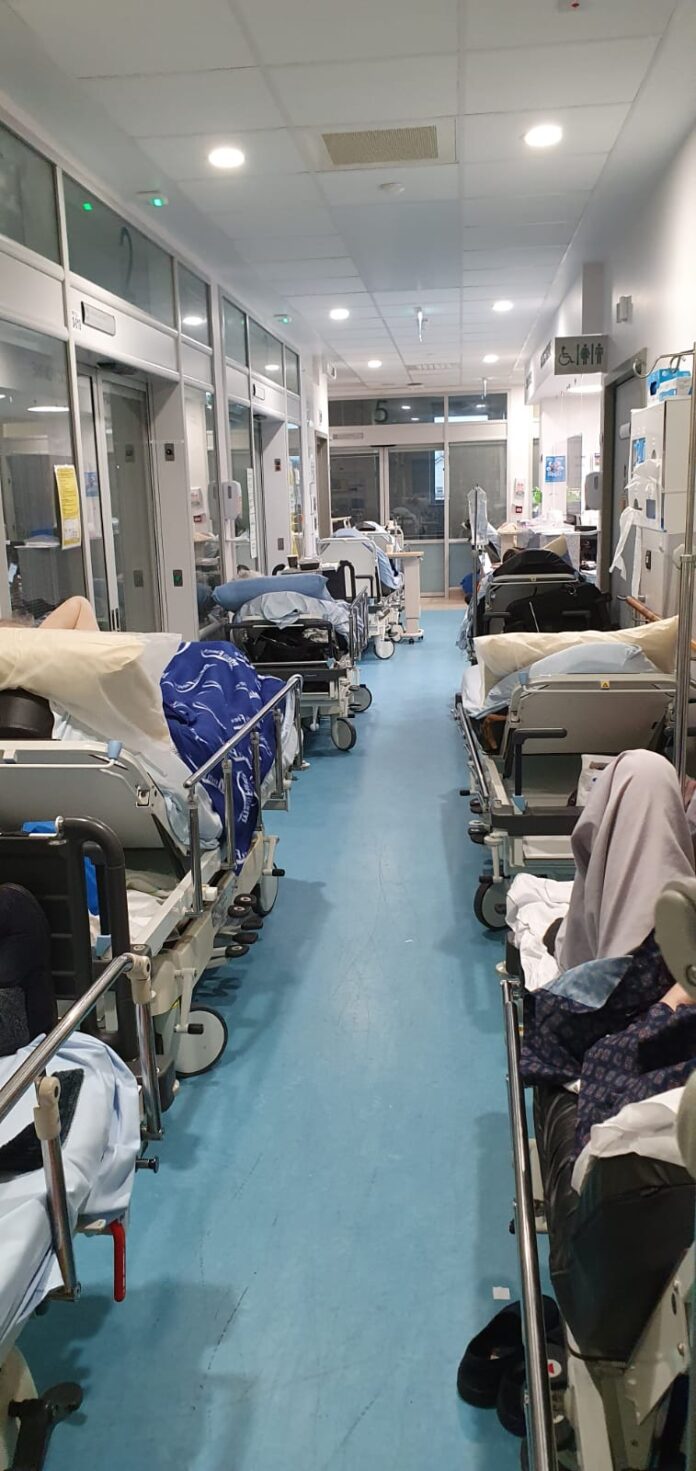 AROUND 20 theatre staff based at Nenagh Hospital are to receive vaccination against COVID-19, but will be redeployed to University Hospital Limerick, to support the hospital as it opens critical care surge capacity.
The announcement comes after a group of nurses and doctors at Nenagh Hospital appeared in an online video this morning, demanding that they receive the potentially life-saving vaccine as they were treating COVID patients.
The extraordinary video shows staff pleading with the Taoiseach, Micheal Martin as well as the Minister for Health Stephen Donnelly, to sanction the rollout of the vaccine in Nenagh.
Staff complained the rollout was well underway in its sister hospitals University Hospital Limerick, Ennis Hospital, and University Maternity Hospital Limerick.
Nenagh Clinical Nurse Manager, Louise Morgan Walsh, who appeared in the video, said afterwards that she was "exasperated" as staff had yet to be told when they would receive the vaccine, let alone actually receive it.
In the video recording, Ms Morgan Walsh addressed the Taoiseach, Micheal Martin, and Minister for Health Stephen Donnelly, wanting "to know why aren't we being vaccinated, why are we being left out".
"We are so angry, we are scared, we are afraid, we can see our co-workers going down with Covid and becoming very ill," added Ms Morgan Walsh.
In response to queries from this reporter, a spokesman for UL Hospitals Group replied: "We expect to vaccinate over 20 staff from Nenagh in UHL today with the limited supply currently available to us.
This will focus on theatre staff in Nenagh who are redeploying to support the opening of critical care surge capacity in UHL to care for the sickest Covid and non-Covid patients."
They said that the Group's management "recognises the anxiety being experienced by staff in Nenagh and staff across the Group as we experience a significant surge in Covid-19 activity, and we will extend the vaccination programme to Nenagh Hospital as soon as the national delivery schedule allows".
Management added they were "indebted to all of our staff for the enormous efforts they are making to keep patients safe".
The UL Hospitals Group said it had received approximately 3,400 vaccines and had so far injected a total of 2,736 healthcare workers within the Group with their first dose of the Pfizer BioNtech vaccine.
The vaccine has been given to staff "predominantly from UHL, University Maternity Hospital Limerick and Ennis, but also some staff from Nenagh, Croom Orthopaedic and St John's Hospitals".
Some staff in HSE MidWest Community Healthcare and the National Ambulance Service have also received the first phase of the vaccine.
Although staff in Intensive Care and High Dependency Units, and on COVID-positive wards, were being prioritised for vaccination, "a small number of staff in these priority areas remain to receive their first dose" said the spokesman.
"We look forward to commencing vaccine clinics in Nenagh, Croom Orthpaedic and St John's Hospitals as deliveries of the vaccine accelerate.It should be noted that the (current) rollout of the vaccination programme, predated the current outbreak of Covid-19 being managed in Nenagh Hospital," they added.
"Under the provisional vaccine allocation groups developed by NIAC, 'people aged 65 and older who are residents of long-term care (LTRC) facilities (likely to include all staff and residents on site)' are the highest priority. With that in mind they are being vaccinated and prioritised in the first instance."
"The decision was taken to accelerate the programme for those in LTRC facilities. On Friday, the Minister for Health, Stephen Donnelly TD, announced: "We're now going to accelerate our plan for residents and staff in long term residential care facilities – this means nursing homes."
"From January 11th, vaccine supply to long term residential care facilities (LTRC) will be increased significantly and the HSE nationally aims to vaccinate residents of 186 nursing homes this week, putting us on target to have all LTCFs (70,000 residents and staff) in 589 LTRC facilities receive their first dose before then end of the month, under the new accelerated schedule."