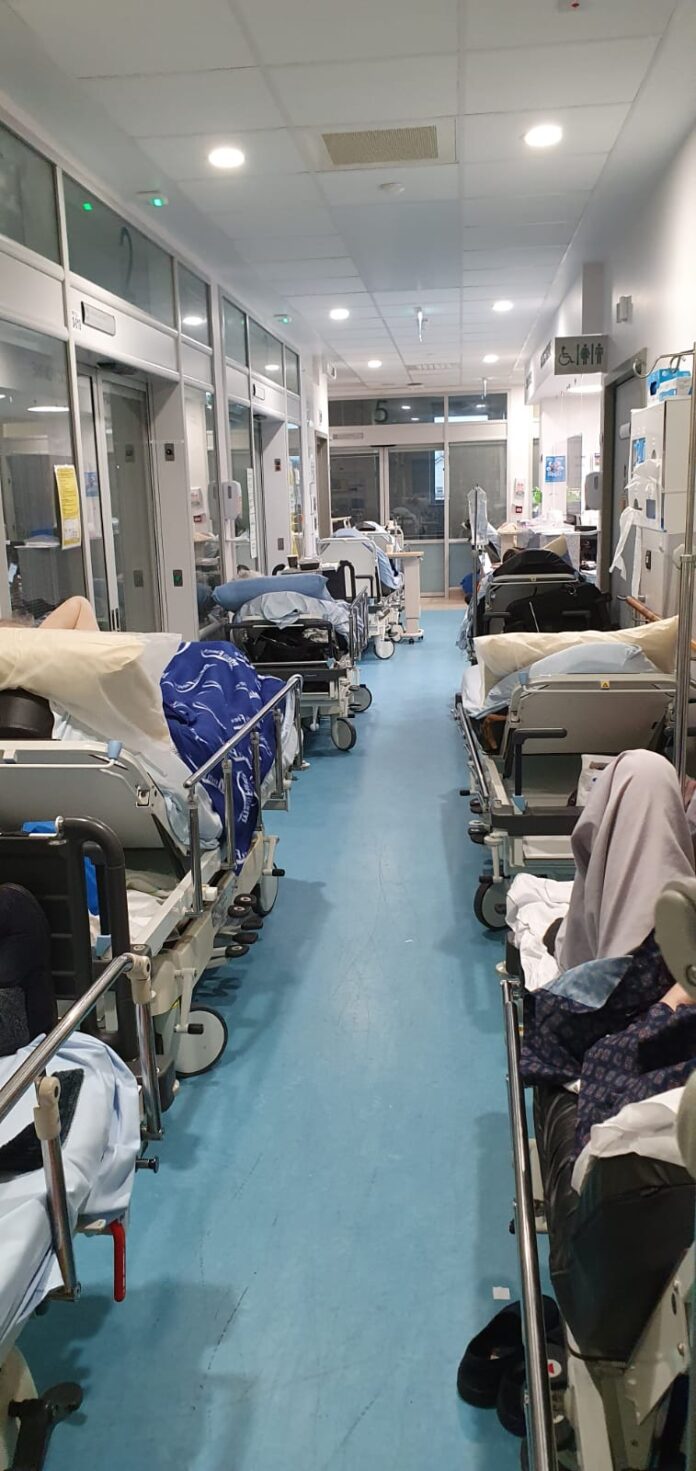 MANAGEMENT at UL Hospitals Group have apologised to admitted patients who inside sources claimed are waiting over 100 hours for a bed at University Hospital Limerick, the most overcrowded hospital in the country.
At UHL this morning there were 39 patients on trolleys, bringing the total number of patients on trolleys at the hospital this week alone, to 238.
Sign up for the weekly Limerick Post newsletter
This morning there were 23 patients waiting for a bed at Cork University Hospital, followed by Sligo University Hospital (16), and Midland Regional Hospital (11), according to figures published by the Irish Nurses and Midwives Organisation (INMO).
Fifteen out of 32 hospitals have zero patients on trolleys.
UHL has the most number of COVID-19 cases in the country (150), including 18 confirmed cases of the virus in the past 24 hours.
There were only three beds available in the hospitals 28-bed Critical Care Unit (CCU), where 13 patients with COVID-19 are being treated. A recently opened 60-bed block is mostly full with COVID-19 patients.
Yesterday, a UHL source claimed some patients admitted to the ED were waiting on trolleys for beds for over 100 hours.
Staff were "overwhelmed and demoralised" and they urged the public to help stop the spread of the virus by limiting their contacts with others.
They claimed that there were up to "94 people in the department" at one stage last Wednesday afternoon, including those waiting to be triaged.
Those admitted to the ED were on trolleys in corridors "on top of one another", and, it was "impossible to maintain social distancing".
"There is no patient flow in the ED at the moment," the source added.
In response, a UL Hospitals spokesman said: "The Emergency Department at UHL has been very busy during this current challenging phase of the pandemic and we apologise to admitted patients who have faced long waits for a bed. Hospitals around the country are under significant strain at present and our staff are making enormous efforts to keep patients safe."
"In the 24-hour period up to 8am on Thursday, January 14th, there were a total of 177 presentations to ED. The number of Covid-19 related emergency admissions is currently running at around 20 per day."
The hospital said it has been "streaming suspect COVID-19 cases from non-suspect presentations" upon entry, and has "in recent months, opened 98 beds".
"In response to the current surge in Covid-19 activity" UHL has postponed the majority of scheduled care, including elective surgery and outpatient appointments, in order "to concentrate on emergency presentations, essential services (e.g. cancer) and time critical surgeries, appointments and investigations".
Due to "significant community transmission in the MidWest and multiple outbreaks in healthcare settings across the region" it is "constrained in effecting inter-hospital transfers, discharges to community settings and discharges home".
The spokesman said this "is having a considerable impact on patient flow in UHL contributing to long waits for patients in ED".
Almost 600 staff across the UL Hospitals Group have been sidelined by COVID-19. The Group has administered first phase vaccinations to 2,500 staff from UHL, Ennis, and the Limerick Maternity, however staff in Nenagh Hospital, St Johns Hospital Limerick, and Croom Orthopaedic Hospital, have yet to receive any vaccine doses.
The spokesman said that as "healthcare services across the country are being adversely impacted by high volumes of staff unavailable for work due to Covid-19", the public should "as an alternative to attending ED, consider care options available in their own communities, including local injury units, family doctors, out-of-hours GP services, and local pharmacies".
"If you do have symptoms of Covid-19, it is important that you do not go to the Emergency Department or your GP, ring them in advance for advice. Avoid contact with other people by self-isolating, and in a medical emergency, if you have severe symptoms, call 112 or 999."
"However, if you are seriously injured or ill or are worried your life is at risk the ED will assess and treat you as a priority."