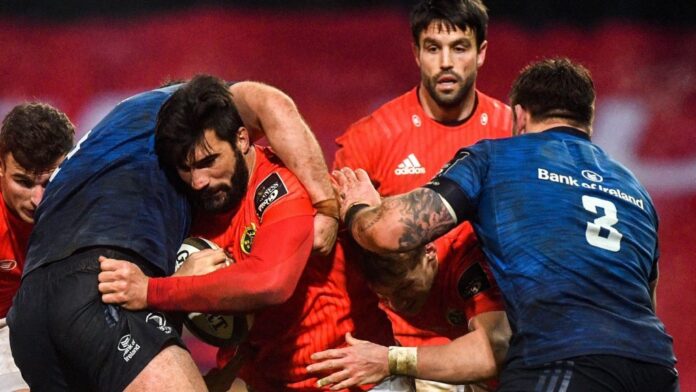 JANUARY was a mixed month for Munster as Johann Van Graan's troops enjoyed two narrow wins but also suffered two losses.
Performance levels fluctuated. Lineups chopped and changed. Results varied. Most importantly, when the full first team were on the pitch, there were plenty of positives to take away.
This was without doubt the most challenging month of Munster's season so far, leaving plenty to learn from.
Saturday's display against Benetton, albeit in the absence of the Irish internationals, will surely be viewed as an unacceptable display by the Munster coaching team.
The second-string got a fine opportunity to express themselves but flattered to deceive in the flattest of showings. Motorless and ill-disciplined, the Benetton match will leave Munster supporters and staff knowing there is a lot to work on during this two week fixture break.
What can not be forgotten are the many components that have served Munster well at late. Against both Connacht and Leinster, Munster's defensive work in the tackle and at the breakdown were of the highest calibre.
Conor Murray showed some of his old form by reintroducing his sniping runs and pin-point kicking. Springbok signing Damian De Allende has also showed some of his best form to date by continuously punching holes through the middle of opposition defences.
Despite disappointing blips, the capabilities of this team when at full capacity are of elite standing.
The matches to come during the Six Nations may be the most difficult tests of the squad depth to date. There may very well be more defeats added to Munster's PRO14 record, stirring frustration and occasional underwhelm.
The hope is that the experience will be valuable to the foundations of the wider Munster squad. The hope is that rising from the mud, resulting from such lessons, will be the accelerated emergence of young men who can come out the other side of March ready to make a mark on the first team stage.
The business end of the season is ultimately what matters.
BOSSING THE BREAKDOWN
With a 97% ruck success rate this season and no less than 14 turnovers won across the Connacht and Leinster matches last month, Munster look to be in an excellent place when it comes to the breakdown. Forwards coach Graham Rowntree is fully aware of the importance of the area and spoke last week about how Munster approach the collision area in training.
We do a lot of it and we do it almost daily here. Not full on, not bone on bone – but we do a lot of contact because that's the game. It's the heartbeat of the game the breakdown and you can't afford to get slow ball.
Central to Munster's joy has been second row Tadhg Beirne. Beirne has won 8 turnovers in the PRO14 this season and has surely earned himself a place in the Ireland XV for this Sunday's meeting with Wales.
The Kildare man's persistent pursuit of the ball on the deck is a thorn in the side of opponents every week. Not only does he frequently regain possession for his side at key junctures but also makes his presence known to slow down virtually every opposition attack.
Munster defended brilliantly against Leinster with Beirne proving pivotal at key moments. The nine turnovers against Connacht however, saw the men in red at their potent best. CJ Stander, James Cronin and Peter O'Mahony all chipped in that night and it was again the man in the blue scrumcap that led the way, finishing top of the charts with five turnovers.
Saturday's second-string forward pack failed to have such an impact, losing 10% of their own rucks and pinching back the ball just five times in total against the lowly Italians. A fast improvement will be needed if those players are to be involved in the Champions Cup knockouts later in the season.
Academy men Thomas Ahern, Jack Daly and John Hodnett are likely to make their mark in the next twelve months and leapfrog some of these more experienced squad members.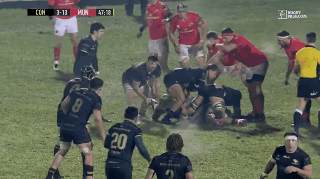 NO MURRAY HURRY
If January showed anything it is that there is no hurry to replace the first choice Munster halfbacks. Conor Murray put in perhaps his finest Munster performance in over a year against Leinster in Thomond Park.
The two-time Lion kicked excellently throughout the evening, applying enormous pressure on Leinster winger Jordan Larmour in particular. It has been evident that despite criticism, Munster's box-kicking focus is still an effective strategy and the province have gotten great joy from finding good territory and pressurizing their rivals in recent weeks.
In addition to that kicking brilliance, Murray revisited his box of tricks for some further party pieces of old. Crisp delivery off both hands and an urgency not dissimilar to that of Craig Casey's was evident against Leinster – but what were the real difference maker were the 31 year-old's sniping runs that he was once so renowned for.
Against both Connacht and Leinster Murray caught pillar defenders napping to scamper downfield and earn Munster good yards. The threat of Murray's running game may have faded from some people's memories, but in the last month the weapon has re-emerged to give the scrumhalf the kind of unpredictability that earned him a place in the World Rugby Team of the Decade.
Munster will need all the unpredictability they can get come the defining weeks of the season, making Murray's multi-dimensional return to form is a much welcomed one.
Murray's halfback partner JJ Hanrahan had a poor day from the tee against Leinster two weeks ago but has otherwise enjoyed a positive season. Joey Carbery, Ben Healy or the much-hyped academy out-half Jack Crowley could well be the long-term holder of the ten jersey, but in the meantime Hanrahan's reliability at PRO14 level is not to be undervalued.
Prior to January Munster enjoyed an undefeated season with Hanrahan more often than not the general at outhalf. Fears about his ability to perform at the highest level are understood but dismissing the 28 year-old before Healy proves a superior playmaker would certainly be a mistake.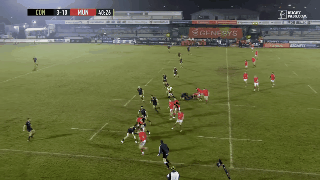 WORK-ONS
Munster's display against Leinster saw them compete admirably against the best around. Aside from five uncharacteristic lineout malfunctions and two miss-hit kicks from Hanrahan, it could easily have been a hugely assuring victory.
There is no evidence from this season that Munster's lineout, usually fed by Kevin O'Byrne, will cause more problems down the line. The set-piece is operating at a 89% success-rate this campaign and was one of the few aspects to function steadily against Benetton.
Discipline is however an area of concern. The 8 penalties leaked against both Leinster and Ulster is about average but to concede 10 penalties against Benetton and a disappointing 17 against Connacht is far from ideal. Contesting ferociously at the ruck will of course come at a price – some however, have been more than avoidable.
James Cronin has been at fault for 12 penalties in the PRO14 this season and only three players in the competition have been pinged more often. Billy Holland, Jack O'Donoghue (both 8 penalties conceded) and Fineen Wycherley (7 penalties conceded) also have some work to do.
Against Benetton it hurt Munster badly to a point where they were very very lucky to come away with four points and it was equally problematic at The Sportsground.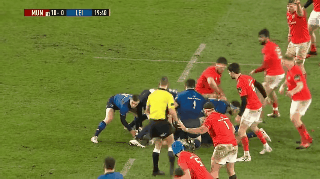 Supporters will be desperate to now see Munster kick on and add creative spark to their brutish early season brilliance. Munster's coaches, nobody less than Stephen Larkham, will have been working tirelessly and intelligently to add flavour to the attack for the past few months and now has the chance to work more closely with a smaller group during the international window.
What will be key for Munster is simply getting the best players onto the field. Against Leinster, Munster arrived as a well-oiled machine with an effective gameplan. What left down the performance were individual errors in the shape of miss-hits from the tee and crooked lineout throws.
If Munster could get the brilliant Joey Carbery back into contention for the tail end of the season it would make an enormous difference. By converting those kind of chances from the tee, but also creating opportunities all around him with ball in hand – the season could swiftly set alight.
Presume other players come out the far side of this international window bigger and better – then suddenly a massive climax to the 2020/2021 story begins to look possible.
Add Dave Kilcoyne, Kevin O'Byrne Thomas Ahern, Joey Carbery or Andrew Conway to that Leinster match and it changes things. The academy's Jack Crowley will put his stamp on proceedings sooner rather than later too.
If Craig Casey can develop and learn in the Irish camp, the likes of Ahern, Crowley and Coombes can excel at Munster and the injury list clears up come April, then Munster will mould into a force of nature at the best possible time.
There's a lot of water to go under the bridge yet but with a few important fixes the possibilities could be endless for this talented Munster squad.
The post THE VIDEO ROOM: Munster's January In Review appeared first on Sporting Limerick.