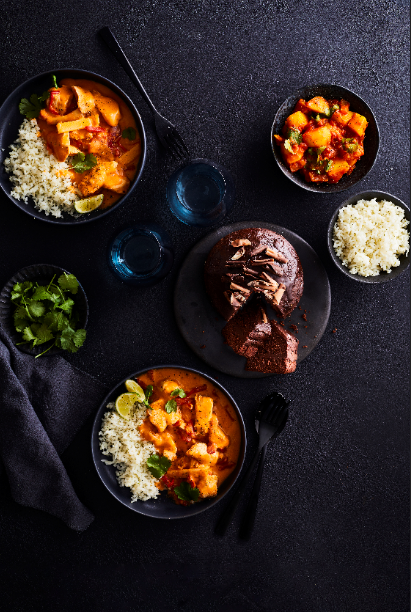 LET's be honest, we are all craving a bit of escapism at the moment, with food and our at home meal experience proving to be a welcomed distraction to focus our attentions on over the last number of months. A small bit of indulgence around mealtime, to treat you and those you love always helps lift the spirits.
With Valentine's Day just around the corner SuperValu have a real treat in store for those of us looking to wow our other halves with a restaurant quality meal, but with zero fuss. A dine-in deal that is sure to score highly on convenience, quality and value.
Sign up for the weekly Limerick Post newsletter
You can choose from a selection of gorgeous dishes from their Signature Tastes range: 1 Meal + 2 Sides + 1 Dessert for an unmissable €10 (available from 4th to 17th February).
There is a mouthwatering selection of dishes to choose from; you can start off your romantic meal with a Lamb Tagine and Jasmine Rice, a scrumptious Fish or Cottage Pie or a tasty Butter Chicken with Potato Gratin followed by a delicious Chocolate, Coffee or Carrot Cake. And the good news is that they are all Irish made.
Then top it all off with a bottle of Condado de Oriza at only €10 or Vina De Albali Rueda Verdejo at €9. To mark the occasion why not treat yourself to a bottle of bubbles with Segura Viudas Brut Reserva Heredad available at only €20.
No matter how you choose to celebrate Valentine's Day this year, a delicious meal with your valentine is a non-negotiable. Food is the way to the heart, right?
With the main event taken care of, you can spend a little more time turning your dining space into an oasis. With gardening done, DIY complete, "Tablescaping" has proved to be the next popular activity through lockdown and beyond, with those of us who were housebound finding creative ways to dress up our tables and add that extra bit of magic.
When it comes to tablescaping there is no need to spend time and money shopping for lavish table dressings, making the most of what you already have at home is the best way to make the table feel personal to you and is a sustainable way to add some glitz and glam to the evening. Here are some creative at home ideas to get you started:
Pop some flowers in your basket from your local SuperValu and make a simple centre piece, along with that candle (you definitely got) for Christmas. If you're lucky enough to have a garden or even a park close by, you can also include branches and fresh floral clippings, which is a great way to bring in a touch of the season.
Dig out your grandmother's old linen, your mum's old tableware or your aunties discarded candelabra that may have been sitting in a cupboard or even in the attic for years.  You will be amazed how good they actually look once dusted down.
Another simple way to use what you have to hand is to clean out and repurpose an old wine or gin bottle as candle holders. Simply wash in warm water to remove any labels, then shave the sides of a candle stick down so that it fits securely in bottle. You can allow the wax to drip down the sides, which adds nice decorative feel to the table.
If you have little ones to keep occupied in your home, set them a task of making some decorations that can be added to the table. Cut out hearts and have them colour them in – if you pick a colour scheme (reds, pinks, whites) that marries with your overall vision, they should fit right in.
Dust off the fairy lights from Christmas and along with some of the kids' artful decorations add them to a bell jar or any large glass jar and place in the centre of the table.
You can spend minutes or hours, whichever you prefer – either way it's all about creating time and a place to make special moments and mealtimes with loved ones. As we are all spending so much time at home it's nice to shift the mundane to something special this Valentines even if it's only dressing up the tray you bring in to watch TV.
So, whether you want a romantic meal for two at home or a fun dinner for a Galentine's celebration with your housemate, celebrate with those you love this Valentine's Day in the comfort of your own home with pre-prepared meals that taste like they belong on a restaurant menu.
This amazing meal deal will be available in SuperValu stores nationwide and online at www.SuperValu.ie from 4th to 17th February 2021.