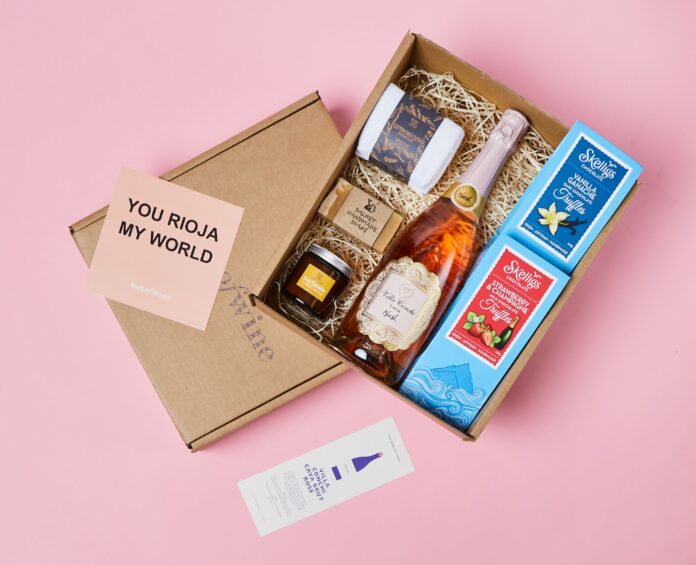 "YOU Rioja my world" is a Valentines greeting that will surely win hearts and radiate romance this year … but dig a little deeper into a beautifully presented gift from Boxofwine.ie to reveal fine Champagne or wines, scrumptious Skelligs chocolates, dreamy Dalkey Handmade Soap, a sensuous Soy Soap Out Loud Candle and luxurious Soap Out Loud 100% cotton face cloths for a delectable pamper package
Sign up for the weekly Limerick Post newsletter
Boxofwine.ie is Ireland's first "tailored to your taste" wine subscription company and was set up in 2020 by Conor Duggan, Neil O'Reilly & Conor Mulligan who had to quickly turn their hands and expert noses for wine to something else after the hospitality sector and their livelihoods got pounded by the pandemic.  The monthly subscription service is already hitting all the right notes with wine lovers all over the country but Boxofwine.ie also features an online gift shop for once-off gifts like the Valentine's pamper box described above which starts at €65 … or how about a gift card for the subscription service – the Valentines gift that keeps on giving!
Boxofwine.ie provides a bespoke wine offering, tailored to individual tastes and is conveniently and safely delivered straight to the door in a beautifully presented box – the ultimate treat!  The innovation that sets Boxofwine.ie apart is a quick online questionnaire and a clever algorithm which provides the experts and sommeliers at boxofwine.ie with a guideline on various taste preferences.  This allows them to curate a personalised box of three bottles of top quality, highly regarded wine each month.
The convenient and clever concept is contactless and at €49 per month, the unique approach will ensure that wine lovers are surprised with new wines each month including a mix of old favourites and exciting newcomers – all wines they are sure to love.  The box also contains Boxofwine.ie tasting cards with intriguing information on vineyards, family run wine businesses, food pairing suggestions and flavours in the wine to identify. It is a great way to learn about a world of wines not available in supermarkets and local stores. Pleasurable lock-down learning if you will!
Neil O Reilly, head of wine at Boxofwine.ie has some recommendations this Valentine's day, "There are very few things that can compete with a good bottle of bubbly! I like to skip the everyday prosecco or the overpriced Moët and choose a good bottle of cava; a personal favourite is Villa Conchi's Cava Brut Rosé which is delicate and fine like Champagne but won't break the bank." he said.
"For red wine on valentines, it's all about smooth tannin for me. Good Pinot Noir is the benchmark for supple, elegant wines but as we're still in February, my suggestion would always be a warming Grenache from any number of producers in Spain, or 100% Syrah from Crozes Hermitage, Cornas or Cote Rotie in the Northern Rhone. Rich and dark with supple tannins. Perfect for drinking by the fire!"