LONDON based Cat Reynolds is originally from Limerick and released his third self- released single this week. The song called 'This Evening' was written by the singer/producer while in lockdown in 2020 but despite that, the track has a positive and uplifting message focused on the future and there is a nice hazy summer feel to the music.
Talking about the new song Cat says, "This Evening acknowledges fears of the unknown along with bittersweet nostalgia whilst embracing a newfound sense optimism. Rather than ignoring your emotions, This Evening is an anthem of encouragement to embrace change. This Evening is not a 'COVID song' it is a kind and emotional reminder that there is hope for the future.
Growing up, Cat Reynolds spent much of his time listening to, singing and learning songs from his biggest idols including Coldplay, Jamie Cullum, Frank Sinatra and Theo Katzman. Cat (Cathal Reynolds to his family) creates his unique sound using these classic rock, jazz and old soul influences.
Sign up for the weekly Limerick Post newsletter
STREAM / SUPPORT HERE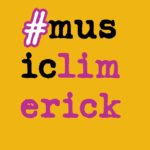 MusicLimerick – New Music Favourites is a Spotify playlist of some of the fine music being produced by Limerick artists over the last 12 months.
Follow the playlist HERE