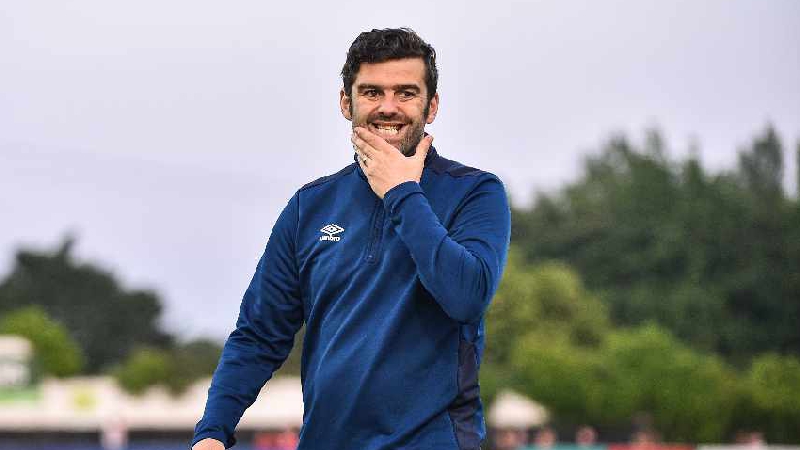 LAST weekend Treaty United were officially accepted into the League of Ireland First Division by the FAI after a long process.
Former Limerick FC manager Tommy Barrett will take the reigns at the new club and faces the difficult task of assembling a squad capable of competing at League of Ireland level in advance of their opening game against Bray Wanderers on the 23rd of March.
When I spoke to Treaty chairman Conn Murray back in November he was determined to point out that the club is fixated on harnessing the potential of young players in Limerick Junior Soccer and the wider Mid-West region. Allowing up and coming footballers an opportunity at men's senior football is important for the area's sporting scene and Treaty United now look set to provide the perfect platform.
"In real terms, we survive division one, we get ourselves in there, get ourselves known, start building on our brand, build on the women's team that has been there and then look to drive forward with an academy because I must admit now I am very taken aback by the talent that exists here," said Murray.
"Nearly every junior cup in the country rests in this part of the country and that speaks volumes about the quality of people who are participating in soccer in the Mid-West and that has to be given a channel, that has to be given an opportunity. The other thing I must point out as well is that we want to build up a relationship with the [local] leagues and clubs – we are here to complement, not to compete."
Many people in the Limerick soccer scene have been very impressed by the work done by the club's experienced board members. The women's side enjoyed a relatively successful inaugural season in 2020 and the hope is that the well respected Tommy Barrett can achieve likewise in the coming months.
The Breakdown
While Limerick Junior Soccer's Premier Division is expected to provide the bulk of the squad, those selected will all have previous League of Ireland experience.
Barrett will be keen to reassemble many of the players that performed for him at Limerick FC in 2019 and that means the likes of Fairview star man Clyde O'Connell will be key to his plans. Aisling Annacotty's Adam Foley who left Limerick for Cobh over a year ago is a favourite of Barrett's and may well make a return to Market's Field too.
It is anticipated that few Junior soccer veterans will make the squad with an emphasis instead on young well-conditioned players who will be ready to go for Treaty despite a short pre-season. Lads from Tipperary, Clare and Galway will be taken into consideration too as Treaty look to cast their net to the wider region.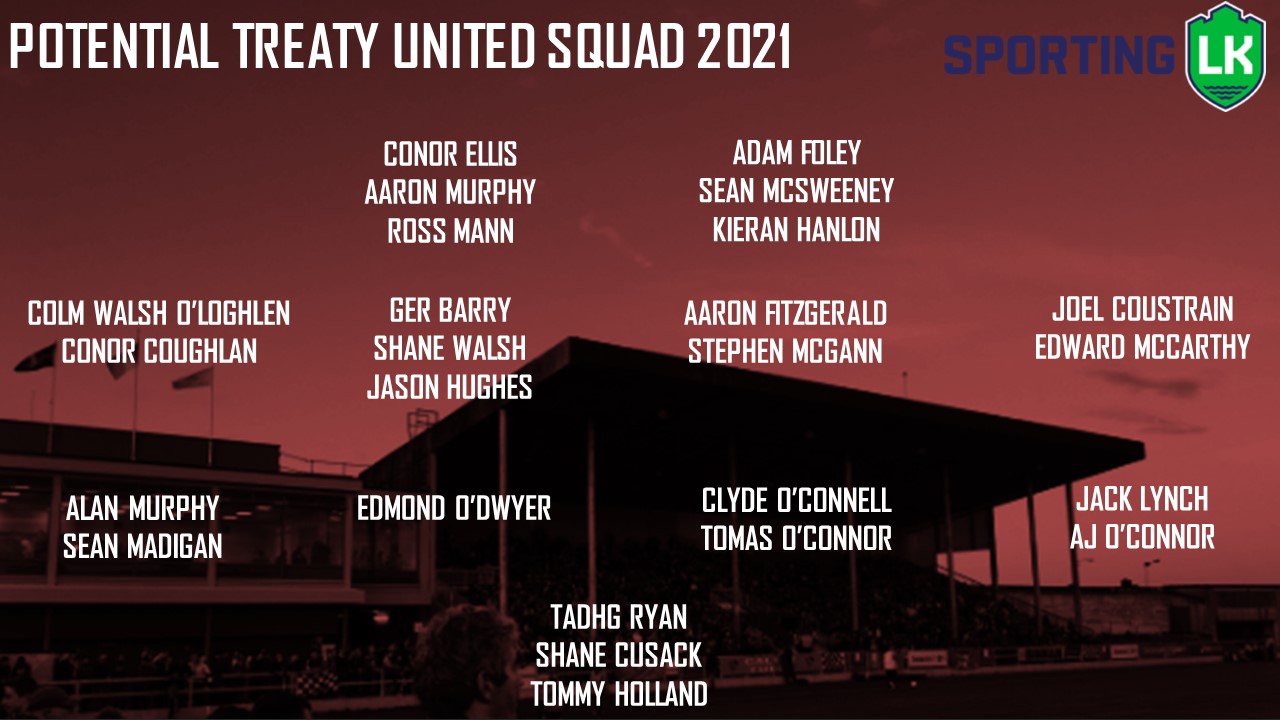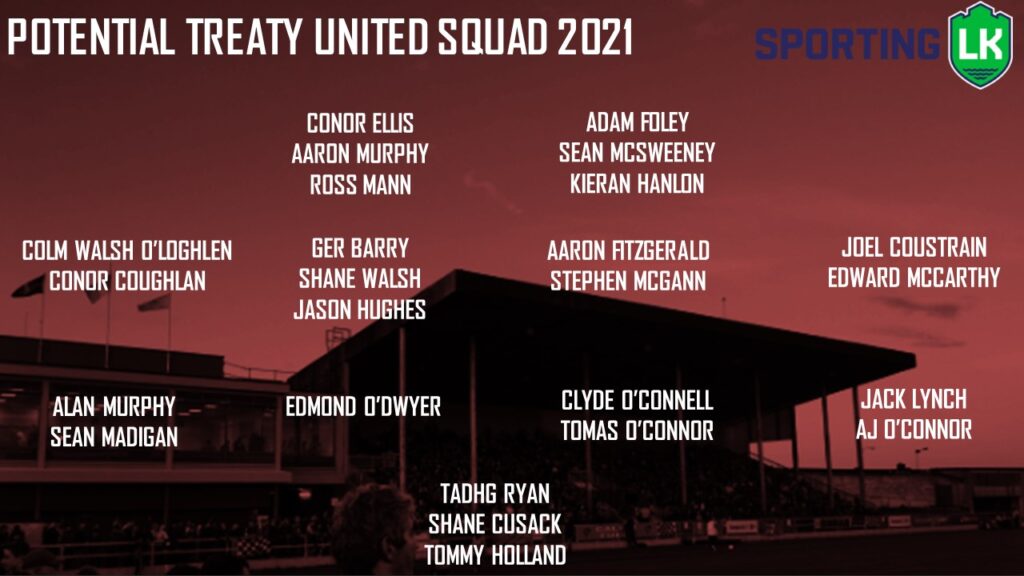 GOALKEEPER: Limerick's Tadhg Ryan would be an outstanding option as goalkeeper. The former Huddersfield Town academy keeper has put in strong performances for both Cork City and Waterford since returning home but is now without a club. With the season just a month away, it would be well worth Tommy Barrett's time trying to agree terms with 23 year-old. Tommy Holland (22) has performed well at Market's Field in the past and could also be snapped up.
DEFENCE: Fairview United's Clyde O'Connell is expected to be at heart of defence where he could partner ex-teammate Tomas O'Connor. Edmond O'Dwyer is another man who can be relied upon at centre half but defence is an area of uncertainty at this moment in time. At fullback, Alan Murphy and Sean Madigan got minutes during their time at Limerick FC and would be favourites for selection if local legend Shane Tracy opts against a League of Ireland return.
MIDFIELD: Treaty United look poised to go with a blend of top local talent and young blood in the middle of the park. Ger Barry was one of Limerick FC's standout underage players in years gone by and could provide a good attacking threat from central midfield for Tommy Barrett. Jason Hughes and Aaron Fitzgerald also togged out in the Super Blues's dying days and a return to Garryowen for those two wouldn't surprise many. Former Shamrock Roves winger Joel Coustrain could be a star man for this side if he puts pen to paper in the coming weeks. Corbally native Coustrain was last contracted to Athlone Town and should he occupy the right flank with 21 year-old Colm Walsh-O'Loghlen on the left, then wing play could quickly become a feature of this team.
ATTACK: Treaty United have plenty of attacking options to pick from but choosing wisely will be vital. Kieran 'Red' Hanlon was backed to succeed by Tommy Barrett at Limerick FC a couple of seasons ago but Treaty's youth first approach could swing him out of favour. Adam Foley and Aaron Murphy from Aisling Annacotty would be fine options as would 23 year-old Conor Ellis – a sharp striker with plenty of League of Ireland experience. Ross Mann and Sean McSweeney have had stints at Limerick FC and are equally capable but Barrett's preference for one up front may mean or two will have to miss out.
The post DEPTH CHART: How Treaty United could shape up in their debut season appeared first on Sporting Limerick.