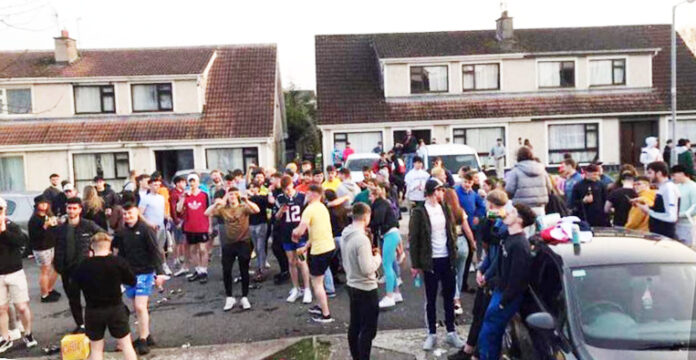 UNIVERSITY of Limerick students involved in Tuesday evening's chaotic street party, which is now the subject of a Garda investigation, have been warned that they are facing the possibility of expulsion for breaching public health guidelines.
UL management were due to meet on Wednesday to discuss the situation which saw three men in their 20s arrested for alleged drugs and public order offences and 30 fixed notice penalties issued by Gardaí after a student street party in the College Court area of Castletroy.
In a statement issued on Wednesday morning, UL  President Professor Kerstin Mey said it was clear there was a small minority of the university's 16,500 students who live in off campus estates who are consistently ignoring government and institutional guidelines."
Sign up for the weekly Limerick Post newsletter
"Students found to have broken the UL Code of Conduct will face the full rigour of our disciplinary process including temporary suspension and possible expulsion," she added.
A Limerick nurse, who is working on the front line in the battle against Covid-19, has described University of Limerick student house parties as "out of control".
The nurse, who lives in the general vicinity of UL, called for round-the-clock Garda patrols as well as the installation of CCTV cameras following Tuesday's chaotic scenes, in which flares and fireworks exploded near cars, houses, and groups of student revellers.
"It's shocking now, they have broken glass in houses, there was a fire in a house, there are holes in the walls of houses, basically the houses are being thrashed," said the nurse, who did not want to be identified.
"A Garda patrol needs to be permanently based around the area. There are a few Gardaí who come and go and they have to go into these house parties that could potentially have Covid-19, and then go home to their families.
"The students are partying up on roofs, and somebody is going to fall off one of those roofs. There is a huge drink and drugs problem in the area," the nurse added.
Meanwhile, a Castletroy landlord described the recent partying at College Court, near UL, as a "super-spreader" Covid event.
The landlord said that they, along with others renting out houses to students in the vicinity of UL, were afraid to approach the properties during similar periods of unrest.
"Some of the residents are very frightened and it's getting progressively worse."
He claimed students danced on roofs, destroyed properties, urinated on the street and took drink and drugs at a time when the country is suffering the economic and health devastation of Covid-19.
"Will someone have to get hurt or fall off a roof for this madness to stop?" he asked.
"They are even calling Careysfort Avenue 'The Gaza Strip', an indication of the volatile and lawless zone it has become."
The landlord praised Gardaí for doing "a reasonable job when they have been called" but he said, "a lot more needs to be done to return this area to calm".
He called for the Garda Divisional Drug Unit to patrol the area as a deterrent and claimed students had been intimidating locals.
A Garda source described Tuesday night's scenes in Castletroy as "a shit show".
UL student Tadgh O'Toole tweeted his anger at what happened: "I'm a University of Limerick student myself, sitting at home online now since this time last year praying to get back down to college at some stage before I finish college and then ye see that shit tonight in College Court. Will ye just go home tf**k yiz selfish pr***ks #limerick."
Limerick teacher Sarah O'Connor tweeted: "Absolutely gutted having seen those videos from College Court in Limerick tonight. All of the sacrifices we have all made absolutely thrown in our faces. Disgraceful."