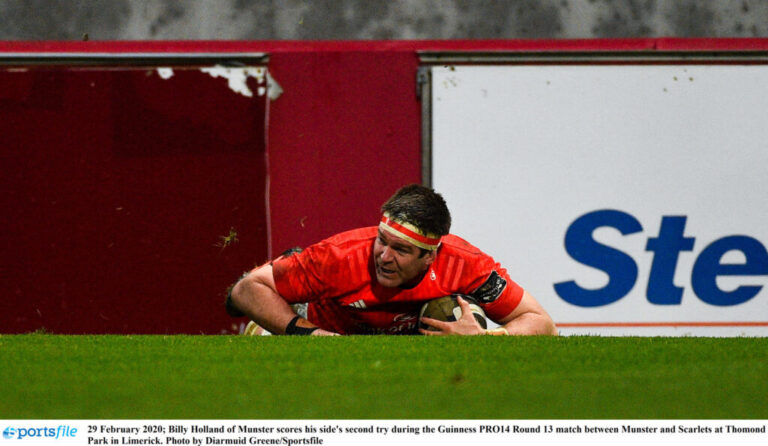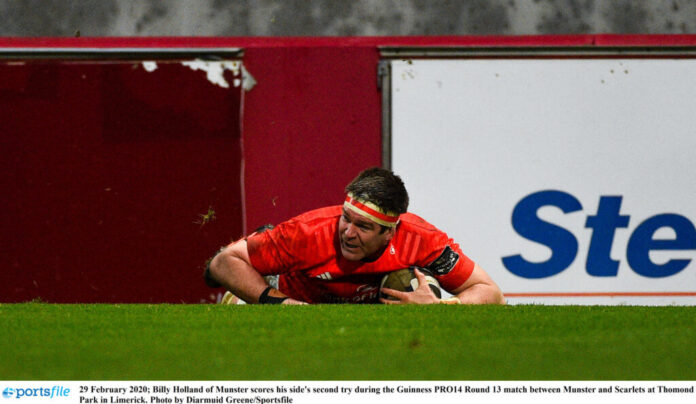 IN June 2007, the Apple iPhone arrived in stores for the very first time and if you were going to talk online about how it didn't have any buttons to press, you'd probably have done so on your Myspace or Bebo account. Earlier that year, Ireland played England in a packed out Croke Park for the very first time. You know the one with the Bull Hayes crying during the anthems? Yeah, that one.
Later that year on the 22nd of September 2007, Billy Holland made his competitive debut for Munster Rugby in Musgrave Park against Llanelli Scarlets at 22 years of age. A year later, Billy Holland played against New Zealand in the opening game of the new Thomond Park. He stood in the line for the Munster haka and came on for Denis Leamy after 22 minutes.
A year on from that momentus night, Billy would make his European Cup debut for Munster and pick up Munster's Young Player of the Year award later that season. From 2011 on, Billy Holland never played fewer than 14 games a season for Munster and on the 1st of March 2021, he announced that he would end his career at the end of the 2020/21 season, fourteen years after his debut.
Billy Holland has gone on to rack up 241 caps for Munster as of the day he announced his impending retirement and hopefully he'll have a few more in the bag by the time he wraps up at the end of this season.
Anyone who gets close to that number of appearances for Munster in the modern game will be doing incredibly well for themselves and the province. When it comes to players of Holland's tenure, I've come to really hate the word "servant" because it implies a guy being held against their will, as if they're being forced into playing for their province, either by birth or by choice. I don't think that applies to Billy Holland. I can't know his mind but this is a man who always looked like he loved what he was doing, be it media days, training or playing.
When I think of Billy Holland I don't think "servant". I think "loyal", "dauntless", "dedicated". I think of a guy who always showed up, even when he was behind legends of the club like Alan Quinlan, Denis Leamy, Mick O'Driscoll, Donnacha Ryan, Donncha O'Callaghan and Paul O'Connell and, in doing so, became a legend himself. I think of a guy who managed to play at the highest level of club rugby as a 6'3″/112kg second row during a time when the trend in that position all throughout the last 10 years is for way bigger and taller athletes.
Do you know how bloody good you have to be to get around that particular roadblock? In a position where he would often come directly into competition with guys that had four or five inches and 10+KG on him, Holland found a way to make it happen by being the hardest-working, most-prepared, smartest and most dialled into his roleset player he could be.
We hear a lot that size doesn't, or at least shouldn't, matter in this game but that increasingly sounds like something people just say. Yet, in the land of giants at the top end of European rugby, Holland showed that you didn't have to be 6'7″ monster to be a hugely effective player. Put simply, you don't get to play in three European Cup semi-finals as a second-row north of thirty without being a very good player of this game.
That is Billy Holland's legacy. A very good player who pulled every last bit of ability out of himself through hard-work and preparation. He left it on the field over 14 years.
When Munster needed him, Holland was there. When a team in the PRO12/14 needed calm leadership and the basics done well in the less glamourous fixtures that a season is built on, up stepped Billy Holland. When the guys who, nominally speaking, were ahead of him in the depth chart succumbed to injury after injury all the way through the 2010s, up stepped Billy Holland. When a game needed stabilising, up stepped Billy Holland.
I haven't even mentioned the off the field tragedies that have affected Billy and his family because I'm only really qualified to speak of what I see on-field. I do know that when he and his wife suffered an unspeakable loss, they helped to raise over half a million euro for Our Lady's Children's Hospital in Crumlin. That will show you the quality of Billy, Lanlih and their family.
Good clubs are built on the work and character of men like Billy Holland.
The hole he will leave behind when he eventually departs at the end of this season will not be easily filled. That's the responsibility of those who come after. Whoever fills it will, like Billy Holland, have to be a very good player and, more importantly, a very good man.
The post Tom Savage: Good clubs are built on the work and character of men like Billy Holland appeared first on Sporting Limerick.