LIMERICK band Anna's Anchor (aka Marty Ryan) has released another single from the upcoming new album called 'A Glorious Ruction'. The single 'Shannon Bridge' adds to the growing anticipation for this unique concept album due for release on April 9 via Out On A Limb Records.
A Glorious Ruction is an album like no other, telling a story of self-doubt and uncertainty set upon the banks of the River Shannon, the course of which splits Limerick City in two. The album is an interactive art piece in which each song is timed to a specific walk around the city centre, using the landscape and landmarks of the river as an aural canvas.
Sign up for the weekly Limerick Post newsletter
The new album has caught the imagination of Marty's fans. The band sold out both pre-release listening events within a number of hours as well as selling over half the run of the vinyl release on pre-order in just one day.
Talking about the album, Marty Ryan says,
"During the first lockdown when we had to cancel essentially a year's worth of touring, I found myself taking in the "Three Bridges Walk" around Limerick pretty much every night and came up with the idea of our next album being told through the eyes of someone taking this walk. I then thought, how could this still be experienced in a unique way when it's done for our fans? That's when the idea of timing each song came about which I thought would be a special thing."
A Glorious Ruction, due for release on Friday April 9, 2020 via Limerick label Out On A Limb Records.
STREAM / SUPPORT HERE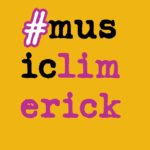 MusicLimerick – New Music Favourites is a Spotify playlist of some of the fine music being produced by Limerick artists over the last 12 months.
Follow the playlist HERE