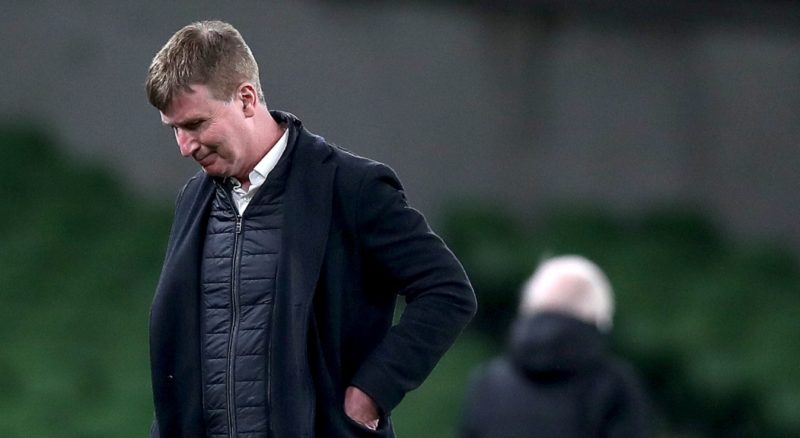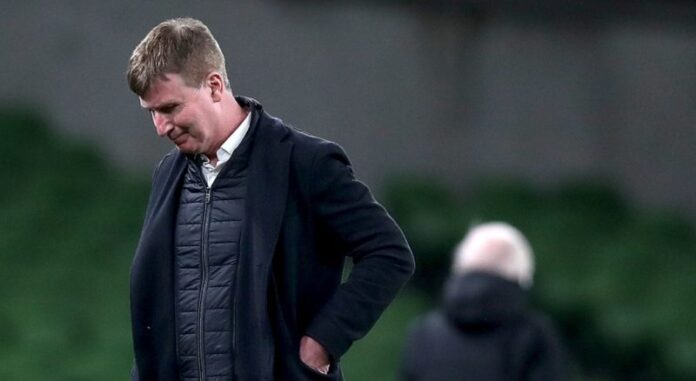 "It wasn't acceptable and it was embarrassing" said Luton town centre forward James Collins.
A moment of quality from Champions League footballer Gerson Rodrigues was the difference on a humiliating Saturday evening for Irish football. The Boys in Green spluttered and stuttered to a 1-0 defeat at home against Luxembourg – a team a whole lot closer to our level than we will ever be able to accept.
For years the problems in this country's football landscape have been papered over.
Although "there is no league in Ireland", although the player pathway system has been disjointed and underfunded at the hands of an association synonymous with corruption we've still had one hell of a party.
Thanks very much to the 'granny rule' for starters. The very notion that Ireland should always qualify for tournaments stems from Jack Charlton's band of British footballers. No disrespect to that great team whatsoever, but their team's success had little correlation to this country's grassroots infrastructure. Sixteen of the Italia '90 22-man squad were born overseas.
Thanks to Jack for those great days and thank you to Martin O'Neill for winning at all costs to give us the memories of 2016. Thanks to John Delaney for making us co-hosts of Euro 2020 and thanks to Mick McCarthy for a solid second stint considering his players were half as useful as the class of 2002.
Neglect
Sadly, the senior team's relative success has in no way been reflective of the health of the organization. One way or another all of those achievements have plastered over the deeper, darker issues infecting Irish football. Short-term fix managers with a single-minded desire for immediate results were important to John Delaney.
In 2016 Noel King was overseeing one of his eight years as Ireland U21 boss without qualifying for a single tournament. Also in 2016 the League of Ireland had essentially no TV money and one of the lowest prize funds of any league in Europe.
Did any casual Irish fan give a damn? Not for a second. The contrasting success of the Irish senior team at Euro 2016 cast the illusion that all was well in Irish soccer. On Saturday the chickens came home to roost.
In the shadows of Wes Hoolahan's strike against Sweden was a missing generation of young talent coming through the age-grades. In the shadows of Robbie Brady's header against Italy was a neglected league with embarrassing infrastructure.
Five years on we still expect to compete with the best and brush the likes of Luxembourg, Iceland and Georgia aside. What we forget is that for at least the past decade these other nations have been improving their structures from the ground-up, closing the gap. Investment has been put into place and the results are showing.
Luxembourg centralized their academies and have since drawn with France and beaten Ireland. Georgia have drawn with Ireland in recent years and their persistence with a possession orientated game over the last decade is now bearing fruits. On Saturday it took Spain 92 minutes to find a winner against Vladimir Weiss's men.
Iceland, a country with little more than half the population of Luxembourg beat Ireland 1-0 in 2017 and are a further example of the lower seeds harnessing their talent efficiently and professionally. The FAI have allowed Irish football stagnate and lag behind.
Kenny Conundrum
Giovanni Trapatonni and Martin O'Neill were never going to try and build a progressive team that the Irish public could identify with. Winning despite the talent pool and despite the poverty of the League of Ireland was the objective and still is.
Between having some excellent experienced campaigners that came through Brian Kerr's golden underage teams of 1997 like John O'Shea, Robbie Keane and Damien Duff (in Trap's case) and taking zero risks in possession, they achieved their goals. On a surface level getting to two consecutive European Championships in 2012 and 2016 is obviously a positive but now in the absence of short-cuts or good fortune we can take a long overdue inspection into the real state of Irish football.
Irish national team supporters woke up feeling like long-suffering League of Ireland supporters on Sunday morning. The result against Luxembourg was a true reflection of the condition of the Irish game and the pain is now being shared from top to bottom. It was always only a matter of time before League of Ireland clubs' struggles against European minnows was reflected on the international stage.
Any change to the management of the League of Ireland or grassroots game will take another decade to show results in the senior team. For the time being we must make the most of the poor hand we've been dealt. This is a crossroads moment for Irish football and we can either front up and progress or panic once again.
The signs so far suggest there is calm within the FAI but a loss against Qatar tonight could quickly change that. After the Luxembourg defeat chairman Roy Barrett expressed his support for the manager and Kenny himself was also as positive and determined as ever despite the disappointing loss. The unacceptable nature of the result is understood by all involved and according to striker James Collins "there were some home truths" shared in the dressing room afterwards. The team will be hoping it is just a blip rather than a sign of things to come.
"We hit a real low against Luxembourg and we have to take that on the chin. Some of our play has been nothing short of brilliant against Slovakia and Serbia. We want to build on that and get better again. That's the way I feel about it." – Stephen Kenny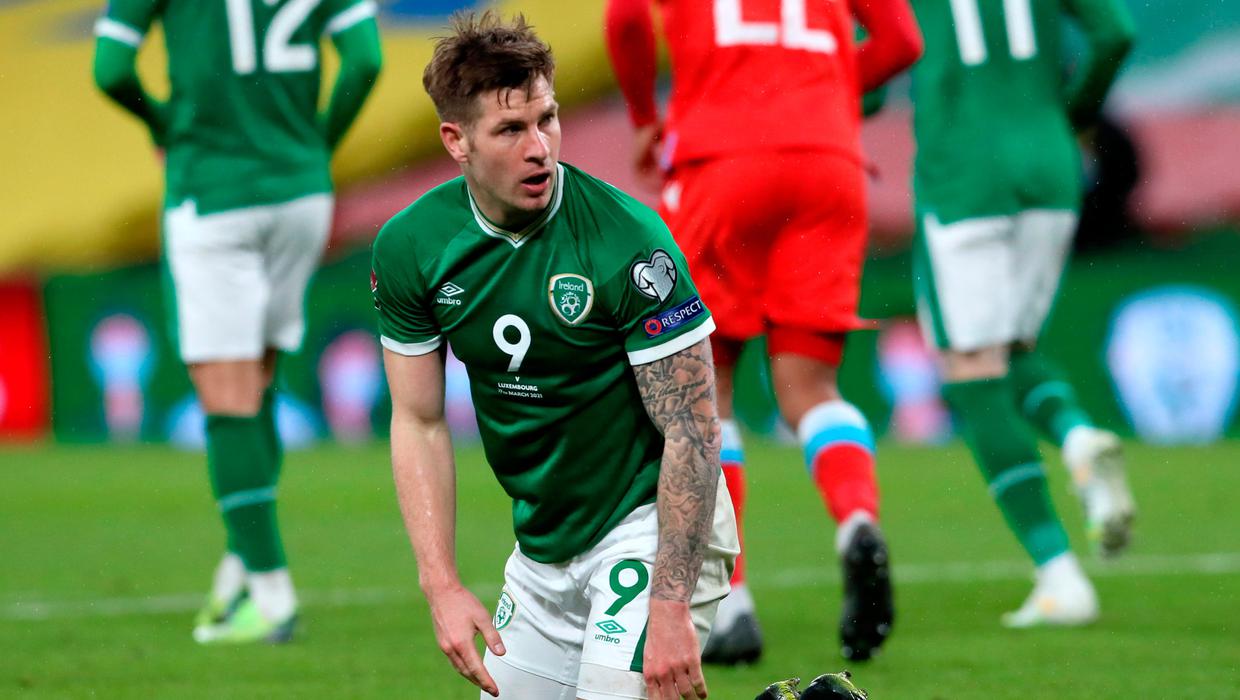 Kenny is different to his predecessors. Instead of talking down his players in the media he bigs them up and wants to instill a confidence that elevates their game to the next level. To his credit, Ireland played some of the best football we have seen from them in many years in Bratislava and Belgrade. Only for some horrific luck he would certainly have a couple of wins under his belt over the last six months too.
His philosophy revolves around the idea that players want to express themselves and show their opponents what they've got. He has recognized in match programme notes that retaining the work-ethic and defensive discipline of other Irish teams is key. However, productivity and ambition in possession is just as important in his view and we have already shown lots of promise is that department.
This is a tricky period and having an ambitious manager that knows the underage set-up inside out, knows the League of Ireland inside-out and is deeply embedded in Irish football is key. Kenny is a man with a sincere care and passion for the state of the game in this country and during such a challenging period it would be horrendous to see his reign cut-short.
His public communication about the youth pathway can only help create a connection between grassroots coaches and the international stage. His willingness to call-up players like Graham Burke, Aaron McEneff and Jack Byrne into the international fold is also great publicity for the league. To throw this all-inclusive project out the window at one of the first hurdles would be beyond reckless in my view.
Explain Luxembourg?
Criticism can of course be leveled at Kenny for his lack of tactical flexibility. The former Dundalk boss was hired based on the tremendous success he had with the Lilywhites in a 4-2-3-1 or 4-3-3 formation. His CV was further enhanced by some outstanding results and performances with the same shape for the Ireland U21s. It is without doubt Kenny's trademark formation and his excellent use of narrow wingers and creative midfield players have been at the nucleus.
He may have taken on the job with a vision of playing his preferred set-up in a packed out Aviva Stadium but when it came to managing a 5-3-2 on Saturday evening he looked lost at sea. His changes within the match were poor, substitutions were baffling and his tactical performance on the night was sub-par. It would be fair to say that one of the old managers would have found a result in that second half.
Regardless of formation, Ireland should have secured a home win against Luxembourg – but a victory would have become a whole lot more likely had Kenny the resources to play a 4-2-3-1. Although the goals never came, Ireland dominated possession and created lots of chances in the Nations League in that system. The same simply could not be said about the Serbia (despite being positive in other aspects) or Luxembourg fixtures.
The reason Kenny changed his shape was of course because of an injury to Callum O'Dowda and fitness doubts over James McClean and Aaron Connolly. Even Daryl Horgan isn't an automatic starter for Wycombe Wanderers so match sharpness was another factor. It left Ireland's depth chart in the wing and attacking midfield positions depressingly weak but perhaps Kenny would have been better served selecting the next-best attacking players rather than tearing up his script and choosing the wing-back system.
It is reasonable to say that Kenny should be competent in more than just one formation. It is equally reasonable to say he should never have faced this conundrum in the first place. Irish football simply should have produced enough attacking players in the past decade to allow our boss play whatever way he best sees fit. Kenny will be able to get results with a fit and firing first team but the poverty of players produced in the last decade means he cannot afford injuries. Any withdrawals leave Ireland scraping the barrel as we saw in the Nations League.
This is where the point of Ireland having much bigger problems than management truly comes to the fore and the talent pool in Kenny's key positions does not make for brilliant reading: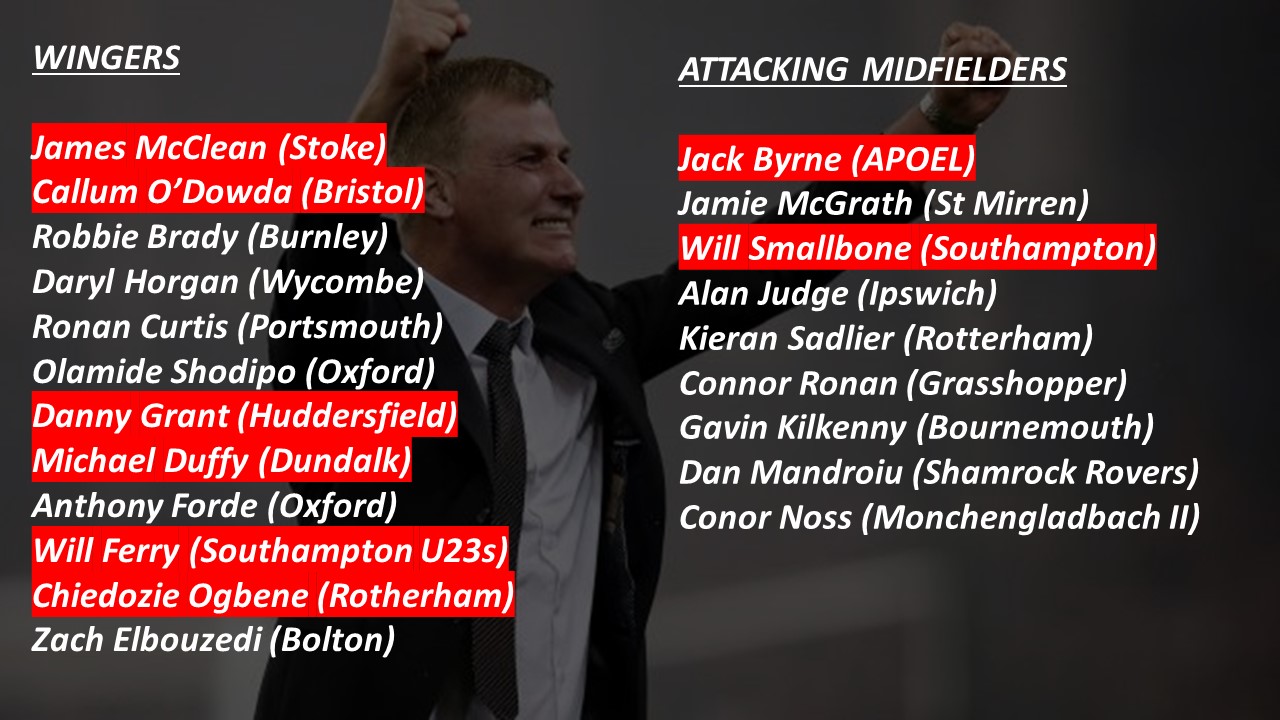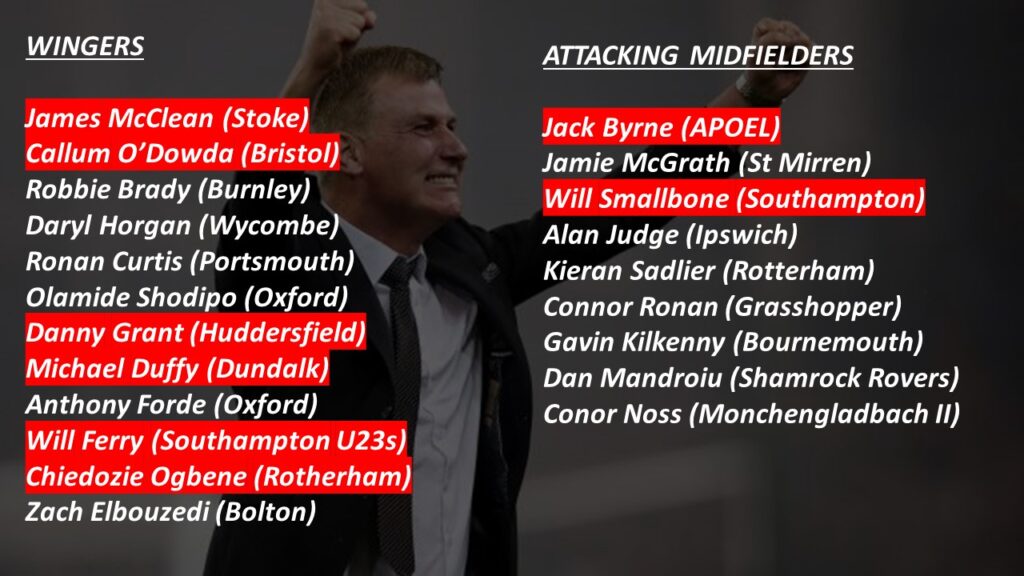 Learning to Swim
Calls to replace the manager as though that somehow repairs decades of neglect are wide of the mark.
It may be true that there are better managers around to implement a possession-orientated style – but is there a better candidate to help Irish football rally together at such a crucial juncture? Stephen wants to mould a team that "exhilarates Irish supporters" while also working in tandem with the U15, U17, U19 and U21 bosses to create a clear and concise development structure for nurturing talent.
Reactionary commentary changes nothing. If anything it's the product of refusing to confront the bleak realities staring Irish football in the eye. The embedded notion that the Irish team should be qualifying for tournaments could do with a reality check. You reap what you sow and when your league, grassroots structures and facilities are forgotten in favour of James Bond-themed fiftieth birthday parties, the result is always going to be ugly.
This may be Irish soccer's last chance to be something bigger and better. Mess it up now and we'll be stuck in an eternal cycle of rescue missions. There is an ocean of problems to contend with but if the senior team can lead the way with modern football and refreshing messaging in line with the reconstruction of the grassroots, we might just have a chance. This is the chance to be a professional organization who can look at the Luxembourg game and say "this is never going to happen again". This is the time to back the project and add layers to our infrastructure every year until we have a modern system producing talent year on year. The journey to get there may be difficult but I have no doubt patience with Stephen Kenny will be rewarded.
For long enough the FAI have been ringing lifeguard managers to spare our lives. It's about time we learned how to swim.
The post The Art Of Pretending To Swim appeared first on Sporting Limerick.