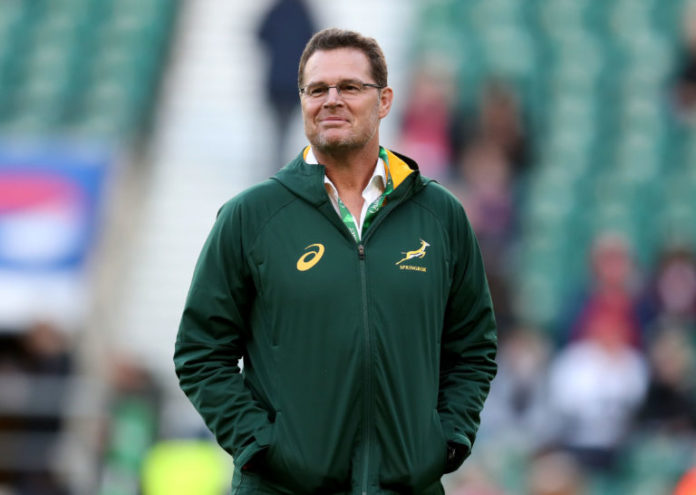 SPEAKING to Off The Ball this morning former Munster director of rugby Rassie Erasmus had his say on the state of Irish Rugby and how it compares to South Africa.
Erasmus coached Munster to the Champions Cup semi-final and Pro14 final in 2017 before getting the call from his homeland. Assisted by Jacques Nienaber, Felix Jones and S&C coach Aled Walters, he went on to win a Rugby World Cup in 2019 for the Munster-flavoured Springboks.
The 48 year-old isn't finished just yet however and speaking to Eoin Sheehan, he underlined his ambitions to create an All Black-like decade of success.
For Ireland, reaching a semi-final remains the objective. Defeat to New Zealand in 2019 meant another quarter-final exit and to overcome that hurdle, plenty of work is needed in the Irish game. Though Erasmus was hugely impressed by a lot of the structures in Irish rugby, he did raise concerns about the number of players in the country's talent pool.
"I did feel the players were of a great standard but the numbers were lacking" said Erasmus.
"For Ireland, if they didn't pick players from abroad I thought there would be times where they'd struggle just because of the amount of players in Ireland. David [Nucifora] has done a great job in creating depth and switching players from province to province."
The South African was hesistant to voice his opinions on Irish rugby where it is perhaps unwanted by the IRFU but did suggest Ireland should look at picking players who are active overseas.
"I don't know how you're going to create your squad depth if you only have the four provinces [so maybe] selecting guys who are playing overseas – I don't know if that's an option."
"I don't think it's a great thing for your national team when, let's say, out of the lock positions for the four provinces three locks: RG Snyman, Jean Kleyn and I think you've signed Jason Jenkins now…so for one of your best provinces three of the lock positions are taken up already. I think that will shrink your pool but it will definitely strengthen your club."
You can listen to the full interview here.
The post 'The players were of a great standard but the numbers were lacking' appeared first on Sporting Limerick.