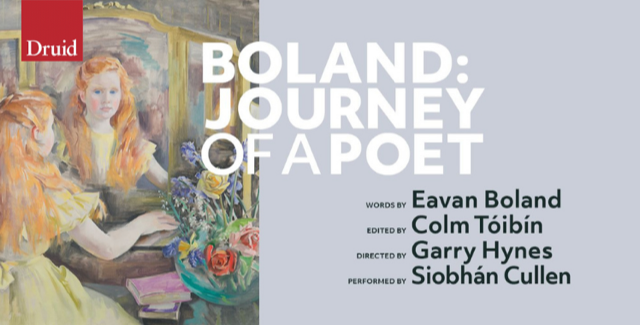 DRUID presents 'Boland: Journey of a Poet'
Live Streamed from The Mick Lally Theatre, Galway Thur 22 – Sat 24 April.
Early Bird tickets available until Sunday 11 April
 'If there was a narrative to my life in those years, then let this be the sound of it.'
With words by Eavan Boland, edited by Colm Tóibín and directed by Garry Hynes, 'Boland: Journey of a Poet' is a new theatrical production exploring the mind and imagination of one of Ireland's great poets.
Performed by Siobhán Cullen and live streamed from The Mick Lally Theatre in Galway, this world premiere production examines Boland's relationships with family, poetry, memory, womanhood and national identity.
Also, inspired by Eavan Boland's mother, the expressionist painter Frances Kelly, 'Boland: Journey of a Poet' will feature the Irish artist Debbie Chapman live on stage who will create a piece of art in response to the production.
'Boland: Journey of a Poet' is the latest in the Druid at Home series of online theatre. Previously, Druid presented the world premiere of Sonya Kelly's 'Once Upon a Bridge' and an encore screening of their 2020 production of 'The Cherry Orchard'.
 How to Book and Watch
Live Stream: Thu 22 – Sat 24 Apr
On Demand: Tue 27 Apr – Sun 2 May
There will be four live stream performances of 'Boland: Journey of a Poet' from The Mick Lally Theatre in Galway between Thursday 22 and Saturday 24 April.
A performance recording will then be available to view on demand between Tuesday 27 April and Sunday 2 May. Purchasing an on demand ticket allows you to view the performance on one device in your own time from Tuesday 27 February 2021 at 10am GMT until Sunday 2 May at 11pm GMT
 Duration: 60 mins approx.
'Boland: Journey of a Poet' is presented in partnership with the NASC network of touring venues: An Grianán, Letterkenny; Backstage Theatre, Longford; Dunamaise Arts Centre, Portlaoise; Glór, Ennis; Lime Tree Theatre, Limerick; Pavilion Theatre, Dun Laoghaire; Siamsa Tíre, Tralee; and Town Hall Theatre, Galway.
 Credits:
Words by Eavan Boland
Edited by Colm Tóibín
Directed by Garry Hynes
Performed by Siobhán Cullen
Director of Photography Colm Hogan
Set Designer Francis O'Connor
Costume Designer Clíodhna Hallissey
Sound Designer by Sinéad Diskin
Composer Conor Linehan
Portrait Artist Debbie Chapman