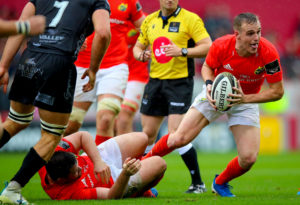 MUNSTER have confirmed that Nick McCarthy is to return to Leinster after two years with the Province.
The 26-year-old returns to Leinster where he made 36 appearances following his debut in 2015.
Since his arrival, he has fallen down the pecking order with the emergence of Craig Casey. Overall he made twenty appearances in the red of Munster.
Speaking about his departure, the Leinster native said,
"I am excited now to get back to Dublin in the summer. I will continue to challenge myself, compete at the highest level and hopefully add value to the squad in Leinster."
The post Munster scrum-half Nick McCarthy to return to Leinster appeared first on Sporting Limerick.