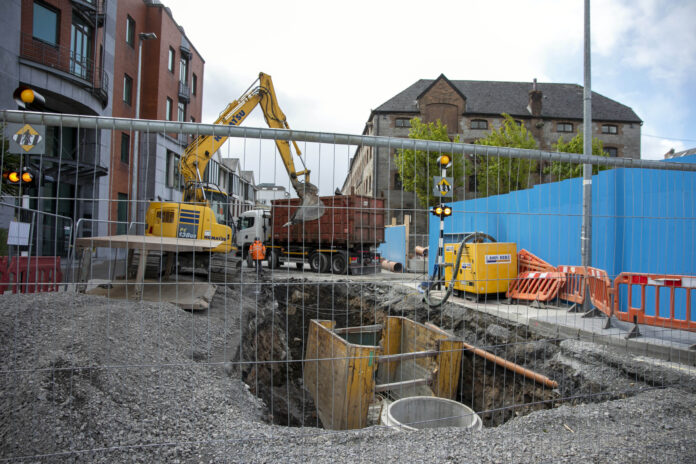 IT was all systems go today at Limerick's Opera Site as the 2021 demolition and enabling works programme on the city's biggest ever commercial property development finally kicked off following delays due to COVID restrictions. 
 Working closely with the Limerick Twenty Thirty team and project managers Cogent Associates, contractor John Sisk & Son Ltd. was back on the ground after a four-month hiatus enforced on all commercial property sites by the pandemic came to end.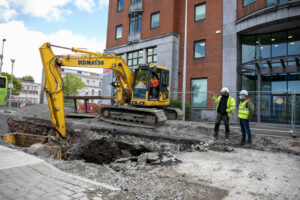 The six-year project is not alone the biggest of its kind undertaken in Limerick but the largest commercial property programme outside the capital. The construction programme will see up to 500 people employed at peak output on the site, with numbers in the demolition and enabling works set to ramp up to 60 this year following the resumption of activity today.
In addition to getting activity back on the rails, this will, CEO of Limerick Twenty Thirty David Conway stated, be a much-needed boost to the city centre this year.
"We're just delighted to see activity back. 
There was such enthusiasm and excitement when we announced commencement of works in November and activity halted when we went into Level 5 lockdown for the New Year was not the start we were hoping for.
"It's been a few difficult months, but everyone is chomping at the bit now and keen to make up for lost time so there's a great sense of energy on site today as SISK roll back in. We had earmarked the completion of this element of the programme by year end, but we've just lost four months. 
That's not simple to make up but we've a really good working relationship with our contractor and are working closely with them to see what we can achieve in that regard. The great thing is we are back and hopefully will have no more COVID interruptions," he said.
"The activity itself will have a very positive knock on for the city centre as having that many workers on a site translates into a lot of spend during the day so that is very welcome also."
Said Tim Kilmartin, Contracts Manager from John Sisk & Son: "Generally it's been a very difficult time for the construction sector, so we are all delighted to be back at work today. Opera is a huge project, both in terms of scale and its economic impact on the city and region now and in the long term and it all starts with the demolition and enabling works.
"The lads on site today are really keen to get going. This is what they do. No one wants to be sitting at home so they're glad to be back and it's a case of all systems go now as we look to make up for lost time."
The 1.62hectare site will, when fully developed, have the capacity for up to 3,000 employees across a 450,000 sq ft campus accommodation.  The programme will take up to six years to complete at an estimated cost of €200m.
Among the key elements of the project will be a 14-storey landmark office space building; a five-storey aparthotel with 13 separate apartments and retail on ground and basement levels; a 4-6-storey over-basement building with office space, retail and restaurant/café; a new state-of-the-art library plus significant public realm.
The site is being developed by Limerick Twenty Thirty DAC (LTT), a special purpose vehicle established by Limerick City and County Council in 2016 to stimulate economic and social development by building out and promoting strategic disused sites in Limerick. 
LTT has already completed the award-winning and fully let Gardens International project on Henry Street, a 100,000 sq. ft development.  Also included in its portfolio is Troy Studios, Castletroy, which is fully completed and let; the 10 acre Cleeves Riverside Project also in the city centre, which is currently at master-planning stage and the 60 acre Mungret Park residential site on the grounds of the former Mungret College where a 200 unit first phase will go to planning in Q1 2021.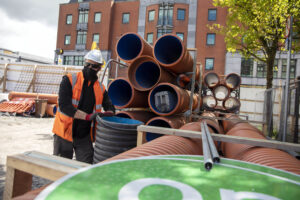 The Opera Site is funded thanks to finance from the European Investment Bank, the Council of Europe Development Bank, with specific funding also through the Department of Housing, Local Government and Heritage. The Opera Site will be developed to best practice sustainability standards under the LEED Gold and Nearly Zero Energy Building (NZEB) standards.
The extensive site demolition and enabling works will involve the demolition of all 20th century buildings and later additions, the adaptive re-use of the Protected Structures and other structures of heritage value. 
Three major site developments will take place in addition to the extensive enabling and demolition works over the first three years of the programme, including the new city library; aparthotel, retail and apartments and the Revenue Building & Granary developments.