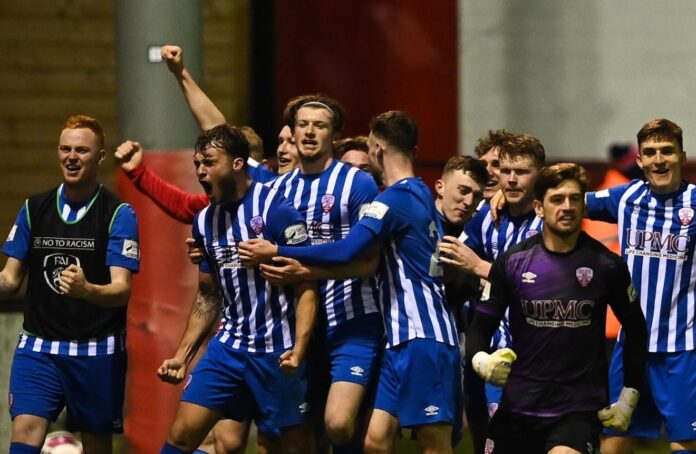 TREATY United's Clyde O'Connell spoke to Sporting Limerick's Adrian Finnin ahead of their League of Ireland First Division trip to UCD this Friday.
Treaty are still undefeated this season and salvaged a late late draw against Shelbourne last weekend thanks to O'Connell's 97th minute equaliser.
Sign up for the weekly Limerick Post newsletter
Tommy Barrett's men have picked up four red cards in six games so far in the league but O'Connell reckons Shelbourne were not so disciplined themselves last Friday evening. Treaty's star midfielder Mark Walsh is expected to miss a number of weeks of action after breaking his jaw at Tolka Park in controversial circumstances.
"First and foremost I just want to wish him a speedy recovery and that we're all thinking of him. It's absolutely horrible.
"When I was actually on the pitch at the time I didn't see it, I thought he'd got caught with his leg but I watched the video back and it's nothing short of a disgrace really.
"A lot of people are talking about us and our red cards and stuff – you look at Anto's red card and he had two tackles in the whole game and he gets sent off with two yellows. I think it's easy for referees to give out two yellows but look, to say the least the ref bottled it like, he clearly took him [Mark Walsh] out.
"He eyed him up a few seconds before the ball was gone and he knew exactly what he was doing. Look, Mark Walsh, he has a job and everything. He's out of training, he's out of matches for who knows how long – ten weeks? Ten to twelve weeks?
"It's definitely a hard one to take."
O'Connell knows Treaty's discipine hasn't been perfect but dismisses the idea that they are a 'dirty' team. With the exception of Charlie Fleming's straight red, every other dismissal has resulted from two yellow cards and the Limerick man is quick to point that out.
"For Charlie's one, look, he was stupid and he reacted and he shouldn't have done it. That's a red card but for the rest…
"Look my first one was a cyncial one as well when I got sent off and the second one the ball was there to be won and the ref was quick to send us off.
"You look at Anto's one, he had two tackles in the whole game and it's easy to say from the outside that 'Treaty are ill-disciplined, they're this, they're that' but we're not. We're an aggressive team but we're not dirty. Dirty is exactly what happened to Mark Walsh, that's what dirty is. So it's a tough one to take.
"It's hard as well because referees just aren't consistent in the league this year. They haven't been so far so they need to look at that. It's one of the hardest jobs you can be being in the middle of the pitch being a referee but we need a little bit of help as well like."
The post 'It's easy to say from the outside that Treaty are ill-disciplined' appeared first on Sporting Limerick.