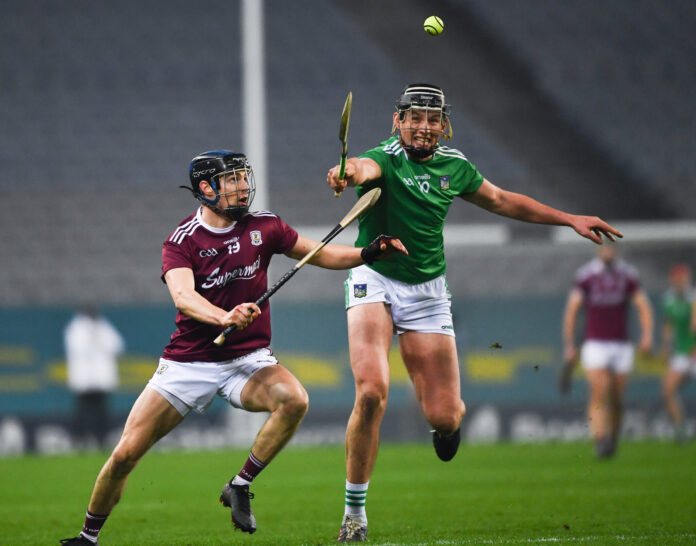 LIMERICK'S unbeaten run came to an end in Salthill yesterday afternoon and John Kiely's side can have little complaints with their 0-26 to 1-17 point defeat.
A David Reidy point edged Limerick into the lead inside a minute before Galway scores from Evan Niland (free), Brian Concannon & Niall Burke had the home side 0-3 to 0-1 ahead. Reidy (free) and Peter Casey levelled for Limerick 0-3 to 0-3 inside 5 minutes.
Hegarty and Flanagan shot consecutive wides as Limerick had plenty of possession with little return. Another Evan Niland free edges Galway back in front on 15 mins before Conor Whelan point and David Burke extended the gap to 0-6 to 0-3.
A David Reidy free makes it a two point game before Niland restores Galway's thee point advantage with another free before the water break.
Evan Niland with another free to make it 0-8 to 0-4 before a super Hegarty point off balance made it a 3-point game again. Ja Mannion & Conor Whelan points edged Galway into a deserved 0-10 to 0-5 lead.
Limerick raised the first green flag of the game as Quaid found Hegarty route one. The lay off found Flananagan who buried a low shot past Eanna Murphy to make it 1-5 to 0-10.
Niland and Reidy swapped a series of frees before the break with Burke adding one point from play. 0-14 to 1-8 at the break. A disappointing opening half but still well in the game.
Gearoid Hegarty makes it 1-9 to 0-14 straight off the restart. Peter Casey point as the linesman overrules the umpire to make it a one point game.
Galway then settled as Cathal Mannion landed a fine long range score while Evan Niland chipped in with a brace of frees either side of a David Reidy free. 0-17 to 1-11 Galway with a two point lead.
Aaron Gillane landed a superb score from play before Niland's 10th & 11th frees of the game made it a 4 point game once again 1-12 to 0-19.
Aaron Gillane then landed another fine point from a tight angle following a Limerick turnover to make it 1-13 to 0-19. Diarmaid Byrnes landed another long range free to make it 1-14 to 0-19 as James Owens blew for the second water break.
Conor Whelan and David Reidy (free) swap scores 1-15 to 0-20. Niland lands his 12th free before a superb Cathal Mannion and a long range Joe Canning point makes it 0-23 to 1-15 as Galway looked to take control down the stretch.
Evan Niland with his 13th free makes it a six point game but Aaron Gillane reduces it to a 5 point game with a free. Niland's 14th free makes it Galway 0-25 to 1-16. Joe Canning's second point of the day made it 0-26 to 1-16. Gillane added a late free but Galway were fully deserving of their victory.
The post Galway Beat Limerick in Free Ridden Salthill Encounter appeared first on Sporting Limerick.